Is Disney's $250 Million 'John Carter' the Next 'Ishtar'?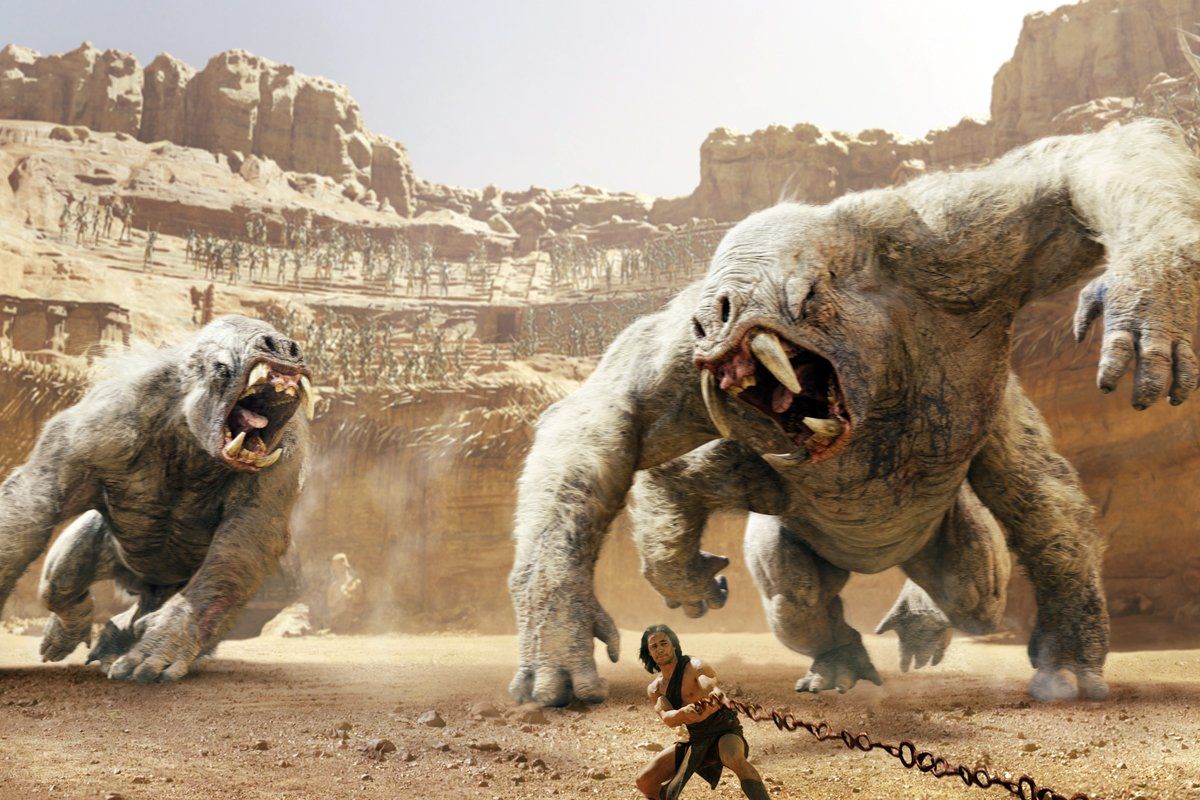 Around Hollywood, Disney's quarter-billion-dollar 3-D epic John Carter holds a dubious renown: it's the film with Avatar-size ambitions that's being greeted sight-unseen as the next Ishtar.
The sci-fi thriller lands in theaters March 9, and if you've seen the billboards or commercials, you'd be forgiven for wondering what it's all about. A hunk in a leather chest harness (Taylor Kitsch of NBC's canceled sports drama Friday Night Lights) battles aliens in a coliseum, faces down a stampede of four-armed beasties, and seduces a princess who resembles a va-va-voom version of Jasmine from Disney's Aladdin. Is this Gladiator meets Clash of the Titans meets Star Wars?
Early box-office tracking estimates for the film are extremely weak. "The geek generation isn't responding. It's too weird for the family audience. Then it has the Disney brand and PG-13? I'm not sure who it's for," says a rival studio executive who requested anonymity for fear of burning bridges in Hollywood.
Already heads have started to roll right out of the Team Disney building and onto Dopey Drive in Burbank. In January Disney Studios worldwide marketing chief MT Carney, who arrived with much fanfare in 2010 from the New York product-marketing world, was out (she said at the time she was returning to New York to be with her kids). Meanwhile, at studio commissaries around town, the long steak knives are already out for Disney Studios chairman Rich Ross. Neither Carney nor Ross was available to comment.
Fortunately for Ross, John Carter is a problem he inherited from his predecessor, and that has provided him some insulation from the slings of detractors—even though the film needs to make $400 million just to break even. Based on novels by Tarzan creator Edgar Rice Burroughs, the project had been kicking around Hollywood since the 1980s with various directors and stars attached, including Tom Cruise. In 2007 Disney's then studio head, Dick Cook, gave the project the green light, with Pixar's Andrew Stanton writing and directing.
While Stanton's animated films Wall-E and Finding Nemo grossed nearly $1.4 billion combined, the choice to hire him for the live-action John Carter stunned many in Hollywood. "To make something on this big a budget with no stars? Unless you're Peter Jackson or Jim Cameron, it's unheard of," said an executive at yet another studio. "We have an incredible storyteller in Andrew Stanton, and with the bulk of our media campaign left to go, we're putting all of our resources into making sure this movie is a success and embraced by our global audience," a Disney spokesperson said.
Ross has managed to deliver at the box office on several movies put into production before he took the helm, including Toy Story 3 and the $1 billion blockbuster Alice in Wonderland. But the studio has also racked up a number of expensive flops and critical misses since 2009, including the animated fiasco Mars Needs Moms (budget: $150 million; box office: $39 million) and the first film that Ross greenlighted as the studio's chairman, Prom. Ross's tastemaking won't really be put to the test until 2013, when the first so-called tent-pole movies he gave the go-ahead to—such as the Wizard of Oz prequel Oz: The Great and Powerful—reach the screen.
"If John Carter flops, he'll blame it on the old regime and live to fight another day," a rival executive at a third studio says. But all eyes will be watching to see if Ross can deliver on the May 4 release of Marvel's The Avengers. "Now if The Avengers looked like s--t, that'd be another story," the executive says.