Disney's Reputation Will 'Outlast' Political Goals of DeSantis, Republicans
Disney has become the latest target for Florida Republicans, who have moved quickly to retaliate against the company for its public opposition to the new parental rights law that critics dubbed the "Don't Say Gay" bill.
But when the barrage of attacks is long over, Disney will be the one left standing, experts told Newsweek.
"I'm not worried for Disney," said James O'Rourke, a professor at the University of Notre Dame's Mendoza College of Business. "The Walt Disney Company will be around a lot longer than [Florida Governor] Ron DeSantis will."
In recent weeks, DeSantis has spearheaded a legislative effort to punish Disney, the state's largest private employer. This week, he called on Florida lawmakers to terminate the self-governing privileges of Walt Disney World, which has called the Orlando area home for the past 55 years.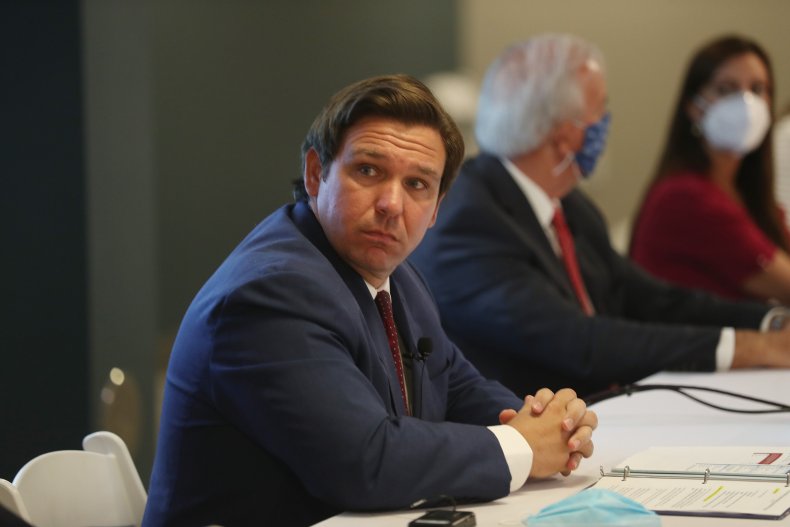 After passing in both chambers of the Legislature this week, the bill was signed by DeSantis on Friday.
"[Florida Republicans] trying to punish Disney for being woke or for being a liberal. Why would you do that?" O'Rourke asked. "Well, the answer is to incite the asphalt layer of the right-wing base and say to them you're one of us."
The potential impact of the bill on Disney World is still unclear. But up to now, the resort has been exempt from certain regulations and taxes and was allowed to control construction on its 25-000 acre property, which is known as the Reedy Creek Improvement District.
O'Rourke said dissolving the district could mean a bumpy ride for shareholders, but he added that if the only real consequence for Disney is an increase in expenses, the company's attorneys, accountants and finance officers should be able to manage.
"Brand is what you say you are; reputation is what everyone else says you are," he said. "Just because a critic stands up in public and tries to paint you in a particular color or tries to define you in a particular way, doesn't mean that all of your key stakeholders will see it that way."
O'Rourke added, "Disney's reputation is solid. Disney has spent 75 years developing one of the best reputations of any publicly traded company in the world. It's not going to falter over this."
The ongoing dispute between Disney and Florida Republicans is just one of many disagreements that have occurred in the state between the private and public sectors. But this time around, one side may have underestimated its opponent.
DeSantis "believes the Walt Disney Company works for him—they can't pack up the theme park and go away. He says, 'We're going to punish them for their wokeness and for their appreciation of diversity,'" O'Rourke said. "He picked this fight deliberately, and we're going to have to let the next election cycle play out. Disney will be fine."
Cait Lamberton, a professor at the University of Pennsylvania's Wharton School, pointed out that Disney serves an international constituency and is therefore unlikely to bow to political pressure from one governor.
"Adapting [Disney's] policy positions to a Florida regulation that isn't even popular in the United States makes very little sense," she said. "And in many places, the Florida regulation would be seen as a direct threat to human dignity," which is "absolutely antithetical to the Disney brand."
"Disney will outlast the current administration," Lamberton said. "I think that ultimately they'll look back and say that they only took action later than they should have, but that fighting for the dignity of the LGBTQ community makes perfect sense for a brand that celebrates love."
Newsweek reached out to DeSantis' office for comment.