The celestial origin of a meteorite fragment sparked some light-hearted speculation about why the dome covering it in a Russian museum mysteriously lifted up while bemused visitors looked on.
The piece lay pride of place in Chelyabinsk's state historical museum, and was a key draw to visitors who wanted to find out about the meteorite that strained retinas and dazzled the sky above the city nestled near the Ural Mountains in February 2013.
The size of a six-story building, the entire meteorite was the largest natural object to breach the Earth's atmosphere for more than a century, and it injured more than 1,200 people, mostly from shattered glass caused by the shock wave it generated, according to Space.com.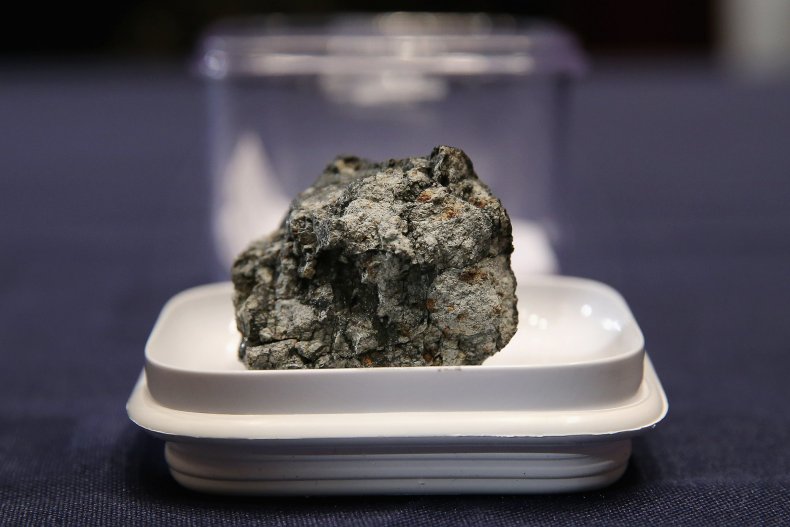 CCTV footage filmed last Saturday afternoon shows museumgoers looking at the protective dome over the meteorite's fragment starting to rise and hover about 5 inches above the exhibit.
Museum spokesman Yuri Bogatenkov told Russian media that security ran to the site immediately and the dome managed to glide down to where it was before, leaving the fragment unscathed.
"There is no explanation for what happened, the reason is unclear, as we know for sure that there were no technical problems," he said, according to state-run agency RIA.
Some pointed to an otherworldly explanation for the event. One unnamed employee told the newspaper Komsomolskaya Pravda that the meteorite attracted a number of pagan worshippers and noted that a "strange group" of people had come to the museum the day before, and perhaps "they conjured up something."
Meanwhile, the museum's public relations head Aivar Valeev pointed out that recently, another meteorite, which he called the Chelyabinsk's "twin" had flown close to the Earth.
"We joked that the brother of the Chelyabinsk meteorite said 'hi' to our space rock and ours was simply exhaling in response," he said, according to Gazeta.ru.
However, he did emphasize that "we don't believe in mysticism," suggesting that the incident was simply down to a "technical failure."
Equally prosaic was the explanation given by the region's minister of culture, Alexey Betekhtin, who said, "I think it's probably a technical failure, from which no one is immune."
He said that the alarm system around the exhibit worked correctly but the museum needed to carry out a "system check to reveal why it happened and make sure such a surprise does not happen again," according to the local publication Vecherny Chelyabinsk.
Newsweek has contacted the museum for comment.