Displaying the Diverse Faces of Mental Illness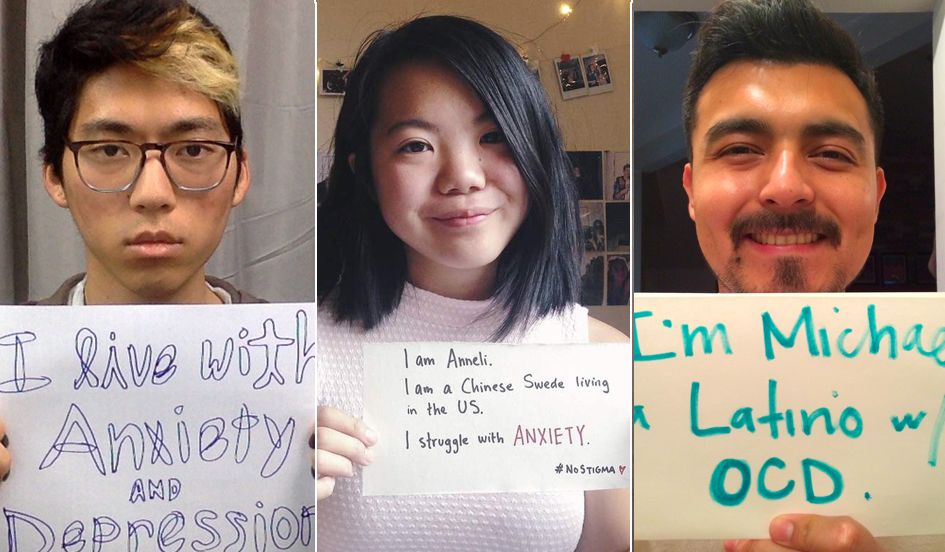 When Dior Vargas was growing up and dealing with depression and suicidal ideation, mental illness wasn't something she heard her community talk about openly. She remembers the attitude being: "Don't tell anyone about these issues outside of the household."
And at home, "it was very much like crying is a sign of weakness and mental illness is like a white person thing," Vargas told Newsweek on a recent evening at a coffee shop in Tribeca. "Even in Empire, when Cookie hears that her son has bipolar disorder, she's like, 'Is that a white person thing?'"
Now 28 and a self-titled Latina feminist mental health activist, she works to make sure fellow people of color don't feel alone with their diagnoses. Last year, she started her People of Color & Mental Illness Photo Project—collecting and posting online photos of people of color who live with depression, anxiety, bipolar disorder, post-traumatic stress disorder, obsessive-compulsive disorder or other mental health issues—and she's poised in the coming weeks to implement a new phase of the effort.
Before sitting down in a semi-circular booth in the back of the cafe as dusk fell, she had been to work at Project UROK—a nonprofit organization that aims to destigmatize mental illness, create community and reduce teen suicide through online content. She had also spoken on a Latin@Heritage panel at a private high school that day, and then attended a meeting as a member of the health working group for the Young Women's Initiative, established by New York City Council Speaker Melissa Mark-Viverito. Despite the crowded schedule, Vargas seemed full of energy and eager to discuss her work.
She started the photo project in September 2014, while still working in the publishing industry. The goal was to create a safe space and a resource for people of color, she says, those who don't often see people who look like them dealing with mental illness, whether in real life or on the screen.
Vargas told friends what she was doing, posted on listservs and otherwise solicited photo submissions from people of color who are living with mental illness. Responses were slow to arrive at first. But Vargas included her own photo as an example and slowly began receiving images from others.
"The overall idea is to tell other people of color that they're not alone," she says. "Because I felt alone. I felt I was the only Latina or the only person of color [who] had a mental illness."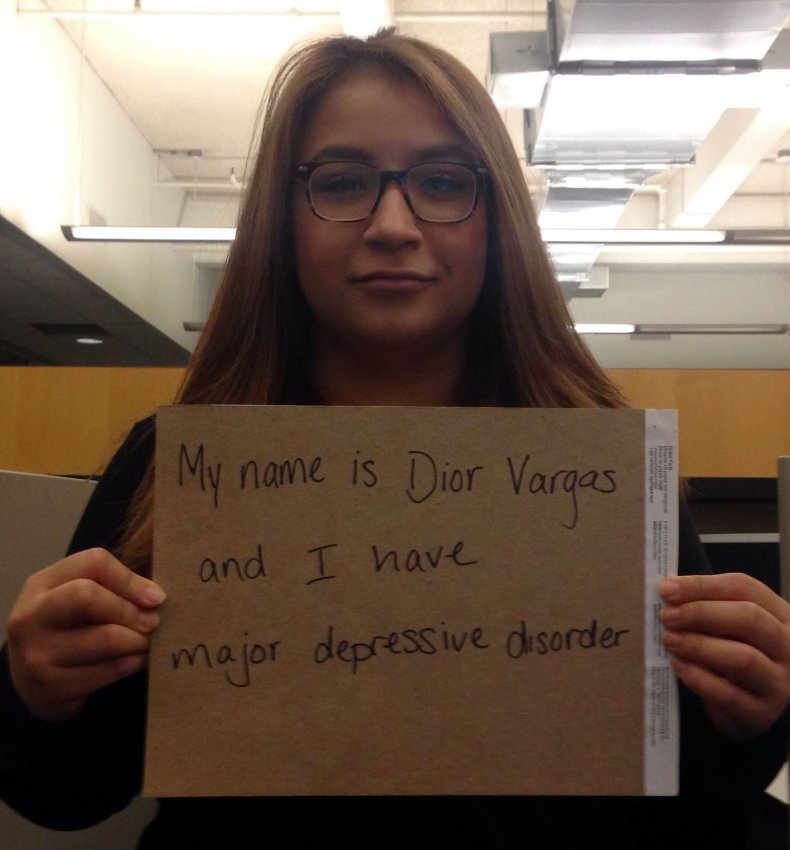 According to the U.S. Department of Health and Human Services' Office of Minority Health, CDC data show that the percentage of black and Hispanic students in grades 9-12 who attempted suicide in 2011 was higher than that among their white peers. The same was true for Asian and American Indian/Alaska Native students in data from 2009.
At the same time, 2008 data from the National Healthcare Disparities Report show that 16 percent of non-Hispanic white adults "received mental health treatment or counseling in the past year," while only 8.7 percent of non-Hispanic black adults, 6.8 percent of Hispanic adults, 4.5 percent of Asian American adults and 9.6 percent of American Indian/Alaska Native adults did.
An editor's note for a 2011 paper titled "Cross-Cultural Barriers to Mental Health Services in the United States," published in the journal Cerebrum, gives an overview of the added barriers people of color face when it comes to mental health: "For members of ethnic and racial minority groups, the road to treatment is often blocked by cultural views of mental illness and therapy, lack of insurance and access to appropriate care, and a critical deficiency of studies pertaining to nonwhite populations."
In April, Vargas organized an exhibit and panel event at La Casa Azul, a bookstore in East Harlem, as an extension to the project, another way to help spur conversations around mental health in diverse neighborhoods. The panel—featuring Imade Nibokun (Depressed While Black); Terrell Jermaine Starr (AlterNet); Ingrid Gomez, a licensed clinical social worker; and Allie Hill (National Alliance on Mental Illness, Mid-Hudson)—went well, she says. But printing out the photos for display didn't go as smoothly. Many were taken on phones and the resolution just wasn't high enough.
"This doesn't do justice to the stories and doesn't allow me to move forward with the project," Vargas recalls thinking. "I decided that I wanted to find a way to get high-resolution, professional photos taken so the ideas I had could come to fruition."
On June 18, she launched a kickstarter campaign to raise the funds she'd need to hire a professional photographer, rent studio space and compensate participants with a small honorarium. By the time the campaign closed just over a month later, 97 backers had pledged $6,535 (exceeding the $6,000 goal) to support the next phase of the photo project.
Many who have found Vargas's project over the last several months have written to tell her how needed it is, how it gives them hope or how it helped them start talking about their experiences with family or community. But the recent spate of publicity has also brought criticism (both constructive and rude) and cruel messages—she's been called racist, a bitch and an ugly person. These are mostly reactions to her focusing only on people of color and not including white individuals dealing with mental illness in her photo project.
"I have never set out to say that anyone's mental illness and their experience with it is invalid. That is not the point of the project at all," she says, emphasizing that she believes anyone dealing with mental illness deserves support, appropriate care, love and respect. "I wanted to highlight the experiences of my community and focus on them, because they are always being ignored, being made invisible," she says. "I wanted to create a safe space."
Vargas—who in addition to her new job as outreach coordinator with Project UROK is also a CrisisTextLine crisis counselor and a facilitator for the Young Adult Support Group at NAMI-NYC Metro—has chosen a photographer to help her carry out the next phase of the project, to be announced in the coming days. More than 50 people have already told her they'd like to participate.
During the photo shoots, which are expected to begin in November, Vargas will interview participants about who they are, about their experiences with mental illness, about what they'd want people to know about dealing with mental illness and more. Text derived from these conversations will accompany their portraits at future exhibits and potentially in a book.
In the meantime, her collection of online submissions continues to grow. Since the evening we spoke in the brightly lit corner of the coffee shop, a handful of new images have already cropped up on Vargas's website. "The online version of the project is ongoing; there's no end date," she says. "It will be there for people whenever they're ready."