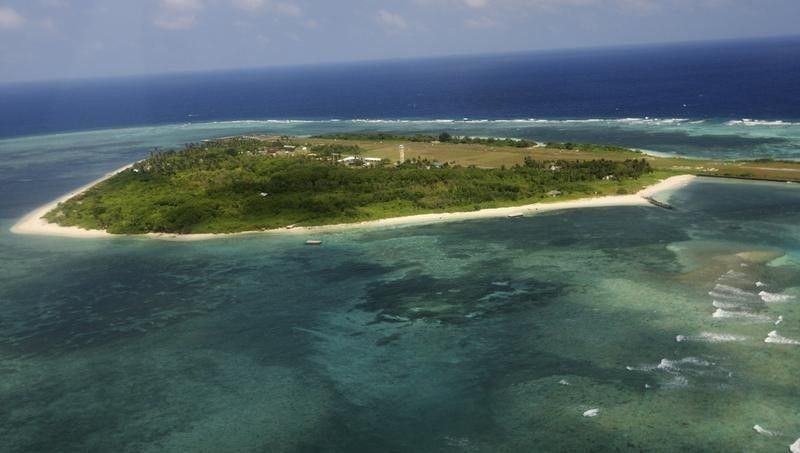 WASHINGTON (Reuters) - President Barack Obama will deliver a tough message to China during a summit with Southeast Asian countries next week that disputes in the South China Sea must be resolved peacefully and not with a big nation "bullying" smaller neighbors, the White House said on Tuesday.
Obama will also address North Korea's "provocations," a nuclear test last month and a rocket launch over the weekend, when he hosts the leaders of the Association of Southeast Asian Nations (ASEAN) in California on Monday and Tuesday, aides said.
Ben Rhodes, Obama's deputy national security adviser, said the president will reiterate that territorial disputes over the area, where China and several Southeast Asian states have conflicting and overlapping claims, must be handled through negotiations and consistent with international norms.
Though China will not be represented, Obama's aides made clear that Beijing's actions in the South China Sea, where it has proceeded with island building that U.S. officials suspect could be turned to military use, will be one of the focal points of the summit at the Sunnylands estate near Palm Springs, California.
"The president will call on all claimants to halt land reclamation, construction of new facilities and to carry out no militarization of outposts in the South China Sea," Dan Kritenbrink, Obama's top Asia adviser, told reporters on a conference call previewing the ASEAN talks.
China claims most of the South China Sea, through which more than $5 trillion of world trade is shipped every year. Vietnam, Malaysia, Brunei, the Philippines and Taiwan have rival claims.
Rhodes said part of Obama's message at the summit will be the need "to avoid efforts to resolve those disputes through one nation, bigger nation, bullying a smaller one," uphold freedom of navigation and avoid "inadvertent and unnecessary" military action in the South China Sea.
A U.S. Navy destroyer sailed within 12 nautical miles of an island claimed by China and two other states in the South China Sea in late January to counter what Washington deems unacceptable efforts to limit freedom of navigation, prompting an angry reaction from Beijing. It was the second such U.S. military exercise carried out last year.
Obama will specifically discuss with Southeast Asian leaders his concerns about China's recent test flights on a newly constructed runway on the Fiery Cross Reef in the disputed Spratly Islands, Rhodes said.
But even as Obama seeks to reassure Southeast Asian leaders of his resolve, he is expected to face divisions within the 10-nation bloc on how far they are willing to go in angering China. The Philippines and Vietnam have taken a harder line while Cambodia and Laos are more reluctant to confront Beijing.
U.S. officials insist the summit is not about targeting China but about bolstering economic and security ties with Southeast Asia, a region Obama has focused on as part of his signature "rebalance" toward Asia-Pacific.
At the same time, Obama will update Southeast Asian leaders on efforts to increase international sanctions pressure on North Korea over its nuclear and missile programs, a process that the U.S. officials said China had every reason to assist.
"We approach China on the basis that we have a shared interest in the principle of denuclearization and avoiding an escalation on the Korean peninsula," Rhodes said.
But China and the United States have not entirely seen eye to eye on how strong the response should be to North Korea, with Washington urging harsh punitive measures and Beijing stressing the need for dialogue.