'Disregard for Passengers Is Staggering': Minnesota GOP Congressmen Blasted for Flight Home After Traveling With Trump
Three Minnesota GOP congressmen have come under fire for traveling aboard a Delta flight on Friday night following President Donald Trump's positive coronavirus diagnosis—and just two days after flying on Air Force One with the president and COVID-19 positive members of the Trump administration, according to the Star Tribune.
U.S. Representatives Pete Stauber, Tom Emmer and Jim Hagedorn all reported that they tested negative for the coronavirus on Friday after traveling on the presidential aircraft to and from Trump's Duluth, Minnesota, rally on Wednesday.
They traveled via Delta Airlines from Washington D.C. back home to Minnesota on Friday night.
The Centers for Disease Control and Prevention (CDC), along with other health experts, advised that anyone who has had exposure to the virus or has come in contact with someone who tests positive must undergo a 14-day quarantine.
Delta Airline's coronavirus policy also stated that customers who have knowingly been exposed to the virus in the past 14 days may not travel. According to the policy, "exposure" includes "any face-to-face contact with an infected individual" and "sustained contact for 15+ minutes, at less than 6 feet, within 48 hours prior to the individual's symptom onset or while symptomatic."
Delta Airlines spokeswoman Gina Laughlin told Newsweek in an email that the congressmen were cleared for the flight and met those requirements.
"We work directly with medical experts to assess each situation and clear customers to travel based on CDC guidelines," Laughlin said. "In this case, our medical partners at Stat-MD conducted additional screening measures including assessing symptoms, distance and time spent with someone who tests positive, and whether the individual has been asked by a health official to quarantine."
"All of these conditions were met or the customers would not have been able to depart on the flight," she added.
Laughlin reinforced that Delta Airlines has strict cleaning, social distancing and mask-wearing policies.
In addition to receiving backlash on social media for traveling so soon after hearing about Trump's positive diagnosis, the congressmen received scalding criticism from the Minnesota Democratic-Farmer-Labor (DFL) Party. The group released a statement on Friday about the incident, with remarks from its chairman, Ken Martin.
"By flying so soon after being exposed to COVID-19, Congressmen Emmer, Hagedorn, and Stauber deliberately put the health and safety of their fellow passengers at serious risk," Martin said. "As these Congressmen know, medical experts have said that a negative test soon after exposure is nearly meaningless."
He added: "Millions of Americans have sacrificed so much to slow the spread of COVID-19, yet Congressmen Emmer, Stauber, and Hagedorn could not even wait a few days to board an airplane. These Congressmen's stupidity and disregard for the well-being of their fellow passengers is staggering."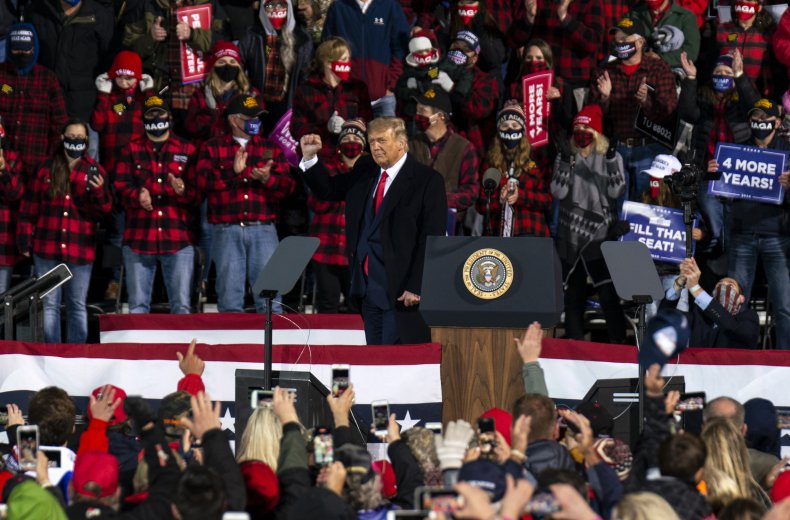 Hagedorn responded to the DFL's comment on a Facebook post on Saturday, accusing the group of "smears."
"According to CDC guidelines and Delta's policy, Congressmen Emmer, Stauber and I followed the rules," Hagedorn wrote. "We were not exposed to COVID (15 minutes and within 6 feet of close contact) and we were tested and received "negative" results prior to flying home to Minnesota yesterday."
Hagedorn also wrote that both the airline and the flight's captain were aware of the situation beforehand, and said that "one or two Democrats" complained and tried to get the congressmen kicked off of the flight, delaying take-off for approximately an hour.
Trump announced early Friday morning that he and first lady Melania Trump tested positive for COVID-19 on Thursday following the positive diagnosis of the president's closest campaign aide, Hope Hicks.
The day before his positive test result, the president held a rally in Duluth, gathering roughly 3,000 people. In attendance were Stauber, Emmer and Hagedorn, who was diagnosed with advanced kidney cancer in 2019.
"It was quite an honor spending yesterday with President Trump and my colleagues Tom Emmer and Pete Stauber, as well as U.S. Senate candidate Jason Lewis," said Hagedorn in a Facebook post on Thursday. "Tom, Pete and I flew with the President to and from his Duluth Rally on Air Force One. We enjoyed the opportunity to discuss mining, manufacturing and agricultural issues with the President."
Newsweek reached out to the three congressmen individually for comment, but did not receive a response in time for publication.
Updated 4:48 PM ET, with comments from Delta Airlines and Hagedorn's Facebook post.