Distilleries Trying To Make Hand Sanitizer During Coronavirus Outbreak Hit Unexpected FDA Roadblocks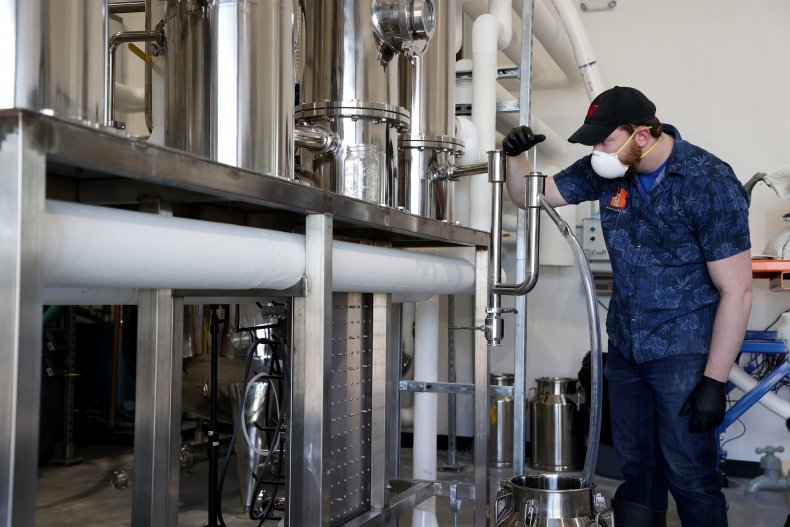 Alcohol distillers that have reconfigured their operations to meet the country's unabating demand for hand sanitizer during the coronavirus outbreak are running into regulatory hurdles from the Trump administration, industry players told Newsweek.
The distillers were given provisional approval to make hand sanitizer because ethanol can be effective against the virus. While the Food and Drug Administration (FDA) issued temporary guidance to alcohol producers, such as distillers, to help facilitate the production of hand sanitizer, these rules have sometimes hampered operations instead.
"These facilities are run by really smart people, they're chemists, and so forth. They've got the expertise and the know-how, yet one of the main challenges has been following the FDA's guidance," Chris Swonger, president and CEO of the Distilled Spirits Council, an industry trade group, told Newsweek. "The FDA inadvertently created some confusion and challenges with the guidance they issued on this."
The main point of contention stems from a series of policy documents issued by the agency in March that permit alcohol distillers to manufacture hand sanitizer, considered an over-the-counter drug.
The FDA announced it would not take action against distillers for disregarding certain manufacturing, labeling and administrative requirements otherwise applicable to drug manufacturers, but only as long as they follow the agency's specific guidance.
According to the most recent policy document, distillers must manufacture ethanol that's destined for hand sanitizer with a denaturant, a bitter compound that's added to industrial solvents in order to discourage their ingestion by small children.
Violating the FDA guidance could expose distillers to criminal liability. Also, the recently enacted fiscal stimulus package—dubbed the CARES Act—exempts distillers from a punitive excise tax if they follow FDA guidance.
However, distillers told Newsweek that this guidance is not feasible for two reasons: Not only could denaturants wreak havoc on their equipment, but prices for these additives have soared in recent weeks, making it difficult to produce sanitizer at a reasonable cost.
"The biggest issue right now is getting supply of the denaturants," Philip McDaniel, co-founder of St. Augustine Distillery in Florida, said. "You simply cannot get them anymore. And when you do try and get them, it's now a bidding war on the wholesale chemical market. The prices are literally going up by the hour."
Previous FDA guidance for other industries wishing to get in on the hand sanitizer business recommended that companies follow a recipe developed by the World Health Organization, which recommends against adding denaturants to hand sanitizer.
Distillery owners told Newsweek they found this perplexing.
"The main thing we want to do as manufacturers, and there are thousands of us across the country, we just want to be able to help people as quickly and efficiently as possible," McDaniel said. "Right now, this requirement is slowing down the process down."
Robert Cassell, co-founder of New Liberty Distillery in Philadelphia and president of the Pennsylvania Distillers Guild, is making hand sanitizer with undenatured alcohol anyway. So are many others in his position.
Cassell explained that introducing the denaturants into his manufacturing process would have unpredictable consequences down the line, potentially affecting the taste or odor of his spirits when the facility returns to normal production.
"Look, that is a risk we all have out there right now," Cassell said. "But it's about what you're doing for your neighbors and others in your state. You have to have trust in the people who represent you, that things are going to work out."
Many distilleries, such as Cassell's, are able to operate on a non-profit basis due to government assistance, allowing them to give the product away rather than sell it. He is helping to lead a multi-phase plan to bring 60 distilleries on board, with the ultimate goal of producing 2.3 million bottles of hand sanitizer for the state of Pennsylvania.
McDaniel says his factory is working with the local first responders to ensure front-line workers are well equipped. And his industry may be getting a much-needed assist from the U.S. Congress.
There is a bill pending in the Senate that would formally eliminate the excise tax for hand sanitizer production. A growing chorus of legislators is now calling on the FDA to take action itself.
"We were able to work together to cut the red tape for these folks on the ground who want to do their part to help stem the tide of this unprecedented public health crisis," Congresswoman Mary Gay Scanlon of Pennsylvania told Newsweek. "The federal government has a duty to respond, and this simple, technical change to regulatory policy will have a significant impact on civilian and first responder efforts to combat COVID-19."
The agency did not return a request for comment in time for publication.
McDaniel said that without the requirement, his facility would be able to double their production, "or even triple it."
"But even more importantly, our cost would come down dramatically," he said.
A group of Pennsylvania congressmembers sent a letter to FDA Commissioner Stephen Hahn in late March requesting that the agency extend its guidance "to non-denatured alcohol."
"During this crisis, it is critical that businesses are given necessary flexibilities to meet demand for critical sanitary products," the letter says. "A continued lack of availability of these products puts first responders, and those they are assisting, at greater risk of contracting the disease."