Philly Cops Win War Against D.A. Who Wouldn't Prosecute Suspects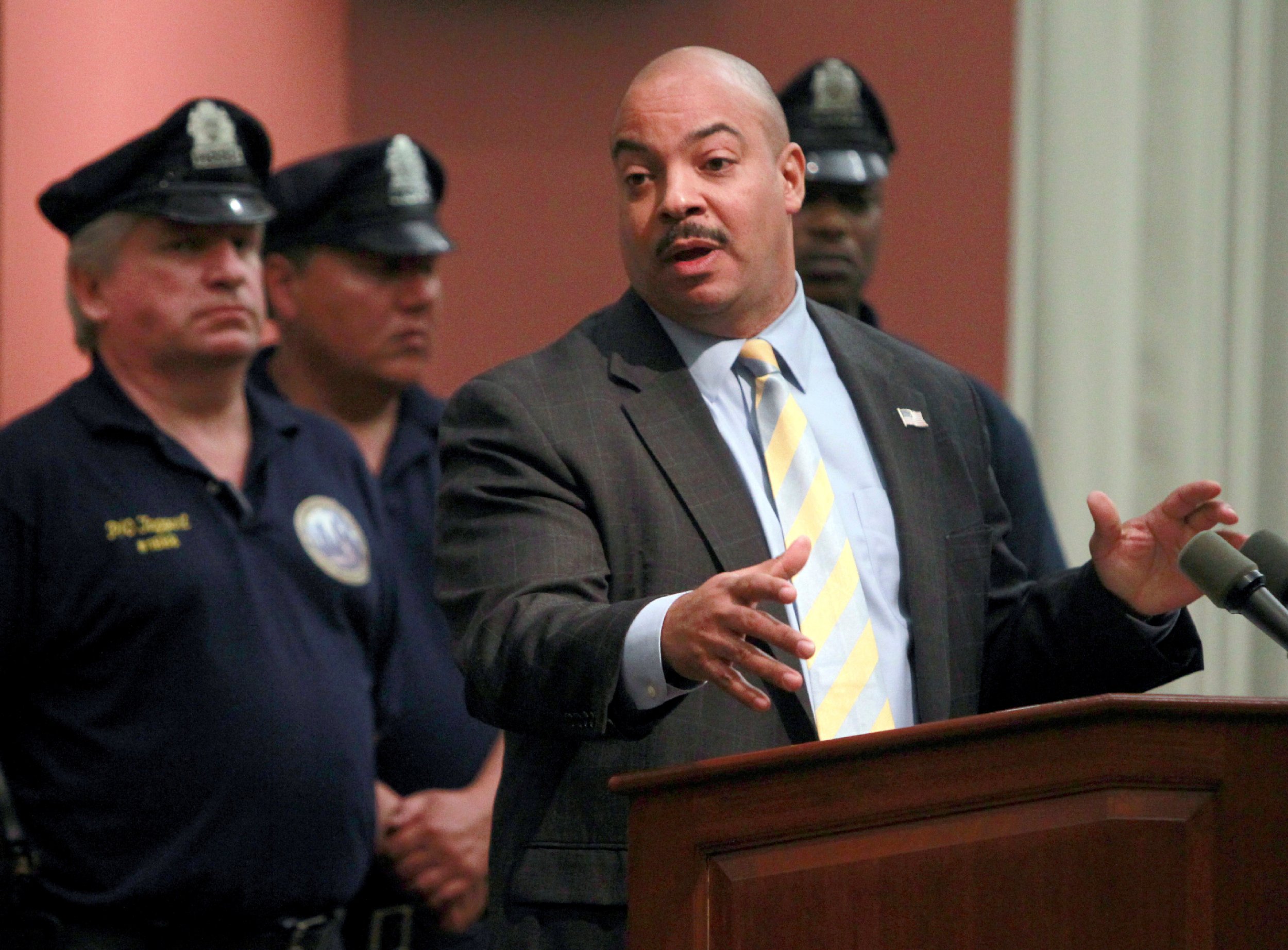 When the alarm went off inside a closed Bank of America branch in South Philadelphia, a security camera captured a suspect wearing a hoodie "attempting to gain access to the vault" and "tampering' with an ATM machine, according to police records.
When police responded to a call of a theft in progress at 7:38 a.m. on September 30, they ordered the suspect, still inside the bank, "to come towards the officers" and open a locked back door. Taken into custody was Kenneth D. Dixon, 20, of West Philadelphia.
As far as the cops were concerned, it was a slam-dunk arrest. But when they sent a probable cause affidavit over to the Philadelphia district attorney's office, the D.A. shocked the cops later that same day by declining to charge the suspect. The reasons: "incomplete discovery" and "insufficient evidence," an assistant district attorney wrote on a form known as a "record of declination." The bank video wouldn't be available for three more days, the assistant D.A. wrote, and other than the cops there were no witnesses to the crime. So Dixon went free.
Cases like this prompted Philadelphia cops to rent a half-dozen billboards around town, as well as to distribute thousands of lawn signs that say: "Help Wanted. New Philadelphia District Attorney. Please contact FOP Lodge 5."
Related: A new twist in the rapidly unraveling Philadelphia altar boy sex abuse case
In Philadelphia, the nation's fifth largest city, the police were openly at war with District Attorney R. Seth Williams. The 50-year-old incumbent, who made history in 2009 by being elected the city's first African-American D.A., had been seeking a third term in the May 16 Democratic primary election against five opponents. On Friday morning, however, Williams announced he had made the "difficult decision" not to run again.
The war between Williams and Philly cops went public in 2012, when the D.A.'s office began overturning the convictions of 852 drug dealers because Williams said he didn't trust the decorated narcotics officers who had made those arrests. Court records reveal that the D.A. had no evidence of police misconduct, and his decision is costing the city millions of dollars in legal costs.
Most recently, Williams has been under fire by the cops for declining to prosecute hundreds of arrests by cops, most often involving cases of domestic violence and so-called stranger robberies, where the victim does not know the perpetrator.
The D.A. has declined to prosecute "iron-clad cases," says John McNesby, president of the Fraternal Order of Police Lodge No. 5 in Philadelphia, adding that he gets calls "every day" from frustrated detectives around the city complaining about the D.A.'s office is refusing to charge suspects. "They [detectives] are calling and saying, This guy's out of control! They didn't sign up to let people walk free."
The D.A., according to McNesby, wouldn't approve arrest warrants unless the cops had an "airtight, 100 percent case."
"You have to have an act of Congress to get someone arrested," McNesby complained.
Why was the D.A. declining to charge suspects in hundreds of cases? The cops say it's because Williams wanted to prosecute only bulletproof cases, so he could show voters a lower crime rate, and a higher conviction rate.
Deputy District Attorney Michael Barry disputed that. He said the D.A.'s rate of declining cases submitted by the cops for charging suspects has risen from 2.9 percent of cases in 2014 to 3.7 percent last year. "I think it's only minimal," Barry said about any increase in the number of cases that the D.A.'s office has declined for prosecution. The vast majority of cases submitted by cops, 96 percent of 36,000 criminal cases in 2016, were approved for prosecution, Barry said. In 2014, it was 97 percent of 43,000 criminal cases.
According to the D.A.'s stats, those cases where suspects aren't being charged are piling up at a rate of nearly four a day. And the suspects who are being set free often go out and commit more crimes.
On August 26, 2015, police arrested 19-year-old Samir Price of Philadelphia after he was identified as a perpetrator by the victim of an attempted carjacking. Police, responding to a call of a robbery in progress, apprehended Price just two blocks away. When Price was taken into custody, the cops found a Smith and Wesson BB gun in his backpack.
But the district attorney declined to prosecute the case because of "insufficient corroboration," citing an "uncorroborated stranger robbery with nothing else." So Price was set free.
Sixteen months later, on December 7, police arrested Price and charged him with murder and robbery in the November 28, ambush shooting death of Ian Wilsey, a 14-year-old ninth-grader at Northeast High School in Philadelphia. The victim was shot three times; one bullet pierced his heart. Instead of being out on the streets, the cops say, Price should have been doing time for carjacking.
In Philadelphia, the cops say, you could be stabbed, shot or strangled into unconsciousness, and this district attorney wouldn't do anything about it.
That's what happened with a case of road rage last November in North Philadelphia, where a man who stuck his middle finger out at another motorist was shot in the back. The accused shooter, Joseph Connor, "turned himself in at the 35th [Police] District [and] surrendered his gun," police reports said. When he surrendered to the police, Connor admitted that he fired two shots at the motorist when the victim got out of his car and allegedly tried to punch Connor.
Connor was positively identified by the victim as the shooter. A woman riding with the victim told police that she heard the victim yell, "They shot me!" Then she saw him get into the seat "while blood was pouring out his back," police records state.
But on November 8, the district attorney's office declined to prosecute Connor, because the victim was undergoing emergency surgery at Einstein Hospital and could not be interviewed. Connor, according to police records, was not charged with the shooting. The D.A. declined to discuss the case.
Williams is also familiar to Newsweek readers as the district attorney who sent three priests and a Catholic schoolteacher to jail based on the suspect stories of a since-discredited former altar boy.
Daniel Gallagher, dubbed "Billy Doe" by a grand jury, had improbably claimed that he was the victim of a series of violent rapes by two priests and a Catholic schoolteacher. But the people who don't believe Danny Gallagher include a couple of forensic psychiatrists who examined Gallagher at length, and retired Detective Joseph Walsh, who led the D.A.'s investigation into Gallagher's charges. Last month, Walsh testified on behalf of the defendants as the Billy Doe case continued to unravel in court.
The war in Philadelphia between the cops and the D.A. hit the media in 2012, when Williams wrote a two-paragraph letter to the city's police commissioner. In the letter, leaked two days later to a local TV station, Williams announced that he would no longer prosecute arrests made by five decorated members of the Philadelphia Police Department's elite Narcotics Field Unit South.
The letter was the basis for the D.A. subsequently overturning the convictions of 852 drug dealers. Some of those arrests were big-time busts, such as on January 17, 2012, when the narcs arrested Mohammed Samhan, 26, of Los Angeles, and Kit "Fatboy" Poon, 41, of Northeast Philadelphia, for possession of a total of 225 pounds of hydroponic marijuana worth more than $2 million.
That letter, written in the absence of any due process, put the city's most effective narcotics squad out of business. In just 2011 alone, according to police statistics, the unit had seized 357 guns, $7 million worth of drugs and $1.8 million in cash. "They were taking millions of dollars of poison off the streets," Lieutenant Robert Otto, who oversaw the unit, testified on April 30, 2015 in federal court.
For the narcotics officers, the D.A.'s letter began a long, legal odyssey to clear their names. After the D.A. sent his letter, the officers were transferred out of the narcotics unit. Then they got fired; finally, they had to face criminal charges.
On July 30, 2014, the U.S. Attorney's office issued a 26-count RICO indictment that charged six former narcotics officers with routinely robbing and beating drug dealers that they arrested. In the indictment, the feds charged that the six narcotics officers stole at least $500,000 in cash and drugs from drug dealers, and allegedly attempted to cover their tracks by falsifying police reports.
But the feds had no sting video or evidence to back up their charges. Instead, the prosecutors relied on Jeffrey Walker—a former member of the narcotics unit who became a cooperating witness after he was caught red-handed stealing $15,000 in a sting operation—and the uncorroborated tales of 19 drug dealers with all kinds of credibility problems.
The result in court was a disaster for the government. On May 14, 2015, after a trial that lasted nearly six weeks, a federal jury unanimously acquitted the six officers on all 47 charges contained in the 26-count RICO indictment. It was a complete repudiation of the government's case.
In an interview, the jury foreman, who requested anonymity, said that Walker, the government's star witness, was "a great story teller." But when it came to corroborating any of the stories told by Walker, or the "ridiculous" tales told by the drug dealers, the foreman said, "There was never ever anything to back it up" in the form of corroborating evidence.
In the end, the government's case amounted to "absolutely nothing," the foreman said. "It almost got to the point where you almost wanted to make jokes about it." When it came time to deliberate, "I could have been out of there in 10 minutes," the foreman said. "That's how easy it was."
On July 10, 2015, an arbitrator ruled that all six officers would get their jobs back, plus a year's worth of back pay.
Meanwhile, when the D.A. announced he would no longer prosecute cases involving the narcotics officers, the city's public defenders went to court to ask a judge to order the D.A.'s office to turn over any evidence of police misconduct, so they could use that evidence to overturn previous arrests made by the officers.
The public defenders were seeking a new trial in the case of the Commonwealth v. Juan Vargas, who pleaded guilty on May 13, 2010 to drug charges and was sentenced to a prison term of 3 to 23 months.
But as the legal process played out in court, the D.A.'s office revealed that it had no evidence of police misconduct.
When asked to explain the decision to overturn the convictions of more than 800 drug dealers without any evidence of police misconduct, the district attorney's office last October released the following statement:
The DA's office is expected to seek justice, not just convictions. On occasion, that means we may be unable to pursue a case because of concerns about the trustworthiness of a particular witness. When that witness is a police witness, multiple cases may be affected. That is an unfortunate but essential element of our professional responsibility as prosecutors. Decisions of this sort are in no way unique to this office; federal officials have made similar determinations.
The D.A.'s 2012 letter to former Police Commissioner Ramsey was the subject of a 2015 defamation and false light suit filed in federal court on behalf of the six officers named in the letter.
According to the lawsuit, the real reason the D.A. wrote the letter trashing the narcotics officers was a "petty and childish" turf battle over which agency got drug forfeiture money and credit for major drug busts.
The defamation suit was subsequently dismissed on June 6, 2016 by U.S. District Court Judge Paul S. Diamond. But a month later, on July 6, a lawyer for the narcs filed a notice of appeal that is pending.
In the defamation suit, attorney Christopher D. Mannix wrote,
"There was no legitimate reason" for D.A. Williams to write an "utterly reckless and irresponsible" letter to the police commissioner. According to the lawsuit, the D.A.'s letter unleashed "a gigantic, destructive avalanche of severe and permanent wrongs, damages and injustices." Not only upon the narcs, Mannix wrote, "but upon all Philadelphia citizens who count on the fundamental purpose of government—public safety and order through the criminal justice system."
Another defender of the former narcotics officers is FOP President McNesby.
"They were one of the best outfits in the city," McNesby said. "I think the D.A.'s office sold the feds a line of shit and none of it was true."
"Now," he added, "the city is paying out their ass for this." McNesby was referring to the millions of dollars in legal fees taxpayers will have to pay to defend more than 200 civil rights cases filed against the city by the convicted drug dealers Williams set free.
To defend itself in the more than 200 civil rights lawsuits, the city has hired seven outside lawyers from two law firms. The lawyers say they can't talk about the cases.
The first civil rights case was settled by the city for $625,000. Because it would be difficult to defend the city in court against more than 200 such cases, the parties are reportedly talking about a "global settlement" that could cost taxpayers millions of dollars.
What happened to the convicted drug dealers who were set free? Out of more than 400 of those convicted drug dealers—most of whom had pleaded guilty—more than 200 were subsequently rearrested for charges that included rape, robbery, burglary, aggravated assault, aggravated assault with a gun, attempted murder and murder.
The freed drug dealers included Jason V. Siderio.
Less than a year after he was released, on March 18, 2015, Siderio was charged with murder after he allegedly shot to death Michael Walsh in the Gray's Ferry section of Philadelphia. Siderio is currently being held in jail pending trial.
Some of the convictions overturned involved career criminals. One was Anthony Hill, of Northeast Philadelphia, who was arrested for possession with intent to manufacture. After his 2009 conviction was overturned on November 20, 2015, Hill was arrested seven more times on narcotics charges, and pleaded guilty six times.
The civil rights lawsuits filed against the city in connection with the overturned narcotics convictions feature some plaintiffs with shady pasts. Yet, they may all end up getting paid.
The plaintiffs who claim their civil rights were violated include Mario Adorno. After his original 2009 arrest for narcotics, Adorno was arrested 11 more times for narcotics, and pleaded guilty four times.
Another plaintiff suing the city alleging his civil rights were violated is Brahiem I. Carter. After his original 2010 arrest, Carter was arrested on March 2, 2011, and charged with murder with a gun, but a jury found him not guilty.
On March 8, 2013, two months after the D.A. overturned his original arrest by the narcs, Carter was arrested again and charged with aggravated assault with a firearm. This time, he pleaded guilty and was sentenced to 3 ½ to 8 years in prison.
But from his jail cell, he's still suing the city for violating his civil rights. And if there's a global settlement, he'll get paid.