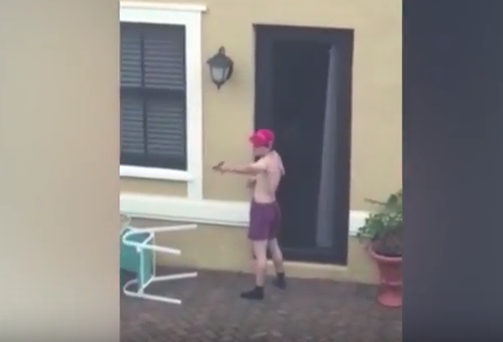 Disturbing footage has emerged of suspected Florida shooter Nikolas Cruz doing target practice shirtless in a backyard while wearing a Make America Great Again cap.
The cell phone video, first obtained by CNN on Thursday and reportedly taken by a neighbour last October, shows the 19-year-old firing off rounds in his yard before securing the weapon in his waistband and walking inside.
Commenting on the video, a CNN reporter said the sound of the weapon in the footage indicates that Cruz was shooting a BB gun. The reporter also said he spoke to "someone who lived close to [Cruz]" who claimed police had been called to the alleged shooter's house "a number of times for strange or sometimes violent behavior."
On Wednesday afternoon, an assailant, later identified as Cruz, stormed Florida's Marjory Stoneman Douglas High School with an assault rifle, and fatally shot at least 17 people and injured 14 others.
A picture is slowly forming of the suspected shooter who was arrested near the site of the attacks shortly after the incident and taken to Broward Health North hospital in Pompano Beach briefly before being transferred to the Broward Sheriff's headquarters.
Sheriff Israel confirmed that Cruz was a former student at the school who was expelled last year for unknown "disciplinary reasons."
According to Cruz's attorneys, the teenager has been on suicide watch since his arrest and is reportedly "sad and remorseful." One of the attorneys said Cruz's had the mental state of a "child."
"What was relayed to me was 'He is such a child,'" Gordon Weekes, a chief assistant for Broward County's public defenders office, told the Sun Sentinel. "That's the impression our attorneys are getting."
Authorities have not indicated a motive for the shooting, however, those that knew him described him as a strange and volatile teenager.
Broward Sheriff Scott Israel told the Miami Herald on the night of the incident that investigators had searched social media websites Cruz may have visited and found some images of an unverified man, purporting to be Cruz, displaying guns and knives.
"Our investigators began dissecting social media," Israel said. "Some of [the] thing[s] that come to mind are very, very disturbing."
Watch the disturbing footage below: