'Disturbing' Image Using School Logos on Derek Chauvin, George Floyd Prompts Investigation
Norman Public Schools in Oklahoma has launched an investigation after a student in the district reportedly used school logos on an altered picture of former Minneapolis police officer Derek Chauvin and George Floyd.
The photo, taken shortly before Floyd's death, shows Chauvin kneeling on Floyd's neck as he's pinned to the ground. The student's altered image placed the Norman North High School logo on Chauvin's head and the Norman High School logo on Floyd's head, Oklahoma's News4 reported.
The school district said in a statement that the picture was posted on social media by a student who used it as a reference to express competitive intentions at the "Crosstown Clash" football game between two high schools that is scheduled for Thursday night.
"Yesterday we were made aware of a disturbing social media post from a student regarding the upcoming Crosstown Clash football game," the school district said. "The insensitive nature of the post and the underlying message are completely inappropriate and unacceptable. School administration is investigating this matter and will handle the situation in accordance with district policy."
The altered image sparked controversy among some community leaders.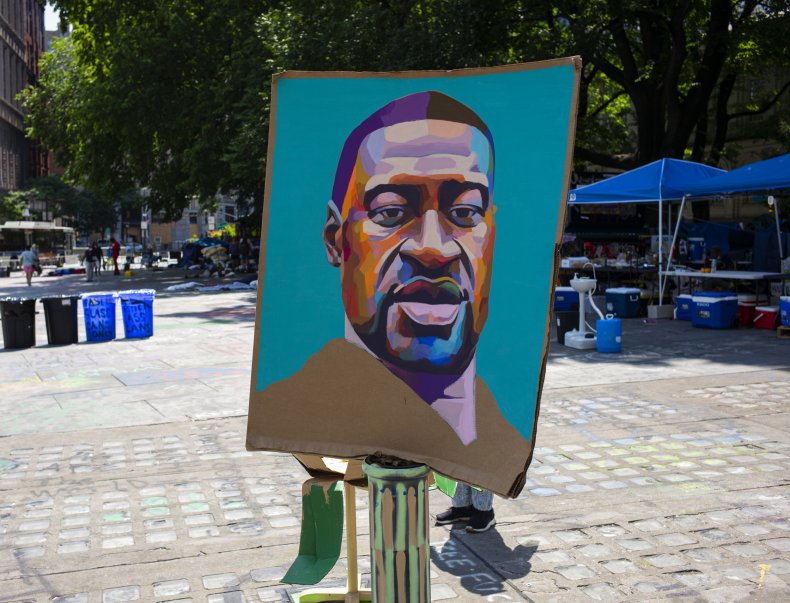 "To see that image exploited and manufactured in such a way, I'm very disappointed, and I don't want to be [disappointed] in our young people," Rev. T. Sheri Dickerson with Black Lives Matter Oklahoma City told News4. "I think every person, regardless of race, ethnicity, religious background, or even how they politically identify, should be offended, hurt. I'm hoping that it is a learning moment and that we don't see it repeated."
Dickerson called for adults and leaders to be held accountable for such incidents, saying, "we're not doing a very good job. we see a lot of the same type of pervasive and inappropriate actions from our adults."
Some young students have been outspoken about how their school boards address political matters on campuses.
In June, a 9-year-old student in Minneapolis criticized her school board over images of Black Lives Matter and Amanda Gorman, who became the first person to be named National Youth Poet Laureate, were posted on her school walls.
In a viral video, the student, known only as Novalee, spoke at the Lakeville Area School Board meeting in Lakeville, Minnesota claiming that the school board had a "no politics in school" policy and that those images defy this rule.
"I was walking down the hallway at Lakeview Elementary School to give a teacher a retiring gift," she said at the meeting on June 8. "I looked up onto the wall and saw a BLM poster and an Amanda Gorman poster."
"I was so mad," the 9-year-old student said. "I was told two weeks ago at this very meeting spot: no politics in school. I believed what you said at this meeting."
Novalee said that she asked the principal to take down the BLM poster, but he refused.
"I said there should be no BLM in schools, period. Doesn't matter what color you make the posters and the fonts you use; we all understand the meaning: it is a political message about getting rid of police officers, rioting, burning buildings down while King Governor [Tim] Waltz just sits on his throne and watches," she said.
A Lakeville Area Schools spokesperson told Newsweek in June that the images were part of a series of eight district-branded inclusive posters "to support creating school communities where every student knows they are respected, valued and welcomed."
"[The] two posters with the words 'Black lives matter' in support of our Black students and to acknowledge the social justice movement associated with this statement," the spokesperson added, clarifying that the school district does not allow branded logos pertaining to the organization itself.
Newsweek contacted Norman Public Schools district and the Black Lives Matter movement in Oklahoma City for comment but didn't receive a response in time for publication.