Disturbing Video of Attack on Asian Man in California Shows 80-Year-Old Screaming for Help
An attack against an 80-year-old Asian man in San Leandro, California, over the weekend was captured on surveillance video. The disturbing footage shows the man screaming for help and a high-pitched laugh coming from one of his attackers.
The San Leandro Police Department said the incident occurred on May 8 around 4 p.m. local time. The man was out for a walk when the two suspects attacked him, pushing him to the ground and demanding his wallet. The suspects also forcefully removed the victim's Fitbit wristband before fleeing in a blue Subaru sedan.
A third member of the group comes into the video frame but does not get involved in the struggle. After the attack, all three people got into the sedan and drove away.
Authorities said the victim suffered minor injuries but did not require medical attention.
A local NBC News outlet reported a neighbor came outside when he heard the attack taking place. The neighbor said the elderly man said he was robbed for his watch and believed he was also targeted for being Asian.
Violent crimes against the Asian community in San Leandro rose 238 percent from 2019 to 2020, according to a victim demographic study conducted by the police department in March.
Nationally, hate-fueled crimes against Asian Americans spiked by 150 percent in major U.S. cities last year. There were 122 incidents of anti-Asian-American hate crimes in 16 of the country's most populous cities in 2020, according to data compiled by California State University's Center for the Study of Hate and Extremism.
Research from the nonprofit Stop AAPI Hate shows that nearly 3,800 anti-Asian hate incidents were reported over the course of roughly a year during the coronavirus pandemic. Of that number, 503 incidents took place in the first two months of 2021 alone.
"Although at this present moment, there is no indication the elderly victim was targeted due to his race, San Leandro Detectives are pursuing all avenues of investigative leads," Lieutenant Ali Khan said in a statement.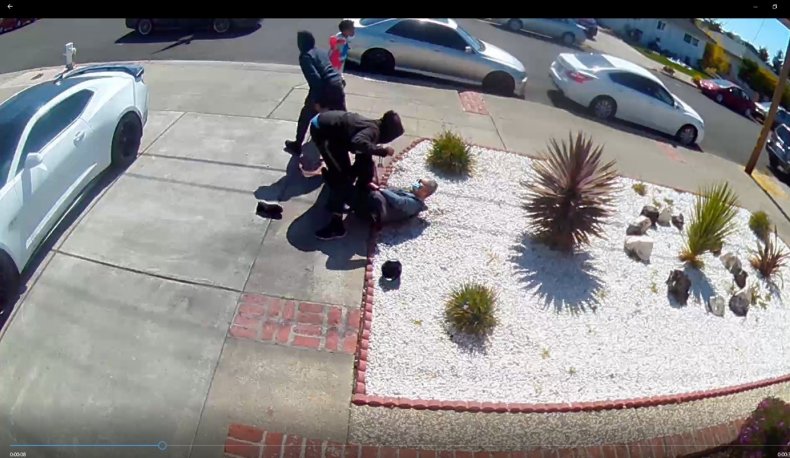 The San Leandro Police Department also said that the two suspects who attacked the elderly Asian man possibly robbed a 19-year-old Hispanic victim later that day.
The suspects in both incidents were described as Black males between 16 and 19 years old, approximately 5 feet 7 inches tall and with thin builds. The getaway car in both incidents was described as a blue Subaru sedan with black and silver rims.
Police said anyone with information and possible witnesses to the crime can call anonymously at 510-577-2740 or text a tip to "TipSLPolice" at 888777.
Newsweek reached out to the San Leandro Police Department for additional information but didn't receive a response before publication.