In Disturbing Video, Dallas Teen Puts Dog in Clothes Dryer, Turns it On And Laughs
A teenager from a north Dallas suburb streamed a disturbing, live video online of her placing a dog into a family dryer and then turning it on. The teen faced the camera and laughed while it was on, and she could be heard laughing throughout the Instagram streaming video.
She then reached over and opened the dryer door. When she did, the small dog can be seen flopping over backwards and sideways. The dog hopped out of the dryer on its own, and looked wobbly as it ran away, cowering from the girl and keeping its distance. The dog otherwise did not appear to be injured.
This Twitter user captured the video and ran it in his feed, calling the girl a "sicko," and told the internet to "do your thing."
Once outrage ensued on the internet, many people began writing that the girl lived in the Dallas area, prompting the Dallas Police Department to launch an investigation to identify the girl in the video.
On Monday, the Lewisville Police Department took over the investigation once they determined the incident happened in the suburb, according to WFAA TV in Dallas-Fort Worth.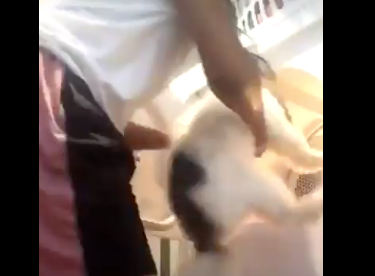 A teenager from a north Dallas suburb posted a live video of her placing a small dog in a clothes dryer and turning it on. The teen laughed throughout the video. The dog is now safe, and the teen has been identified.
Photo screenshot via Twtter
Since the girl was identified as a minor, her name and many other details of the incident have been withheld. It is being investigated as a case of cruelty to non-livestock animals, a criminal offense. Police did not indicate whether they would pursue criminal charges against the girl.
"Due to the age of the person involved, few details in this case may be released," LPD wrote in a statement.
This incident came just days after another Dallas-area town had a problem with animal abuse. In the city of Balch Springs, which is just southeast of Dallas, the SPCA of Texas seized more than 170 animals after investigating an odor complaint permeating from a house.
Animal control discovered evidence of "cockfighting, including short knives known as 'slashers,' wax string, leather straps, transport boxes and sparring muffs," according to WFAA.
Law enforcement was contacted, and a seizure warrant was obtained, and they seized 176 animals in all—111 hens, 31 roosters, 10 chicks, nine puppies, seven pheasants, six dogs, one peacock and one kitten. Few of the animals had access to shelter or food, and none of them had water. Some of the puppies were discovered in a "feces-filled garage" while others were in pens.
According to WFAA, police plan to file criminal charges.
In Disturbing Video, Dallas Teen Puts Dog in Clothes Dryer, Turns it On And Laughs | News