Disunity Cost The GOP The Governorship in Oregon | Opinion
Despite their poor results in the midterms, Republicans overperformed in many blue states. They managed to win several congressional seats in these states but came up short in statewide races. In many of these races, the explanation is generally that a state was too blue for any Republican to win. In Oregon, this was not the case. Republican gubernatorial nominee Christine Drazan lost thanks to her fellow Republican politicians.
Drazan lost by just over three points. Democratic nominee Tina Kotek won with only 47 percent of the vote. Neither candidate received 50 percent because there was a strong independent candidate, Betsy Johnson, who polled at double digits at certain points in the race, and ultimately received 8.6 percent of the vote. The conventional wisdom was that Johnson pulled voted solely from Kotek because Johnson was a former Democratic state senator. But several high-profile Republicans endorsed Johnson, so she likely took votes from Drazan too.
Republican former U.S. senator Gordon Smith endorsed Johnson early in the race. Smith based his endorsement on the state of crime, education, and homelessness in Oregon. Kotek served as speaker of Oregon's State House for most of the past decade, when these problems intensified. Although Smith did not endorse Kotek, by the end of the race, it was clear that only Drazan could defeat the Democrat, and Smith did not change his endorsement. Smith is the last Republican elected senator in Oregon, and is a powerful lobbyist. Many remember Smith fondly, so his endorsement likely moved votes to Johnson, and could have moved them back to Drazan, had he endorsed her. Additionally, with an extensive lobbying network, Smith could have provided Drazan with a powerful fundraising base.
Oregon's 2018 Republican gubernatorial nominee, Knute Buehler, also backed Johnson. Buehler said he endorsed Johnson and provided her with financial support because no Republican could win. Yet Johnson never polled competitively with Drazan and Kotek, and Drazan led for much of the race. Buehler is technically not a Republican because he left the party, but his rationale for backing Johnson was that he wanted an alternative to the Democrats. Buehler ran a respectable race in 2018 both in terms of the votes he received and his financial support. Buehler's backing also could have aided Drazan.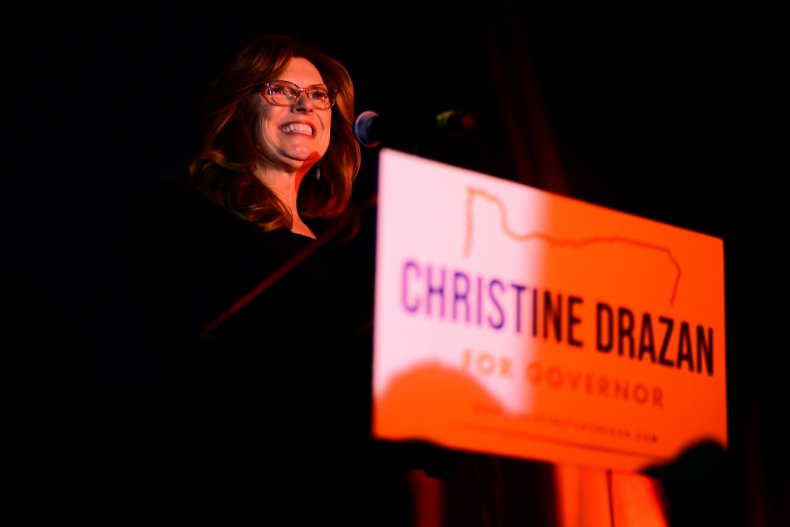 Former Oregon secretary of state Bev Clarno, the last Republican to win statewide office in Oregon, also supported Johnson. Clarno never provided a rationale for supporting Johnson. She only donated to Johnson and allowed Johnson to publicize the endorsement. Although Clarno's support was minimal, her endorsement coupled with those of Smith and Buehler allowed Johnson to appear as a candidate for people from both parties. As with Smith and Buehler, Drazan could have used enthusiastic support from Clarno.
Some would argue that Oregon was just too far left for Kotek to win. While Oregon leans left and has some extreme policies, it is not insurmountable for a Republican. In 2020, former president Donald Trump performed better in Oregon than he did in 10 other states. Republicans only lost Oregon's 2018 gubernatorial race by about six points. A poll showed that Oregon voters disapproved of President Joe Biden by a three-point margin. Oregon Republicans won a Democratic house seat this cycle, and almost flipped two others.
Drazan might have been hurt by the national disgust with former president Donald Trump. But she had taken important steps in opposing toxic forces in the Republican Party by denouncing Republicans who supported armed protests in Oregon. Drazan did not focus on contentious policies like "stop the steal" or abortion, instead discussing rising crime, government responsiveness, and improving the economy. Smith, Buehler, and Clarno have all been critical of Trump, and that might have played a role in their endorsements of Johnson. But if they were looking for leadership to take the party in a new direction, they should have supported Drazan.
In New York, Republican gubernatorial nominee Lee Zeldin ran a campaign like Drazan's. The last Republican to win statewide in New York, former governor George Pataki, did everything possible to support Zeldin. While Zeldin came up short, at least there is no question whether Republicans could have done more to help him.
Many Republicans are calling for the party to move beyond Trump because of his destructive influence. If the GOP really wants to get rid of all toxic voices, then its leading members will need to consolidate around viable alternatives—as Smith, Buehler, and Clarno failed to do in Oregon. The party should learn from that mistake.
Todd Carney is a lawyer and a writer on election issues. He earned his juris doctorate from Harvard Law School.
The views expressed in this article are the writer's own.