Dive Into Another Dimension With Jordan Peele's 'The Twilight Zone' Season Two Trailer
The second season of Jordan Peele's The Twilight Zone officially has a premiere date. The sci-fi series will return on Thursday, June 25, CBS All Access. All 10 episodes of the second season will be available to stream at once.
The highly anticipated trailer, above, was released on May 11 in honor of National Twilight Zone Day. Peele's modern re-imagining of the science fiction series uses "introspection and self-exploration to usher viewers into a dimension filled with endless possibilities," according to a press release.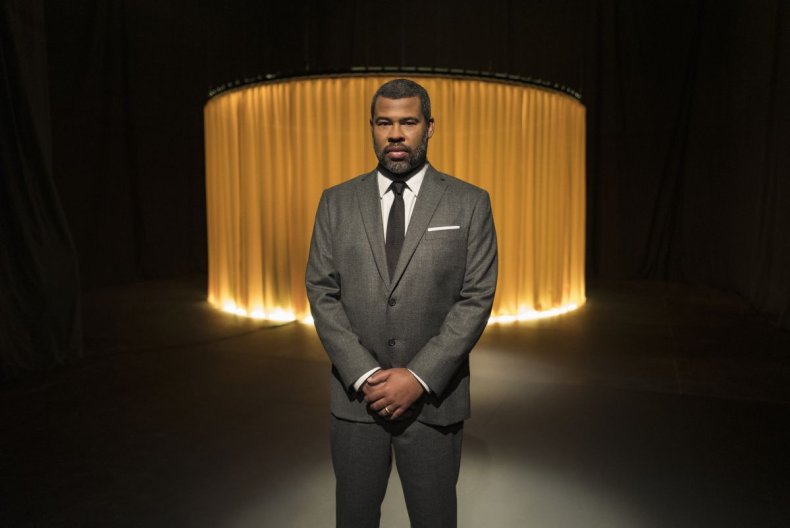 Simon Kinberg, who worked with Peele on the first season of the updated cult classic in 2019, will also return to serve as writer/producer. The first season was met with mixed reviews.
The Oscar winning director returns as host, along with a star-studded cast. Featured in The Twilight Zone's second season are Morena Baccarin (Homeland), Kylie Bunbury (When They See Us), Jenna Elfman (Dharma & Greg), Ethan Embry (Empire Records), Sky Ferreira (Baby Driver), Tavi Gevinson (Enough Said and Person to Person), Topher Grace (Blackkklansman), Tony Hale (Veep and Arrested Development), Gillian Jacobs (Community), David Krumholtz (Numb3rs), Thomas Lennon (Reno 911!), Natalie Martinez (End Of Watch), Joel McHale (Community), Chris Meloni (Law and Order: SVU), Gretchen Mol (Boardwalk Empire), Paula Newsome (Barry), Billy Porter (Pose), Jimmi Simpson (Westworld), Jurnee Smollett (Birds Of Prey), Daniel Sunjata (Graceland), Damon Wayans Jr. (New Girl), and more.
Titles of the 10 episodes were also previously announced. In no particular order, they are "You Might Also Like," "8," "Try, Try," "Ovation," "A Small Town," "The Who Of You," "A Human Face," "Among The Untrodden," "Meet in the Middle," and "Downtime." Plot details have yet to be revealed.
The Twilight Zone originally premiered in 1959. The show took audiences to another dimension, and became a storytelling juggernaut. "As an innovator of genre programming, The Twilight Zone explored humanity's hopes, despairs, prides and prejudices in metaphoric ways to introduce audiences to tales of morality and present perspectives that are underserved in conventional television," a press release added.
The first season of The Twilight Zone reboot, as well as the entire original series, are available to stream on CBS All Access.