Diver Rescues Months-Old Migrant Infant From Freezing Water, Recalls 'Human Tide' of Desperate People
Members of the Spanish Civil Guard have been pulling people from the waters near Ceuta in recent days, which has seen a huge influx of immigrants trying to cross the border from Morocco. An especially striking image of a Guard diver named Juan Francisco Valle rescuing a young baby from the waters quickly went viral after it was posted.
Valle was hailed for his bravery by many who shared the photo, which shows him holding a small baby in his hands while his arm is wrapped around a flotation device. "A little one spared!" wrote one Twitter user, while another posted, "Juan Francisco Valle You are a hero."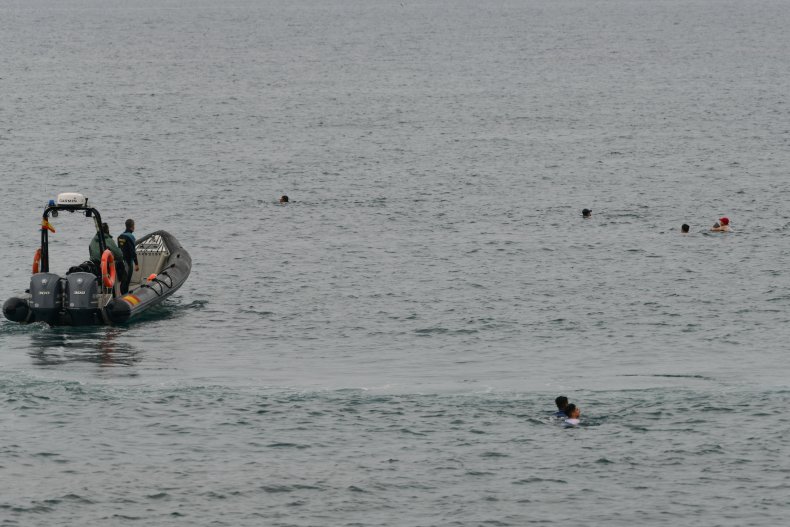 The picture was taken amid a humanitarian crisis that began when Morocco loosened its border control on irregular emigration, causing thousands of people to attempt the crossing into Spanish territories. Spain has sent military forces to Ceuta in an attempt to curb the migrants from entering.
Ceuta is a Spanish autonomous city on the north coast of Africa on the border of Morocco. Thousands of undocumented migrants have attempted to enter into Spain through the port in the past week. Around 8,000 migrants reportedly crossed over into Ceuta on Monday and Tuesday alone, many of whom arrived by swimming around border fences in the sea that separate the enclave from Morocco. At least one person was reported to have died attempting to enter Ceuta.
The maritime route is said to be dangerous, and divers such as Valle, 41, have been rescuing people who may otherwise drown. The Spanish paper El País interviewed Valle, who is a member of the special underwater unit (GEAS) attached to the Civil Guard in Ceuta.
He told the paper he used to be a member of the military as a diver in the Spanish navy before joining the Civil Guard 12 years ago. He said he had never faced a situation quite like the current one, which he called "a human tide" made up of "hundreds of desperate people."
The Civil Guard first posted the photo of Valle on its official Twitter account on May 18. Other people online soon identified him and shared his story.
"Our regular job involves recovering dead bodies from the water, whether the sea, a reservoir or a river," Valle told El País. "But this time we had to rescue living people of all ages and in all kinds of conditions, and also to decide which among so many people required our help most urgently. We picked the baby, who was freezing cold, not moving at all."
"We were watching all the people we believed would not be able to make it from their departure point to the Spanish zone," he continued. "They were using toy swim rings, empty bottles, anything. Some of them were wearing life vests the wrong way, and instead of keeping their heads above water they were having the opposite effect. There were many fathers and mothers with their children strapped to their bodies as best they could."
Valle could not estimate how many people he had helped in recently, but he said he would continue on diving into the water in the hope of saving lives.
According to El País, the Civil Guard confirmed the baby Valle rescued was alive and well and was receiving care at an undisclosed location.
Along with Ceuta, the Spanish government reported a smaller number of migrants have also entered into Spanish enclave of Melilla. The migrants are said to be looking for economic opportunity as well as seeking refuge from conflict, poverty, and human rights abuses in their native country.