Diver Describes Miraculous Escape After Being Almost Swallowed by Whale
A dive tour operator has described the heart-stopping moment he managed to escape serious injury and even death after being nearly swallowed by a whale.
Rainer Schimpf, 51, was attempting to record a sardine run—a natural event where gannets, dolphins, seals and other ocean-based animals lure the fishes into bait balls—around 25 miles off the coast of South Africa, when he came into contact with the Bryde's whale.
Schimpf, an experienced marine conservationist and photographer, described how he was in the sea recording the sardine run when suddenly everything went dark.
"I was trying to get a shot of a shark going through the bait ball and then the next moment it got dark and I felt some pressure when I instantly knew, a whale had grabbed me," he told Barcroft TV.
"I could feel the pressure on my hip, there is no time for fear in a situation like that—you have to use your instinct.
"I held my breath because I thought he is going to dive down and release me much deeper in the ocean, it was pitch black inside," he added.
The terrifying incident was captured on camera by photographer Heinz Toperczer, who was part of Schimpf's team who attempting to record the sardine run for educational purposes.
"As Rainer moved towards the bait ball, suddenly the water churned widely up, and I knew for sure that something was about to happen so I held the focus of my camera on him firmly," Toperczer said.
"Suddenly, dolphins shot out of the water, a white spray came out and then a whale appeared and grabbed him."
Speaking to the Daily Telegraph, Schimpf described how fortunate he was to have survived the incident.
"On our return in the evening Heinz checked his images and it was only once I saw them that I realized just how lucky I was to be looking at them," he added.
"Seconds decide if you become prey, seconds decide your survival and seconds are all that counts."
The whole incident lasted only a couple of seconds before the whale released the 51-year-old from its jaw. The whales, which can grow up to 55 feet and weigh around 30 tonnes, scoop up large quantities of food by simply opening its mouth near the surface and engulfing what it can.
Schimpf said that the whale did not purposely attack him and that the mammals do not eat humans.
"It was going for the fish and I happened to be in the wrong spot," he told the Telegraph."I was collateral damage and I'm sure it was as frightening for the whale as it was for me."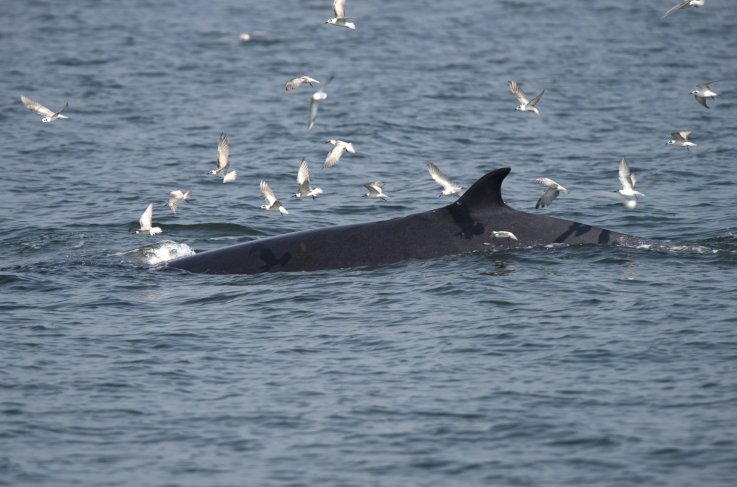 Diver Describes Miraculous Escape After Being Almost Swallowed by Whale | World