Diversity Is Not America's Strength, Republican Congressman Steve King Says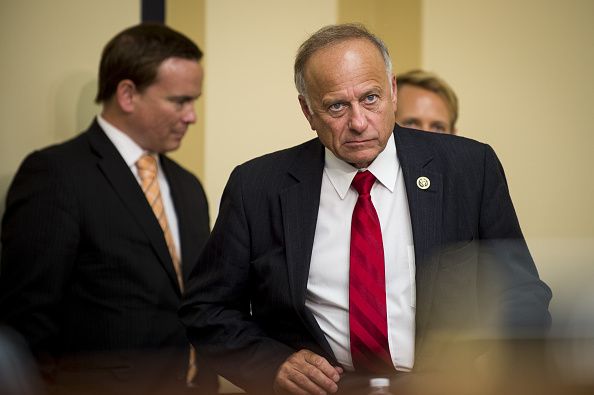 Republican Congressman Steve King said that America's strength has nothing to do with diversity in a series of tweets Friday night.
King, a representative of Iowa, linked to an article from the Voice of Europe that quoted Hungarian Prime Minister Viktor Orban saying that all cultures should not be mixed because it's "against common sense."
"Diversity is not our strength," King tweeted. "Assimilation has become a dirty word to the multiculturalist Left. Assimilation, not diversity, is our American strength."
King has been extremely vocal about immigration in Congress and has made controversial remarks in the past. In March, he tweeted his support for far-right Dutch politician Geert Wilders. He has also defended former Maricopa County Sheriff Joe Arpaio, who was convicted of criminal contempt of court for refusing to halt his immigration patrols but later pardoned by President Trump.
His list of controversial statements doesn't stop there. Last year, King wondered what "subgroups" outside of white people contributed to civilization during an interview on MSNBC's All In With Chris Hayes.
"This 'old white people' business does get a little tired, Charlie," King said, referring to a piece by Esquire's Charlie Pierce. "I'd ask you to go back through history and figure out, where are these contributions that have been made by these other categories of people that you're talking about, where did any other subgroup of people contribute more to civilization?"
King's most recent tweets come as lawmakers are struggling to figure out how to extend protections for recipients of the Deferred Action for Childhood Arrivals (DACA) program, which President Trump has set to end in March.
Trump made stronger immigration policies a cornerstone of his campaign, promising to build a wall on the Mexican border and railing against sanctuary cities, and has continued to advocate for those positions during his administration.