'The Division 2' Beta Update 2.01 Fixes DELTA-3 Errors & Crashes: Patch Notes
The Division 2 Private Beta update 2.01 has just arrived on Xbox One, PS4 and PC. The download is only about 200MB in size, but it features a couple fixes the game's diehard fans have been asking for. The patch notes arrive courtesy of a post on the game's official forums.
The Division 2 Private Beta Update 2.01 Patch Notes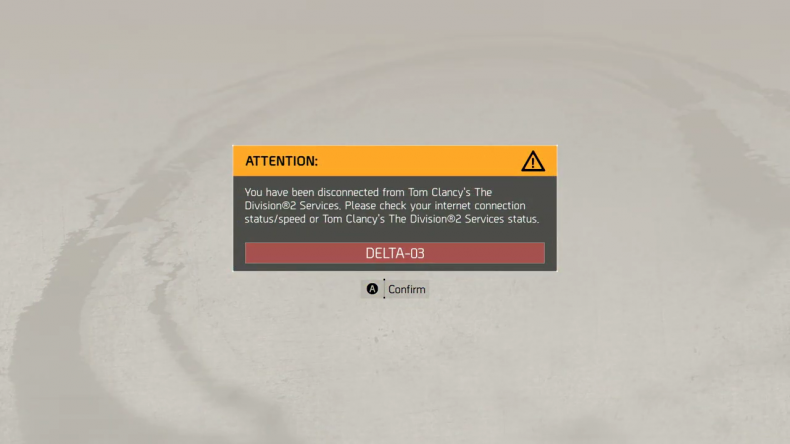 Note to PS4 players – while this patch is only 189mb, it might take longer than normal to install. You can download and install the patch right now and be ready for the servers coming online again.
Fixed several sources of game server crashes that resulted in DELTA-3 error messages.
Audio issues with NPCs in languages other than English have been fixed.
PC and PS4 players will not crash upon launching the game when accepting a group invite outside of the game anymore.
While The Division 2 Private Beta hasn't been a complete disaster in terms of its overall performance, one of the most common errors encountered by players in its early hours include repeated DELTA-3 dialog boxes and crashes during missions. Players initially believed this problem had something to do with buckling server loads under an increased population, but it appears Ubisoft has been able to at least partially resolve the error in software. Other popular error codes, like MIKE-01, aren't mentioned in the notes specifically, but they're likely improved to some extent as well.
Update 2.01 is predictably small, but at least it arrived quickly in the Private Beta's limited-time window. Following the latest round of server maintenance, hopefully players see a drastic reduction in interruptions at key moments. The fact that developers were able to respond rapidly is a positive sign for further updates to the release build of The Division 2 in the coming weeks and months.
The Division 2 Private Beta is available via invite on Xbox One, PS4 and PC. The full game releases March 15.
What are your thoughts on The Division 2 Private Beta so far? Have you encountered DELTA-3 error issues? Tell us in the comments section!
'The Division 2' Beta Update 2.01 Fixes DELTA-3 Errors & Crashes: Patch Notes | Gaming