'Division 2' Release Time: When Can You Download on PS4 & Xbox One?
The Division 2 release date is nearly here, so it's time to recap all the critical details heading into launch. Below, you'll find a recap of important release times, preload information and launch details. The information arrives via an official Ubisoft blog post.
When does The Division 2 release?
Assuming you're talking about the Standard Edition of the game, The Division 2 is expected to go live around 12 a.m. local time on Xbox, 12 a.m. EDT on PS4 and 1 a.m. EDT on PC. Sometimes with live service games the servers can be switched on slightly before or after the listed time, but this is the official launch developers have planned for. View the full list of global launch times in the image below.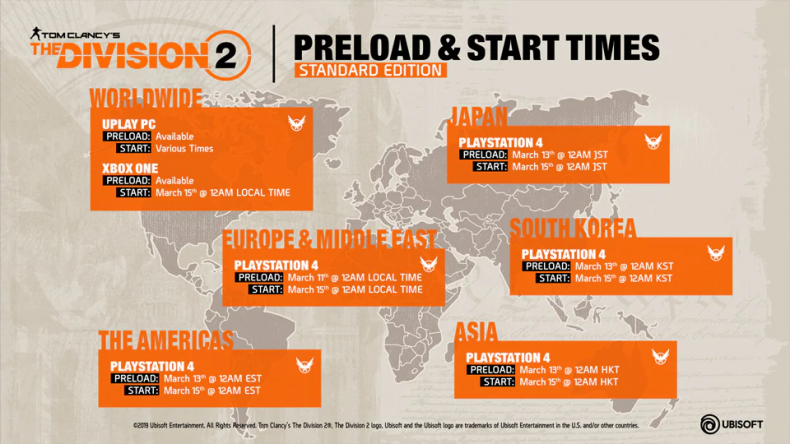 What about Division 2 Preloads?
As shown in the image above, preloading for The Division 2 has already begun on all platforms. Here are some tips to ensure the download has already started.
Go to the Tom Clancy's The Division 2 store page on the PlayStation Store, Microsoft Store or Uplay, and you should be given the open to download the game.
On PS4, scroll over to your games Library and select Tom Clancy's The Division 2. The option to download the game should appear.
On Xbox One, Tom Clancy's The Division 2 should be visible in the "ready to install" section of "Games & apps."
In Uplay, Tom Clancy's The Division 2 should be available in your games library. Click the name of the game and press the large button that says "Install."
To be sure the download will start, just verify that you have about 50GB of free space on your hard drive. As long as you do, the download should complete.
Can I play The Division 2 early?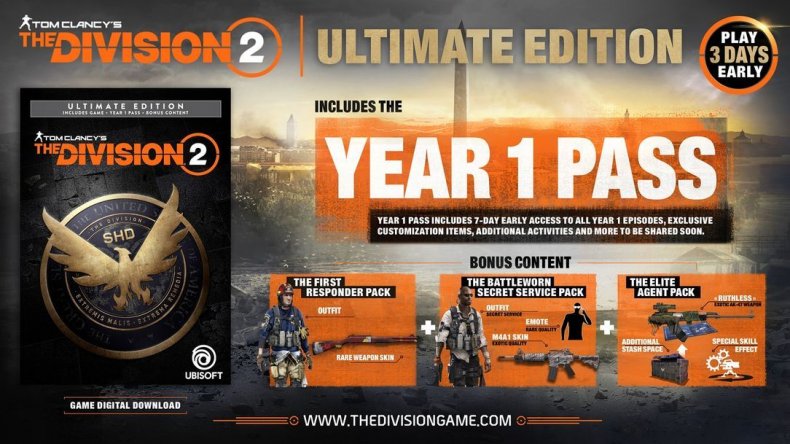 If you want to start playing The Division 2 right now, it's technically possible to do so by purchasing the $99 Gold Edition or $120 Ultimate Edition. The Gold Edition includes the Year 1 Pass with the following benefits.
Seven-day early access to episodic content.
Instant unlocks of Year 1 Specializations
Exclusive Classified Assignments
Additional bounties and projects
Agent Ward outfit
Scout emote
The Ultimate Edition includes that plus:
First Responder outfit and skin
Battleworn Secret Service outfit and skin
Elite Agent Rifle skill and stash space
If any of these goodies sounds like something you'd want, you can download The Division 2 right now.
The Division 2 is available March 15 on Xbox One, PS4 and PC.
Are you excited for The Division 2? Will you start playing as soon as the game releases? Tell us in the comments section!
'Division 2' Release Time: When Can You Download on PS4 & Xbox One? | Gaming