'Division 2' Update 1.32 Adds Title 12.3 and Season 1 Rerun: Patch Notes
The Division 2 Title Update 12.3 has arrived as version 1.32 on PS4, and the 3.8GB patch doesn't do much despite its size. The download kicks off Season 5, and it's the first of several seasonal reruns that'll be occurring throughout the year until the title's next new content update arrives in late 2021 or early 2022. The brief patch notes arrive courtesy of an official Ubisoft forum post.
Division 2update 1.32 (Title Update 12.3) patch notes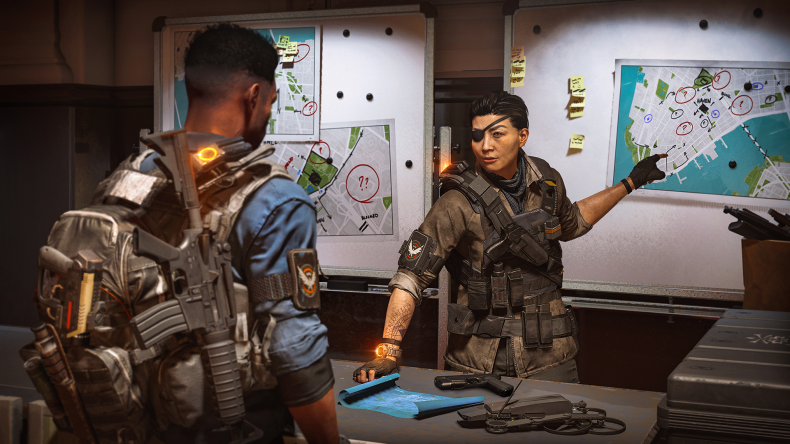 Beginning of seasonal re-runs, starting with Season 5 (Season 1: Shadow Tide).
Fixes to crash to desktop issues.
Last week, The Division 2's developers at Ubisoft Massive announced that, while a subset of the team would continue to support the game going forward, its release cadence would change drastically. Instead of introducing new seasonal content like the title had benefited from in various forms since it launched in 2019, most of what was on the way wouldn't relate to new content but instead a lineup of seasonal reruns. In other words, those who may have missed any of the previous seasons that began in March of last year will now be able to take a first or second crack at them. A substantial update for the game is still expected to release later this year, but recycling old targets and missions will keep Agents satiated until that DLC drop is ready.
As far as Season 1 is concerned, Shadow Tide launched alongside the Warlords of New York expansion in March of 2020, and it features the Jupiter Manhunt, four Leagues, three Global Events and the Urban Jungle Apparel Event. In these missions, players follow targets from Lower Manhattan to Coney Island and into the Roosevelt Island stronghold. This was Massive's first attempt at a traditional season and Season Pass model for The Division 2, but fans still appreciated the new content nonetheless. Especially for those who've yet to play it, it will be a thrill to experience with a fully level character.
Unfortunately, however, beyond those reused assets, Division 2 Title Update 12.3 is a bit vapid. There are absolutely no balance changes this time around, which means the meta will operate just like it has over the past few months. This isn't a huge surprise given that most of The Division 2's developers have likely transitioned over to making an open-world Star Wars game, but it's a little sad to see that the studio's previous title will be fading into the background for the foreseeable future. New content will indeed happen, but it's going to take a while to get here. For the most dedicated Agents, the wait begins now. At least, today's update offers something to keep players busy, though.
The Division 2 is available now on Xbox One, PS4 and PC.
What are your thoughts on The Division 2 update 1.32? Are you willing to replay Season 1 all over again? Tell us in the comments section!