'Division 2' Update 1.06 Fixes T-Posing & True Patriot Gear - Patch Notes
The Division 2 server maintenance has just wrapped up, and a new client-side update is live. Patch 2.1, labeled as version 1.06 on PS4, fixes glitches with T-posing while also making sure the True Patriot gear ser operates correctly. The full patch notes arrive courtesy of a post on the game's official subreddit.
The Division 2 Update 1.06 Patch Notes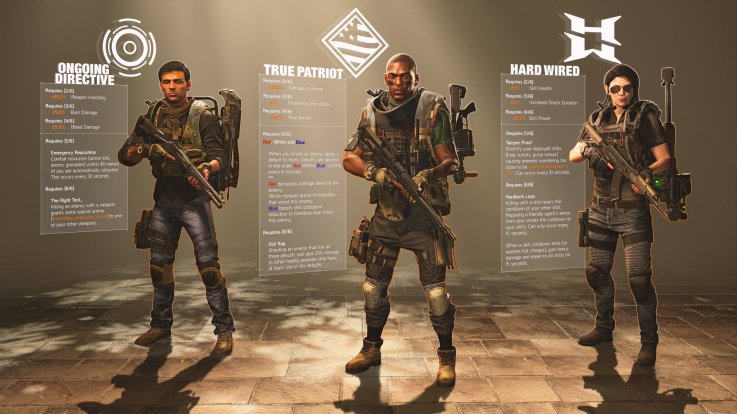 Fixed an issue where enemy NPCs could get stuck in a T-pose when being killed out of view.
Fixed another issue with the Revive Hive not working properly. We are still working on instances where the skill sometimes will not resurrect players.
Fixed an issue where the Gila Guard brand gear could not be donated to the Campus Daily Project "Brand Request: Gila Guard".
Fixed an issue where the Crafting Bench upgrade blueprint would not be granted to players when moving from one World Tier to another.
Fixed an issue where the two piece bonus of the True Patriot gear set would not trigger correctly.
Today's update obviously isn't quite as substantial as the 1.05 update that introduced World Tier 5 earlier this month, but its fixes are important just the same. The rampant T-posing in particular, while not that harmful to gameplay, was a serious immersion breaker and made the rest of the experience appear janky. The issues with True Patriot were also a major problem, given that players worked hard to collect all its pieces to get stat buffs that rarely worked. At least that effort will be fully recognized now.
This update arrives shortly after the latest State of the Game stream, in which several common complaints of the Division 2 community were addressed. In addition to the patch notes listed above, Ubisoft made a point to ensure Skill builds and Tank builds would become more viable in the meta and that the game's overly aggressive AI would be nerfed. We don't see the full results of those changes in this particular update, but we suspect they'll be deployed soon. Overall, Ubisoft continues to do a solid job of patching the Division 2's biggest bugs very quickly.
The Division 2 is available on Xbox One, PS4 and PC. The 1.06 update is live on all platforms.
What are your thoughts on the latest update for The Division 2? Are these patch notes smaller than what you were expecting? Tell us in the comments section!
'Division 2' Update 1.06 Fixes T-Posing & True Patriot Gear - Patch Notes | Gaming