See How Diwali is Celebrated Around The World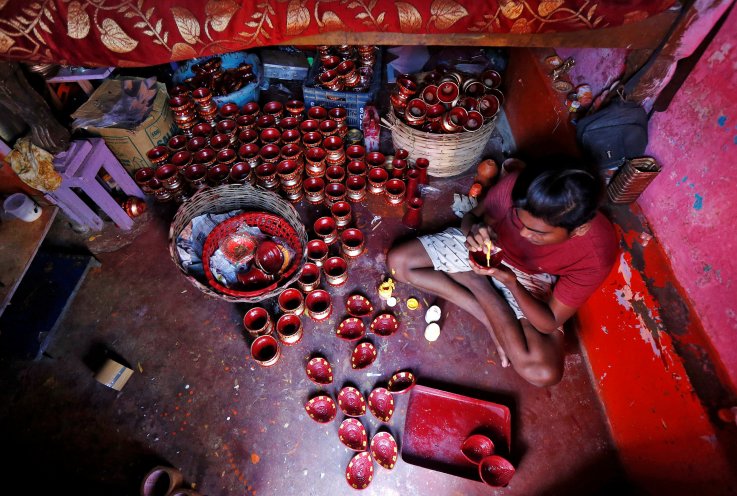 Homes will be glowing and skies illuminated across India and around the world this week. It's Diwali, the five-day festival of lights that brings families together to exchange sweets and gifts, wear new clothes and decorate their homes with rangoli—patterns made out of colored rice and powder.
Diwali is celebrated by Hindu, Sikh, Buddhist and Jain communities, and is an official holiday in India, Nepal, Sri Lanka, Myanmar, Mauritius, Guyana, Malaysia, Singapore, Fiji, Trinidad and Tobago and Suriname.
For many Hindus, the festival marks the beginning of the Hindu new year when, according to the Ramayana legend, Lord Rama, his wife Sita and his brother Lakshmana returned to the ancient kingdom of Ayodhya after 14 years in exile. On that night, villagers lit small earthen lamps (known as diyas) to illuminate their path and to honor Rama's defeat over the demon king Ravana. During Diwali, Hindus worship Lakshmi—the goddess of wealth and prosperity, and Ganesha, the remover of all obstacles.
The Hindu celebrations began on October 28 this year, with Dhanteras—the festival of wealth, when most Indian businesses mark the start of their financial year. The third day, Deepavali (from the Sanskrit word meaning "row of lights") falls on the darkest, new moon night at the end of the Hindu lunar month of Ashvin—this year, October 30. This is when the country truly lights up, as people decorate their homes with oil lanterns and lamps, and light sparklers and fireworks.
On the same night as Diwali, Jains honor Lord Mahavira's attainment of Nirvana; and Sikhs celebrate Bandi Chhor Divas to mark the escape of Guru Hargobind (the sixth of the Sikh gurus) from a Mughal emperor's prison. In the Buddhist tradition, the Newar people in Nepal celebrate Diwali by worshipping Lakshmi; while in Myanmar, some Buddhists mark events in Buddha's life during festivals held at the same time as Diwali that emphasize the spiritual importance of light, goodness and knowledge.
There is something special about a festival celebrated by four religions. And while Diwali has different meaning depending on regional, spiritual and cultural traditions, its message—marking the victory of light over darkness, knowledge over ignorance and good over evil—continues to resonate with millions of people around the world. In these photos, see celebrations in cities from Berlin to Kuala Lumpur, and Amritsar to London.