The Dixie Chicks Are Now The Chicks—The Story Behind The Name Change
The Dixie Chicks will be known as The Chicks moving forward. The country girl trio dropped the word "Dixie" from their name amid the nationwide protests about systemic racism and debates regarding the removal of Confederate monuments. They revealed the new name while promoting their new song "March March" on social media.
The "March March" music video includes clips from historical and current protests, and includes the powerful quote "if your voice held no power, they wouldn't try to silence you."
The Country Music Award-winning band — made up of Natalie Maines, Emily Strayer and Martie Maguire — have used the name for over 30 years. They pulled the name from the 1973 album and song "Dixie Chicken" by Little Feet, according to Entertainment Weekly.
The term "Dixie" refers to the south. It also was a nickname for the 11 states south of the Mason-Dixon Line, that eventually became the slave-owning states of the Confederacy during the Civil War. The negative connotation appeared to become contentious amid conversations about racial inequality.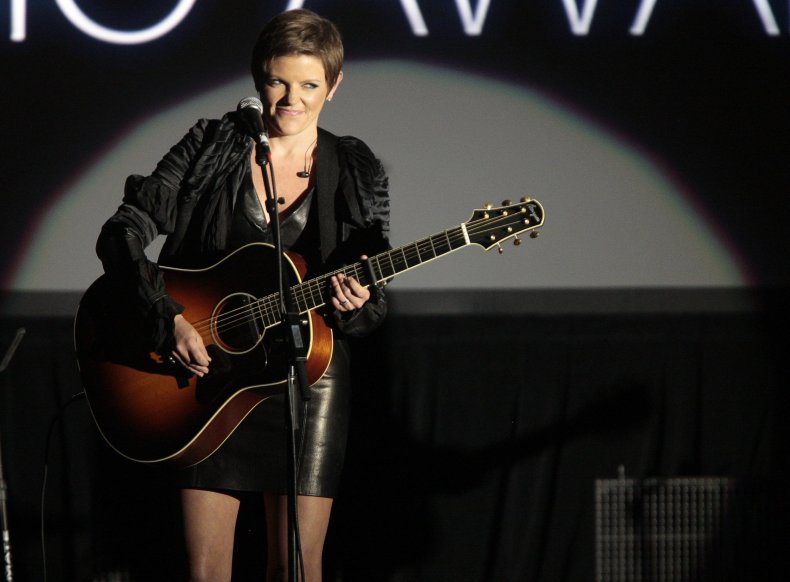 The Chicks shared the following statement with Newsweek about the recent name change: "A sincere and heartfelt thank you goes out to 'The Chicks' of NZ for their gracious gesture in allowing us to share their name. We are honored to co-exist together in the world with these exceptionally talented sisters. Chicks Rock!"
A New Zealand pop group from the 1960s also is named "The Chicks" also exists, but the two bands appeared to settle any dispute in advance of the name change. Additionally, their webpage reads a simple but important statement: "We want to meet this moment."
This isn't the only name revitalization happening in the country music world.
The band formerly known as Lady Antebellum also changed their name earlier this month amid conversations about racism following the death of George Floyd. The trio rebranded themselves as "Lady A," and said they were "embarrassed" that they didn't take into account that the term "antebellum" had slavery connotations.
"When we set out together almost 14 years ago, we named our band after the Southern 'Antebellum' style home where we took our first photos," Lady A said at the time in a statement. "But we are regretful and embarrassed to say that we did not take into account the associations that weigh down this word referring to the period of history before the Civil War, which includes slavery."
"After much personal reflection, band discussion, prayer and many honest conversations with some of our closest Black friends and colleagues, we have decided to drop the word 'antebellum' from our name and move forward as Lady A, the nickname our fans gave us almost from the start," they added.
The Chicks are set to release a new album, Gaslighter, on July 17. This will be their first album in 14 years.