Dixie Fire Map, Update as 16,000 Homes Threatened by Growing Blaze
More than 870 structures have so far been destroyed in California by the Dixie Fire, while around 16,000 buildings are still under threat, as officials struggle to contain the large wildfire that has now been burning in the state for 27 days.
By 9:15 p.m. local time on Monday, the fire had destroyed 482,047 acres of land in California. It's only 22 percent contained, making it now the second-largest fire in the state's history, just behind the August Complex blaze that burned more than a million acres in 2020, according to Cal Fire.
The agency initially reported the acreage burned on Monday as 489,287, while only being 21 percent contained, but revealed in a tweet later in the day that it had re-evaluated the figures "due to better mapping."
At least 61 structures have been damaged and 873 buildings and structures have been destroyed by the fire, which began burning in the state on July 13. CNN reported that around 16,035 buildings are still threatened by the blaze.
The state has allocated 30 helicopters, 476 fire engines and 5,996 personnel from 75 crews to tackle the fire, which has prompted evacuation orders to be issued in Butte, Plumas, Lassen and Tehama Counties.
Plumas National Forest Supervisor Chris Carlton told CNN that the Dixie Fire is "uncharted territory" for several of the crews in the state, explaining: "We're seeing truly frightening fire behavior, I don't know how to overstate that.
"We have a lot of veteran firefighters who have served for 20, 30 years and have never seen behavior like this, especially day after day, and the conditions we're in. So we really are in uncharted territory around some of these extreme, large fires and the behavior we're seeing."
At least 108 large wildfires are currently burning in the U.S. after a heatwave and drought in early July caused blazes to break out across the West Coast, according to the National Interagency Fire Center.
Officials have also stressed that the devastating effects of the wildfires in the past few years have been exacerbated by the effects of climate change, which is likely to worsen in the future.
This message was echoed by California Governor Gavin Newsom on Saturday, during a visit to the mountain town of Greenville, which saw several homes burned to the ground last week by the Dixie Fire.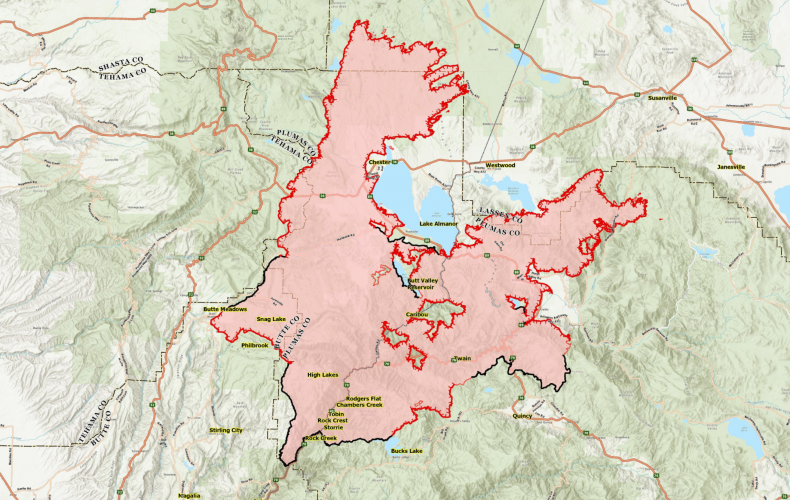 "We have a deep responsibility to rebuild this community," Newsom said. "But also to address the intensity of what is occurring globally, but manifesting in smash-mouth ways here in California—and that's climate change."
More than 25,000 wildland firefighters and incident management teams are battling the blazes across the U.S., which have so far burned over 2.3 million acres across 15 states.
California has had the most land burned at 776,695 acres, with the Dixie Fire accounting for more than half of it, while the Beckwourth Complex Fire destroyed 105,670 acres in the state at 98 percent containment.
Cal Fire confirmed on Monday evening that 9,542 firefighters are battling the 11 large wildfires currently burning in the state.
Montana and Idaho have recorded fewer acres burned than Oregon and California, but they are the worst affected states in terms of the number of blazes. There are 23 active fires in Montana and 20 in Idaho.
Across the United States, more acres have burned this year compared to this point in 2020 and 2019. There were 39,402 fires affecting 3,623,259 acres recorded from January 1 to August 9, 2021, according to the National Interagency Fire Center.
That compares to 33,917 fires and 2,313,264 acres for the same period in 2020 and 28,531 fires and 3,597,447 acres in 2019.