Dixie Fire Grows to 604K Acres, Red Flag Warning Remains in Effect Due to Strong Winds
California's Dixie Fire has officially burned more than 600,000 acres and remains just 31 percent contained.
The California Department of Forestry and Fire Protection, or Cal Fire, announced Tuesday the wildfire has grown to 604,511 acres—an increase in size of roughly 25,000 acres overnight.
More than 1,100 buildings have been destroyed in the blaze and another 16,000 remain threatened. There have been three first responder injuries reported. No civilians have been injured so far.
The Dixie Fire, which has become California's second-largest wildfire in history, erupted on July 14 in the densely forested northern Sierra Nevada. It has since spread to over four counties: Butte, Plumas, Lassen and Tehama.
Experts previously told Newsweek the fire could burn for months, until the winter rain and snow arrives in the region. The expected full containment date estimated by fire officials remains "TBD" or to be determined.
A "Red Flag Warning" is in effect until at least 11 p.m. on Tuesday as firefighter crews contend with strong winds. The warning is Cal Fire's highest alert, and is issued for weather events that may result in extreme fire behavior.
Firefighters in the west zone of the blaze dealt with "intense fire activity" Monday night under the influence of southwest winds. Officials are still conducting damage assessments and warned updates could come to the number of buildings leveled by the fire.
In the east zone, crews are battling strong winds and relatively low humidity. Priorities for the zone include new containment lines to "defend against the wind shift that could drive the fire to the South."
The National Weather Service (NWS) has put the area under a fire weather watch through Thursday.
The weather forecast has prompted the Pacific Gas and Electric Company (PG&E) to issue a public notice warning that it would likely cut power to thousands of homes and businesses beginning on Tuesday evening to reduce the wildfire risks.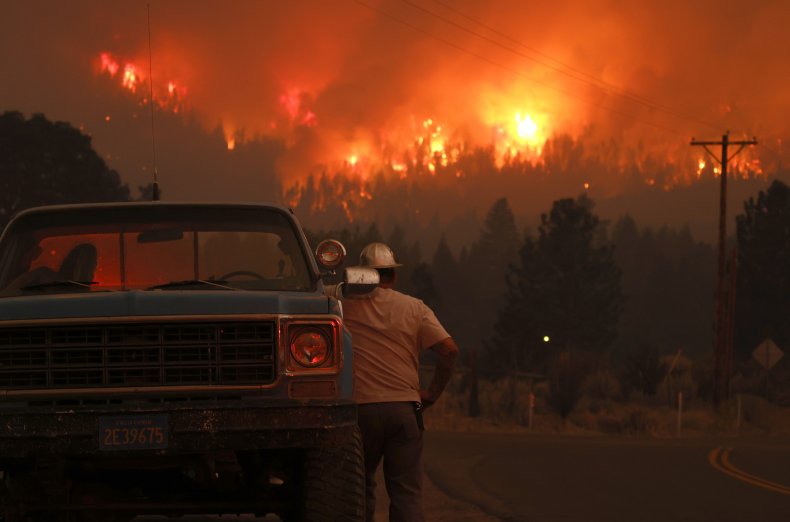 The Dixie Fire is moving toward Susanville, which has a population of roughly 18,000. Susanville is located in Lassen County and is the largest city that the fire has approached so far.
The city's police department told residents Monday to be ready to leave the area as the fire grows, and the Lassen County Sheriff's Office issued an updated list of mandatory evacuations and evacuation warnings for the area on Tuesday.
"Fire behavior is unpredictable and we simply don't know how it will progress," the sheriff's office said in a Facebook post on Monday night.
Newsweek reached out to Cal Fire for additional comment, but didn't receive a response before publication.