Dixie Fire Map, Update, as California Blaze Burns More Than 220,000 Acres
The large Dixie Fire in California has grown to over 220,000 acres as fire crews in the state continue to battle several wildfires.
The Dixie Fire, the second-largest wildfire currently burning in the U.S. and the biggest in California, has grown to 220,012 acres while only being 23 percent contained, according to data provided by Cal Fire.
After now growing to 343 square miles the Dixie Fire is now bigger than Dallas in Texas and New York City, New York, while being just more than 100 square miles smaller than Los Angeles in California.
The blaze, which has been active since July 14, has so far destroyed 54 structures and damaged seven more. Officials have issued several evacuation orders for residents in parts of Plumas and Butte Counties.
The Mercury News reported that the fire grew at a slower place than in recent days on Wednesday night, as rain fell over a portion of the affected areas.
The Dixie Fire is one of six wildfires currently burning in California. These active blazes have burned at least 347,616 acres, while 5,609 fires this season have destroyed 480,205 Acres and damaged or destroyed 323 structures.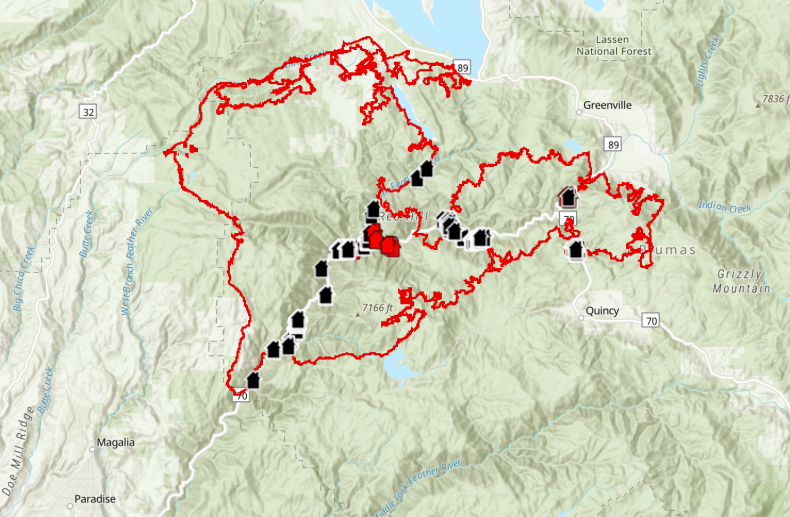 The Dixie Fire is far off from being contained. However, the Beckwourth Complex Fire that ravaged parts of California earlier in July is now 98 percent contained by fire crews after destroying 105,670 acres.
The four other fires currently burning in California, including the Lava and Peak blazes, are all at least 50 percent contained. A majority of the state's focus is on stopping the Dixie Fire from continuing to spread.
There are currently 81 large wildfires burning in the U.S. after a heatwave and drought in early July caused blazes to break out across the West Coast, according to the National Interagency Fire Center.
More than 21,400 wildland firefighters and incident management teams are battling the blazes, which have so far burned over 1.6 million acres across 12 states.
California and Oregon have been the worst affected states.
Oregon has had the most land affected by the wildfires as 546,808 acres have been burned by six fires. These include the Bootleg Fire, which has destroyed 413,400 acres while being 53 percent contained.
Although they have seen a much smaller number of acres burned, Montana and Idaho are the worst affected states in terms of the amount of blazes, with 21 active fires currently in the former and 20 in the latter.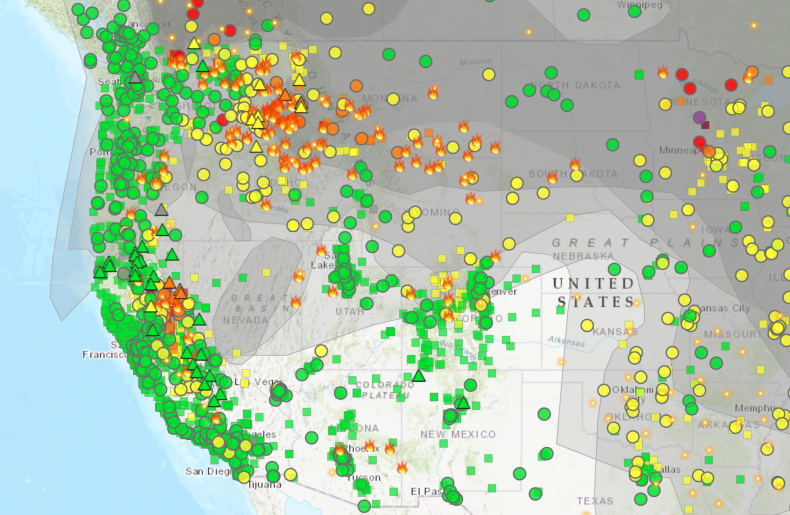 The high number of wildfires burning in the country has caused large parts of the lower 48 states to be covered with hazy skies and smoke, causing hazardous air quality levels in some parts.
Data provided by AirNow on Thursday showed that the area of Forest Ranch in California was recording an air quality level of 475, putting it in the hazardous bracket. No other parts of the state are recording scores above 300.
The air quality index, which is used by governments across the globe to measure air quality, classifies a score between 151 to 200 as "unhealthy" and between 201 to 300 as "very unhealthy." A score above 300 is considered "hazardous."
If an area is recording an air quality index score that is classified as very unhealthy, then residents are advised to "try to stay indoors," while if it is hazardous then locals are urged to "stay indoors."
Across the United States, more acres have burned this year compared to this point in 2020 and in 2019. There were 37,009 fires affecting 3,392,053 acres recorded from January 1 to July 28, 2021, according to the National Interagency Fire Center.
That compares to 31,226 fires and 1,964,416 acres for the same period in 2020 and 25,357 fires and 3,149,811 acres in 2019.