Biden Jokes He Can Claim Victory after Winning Tiny Dixville Notch: 'They Voted so It's Over'
In a wry swipe at President Donald Trump, Democratic contender Joe Biden has reportedly quipped that because he got the unanimous backing of voters in a tiny New Hampshire township, he should already claim that he has won the election.
As one of the first places that reveals its presidential preferences, Dixville Notch on the U.S.-Canadian border gets a lot of media attention. In a tradition now in its 60th year, eligible voters gather in a room at The Balsams Resort to cast their secret ballots once polls open at midnight.
It may not be accurate to extrapolate Dixville Notch's results to fit the whole country, but Biden did refer to it when it was revealed that he got 100 percent backing from the five people who voted.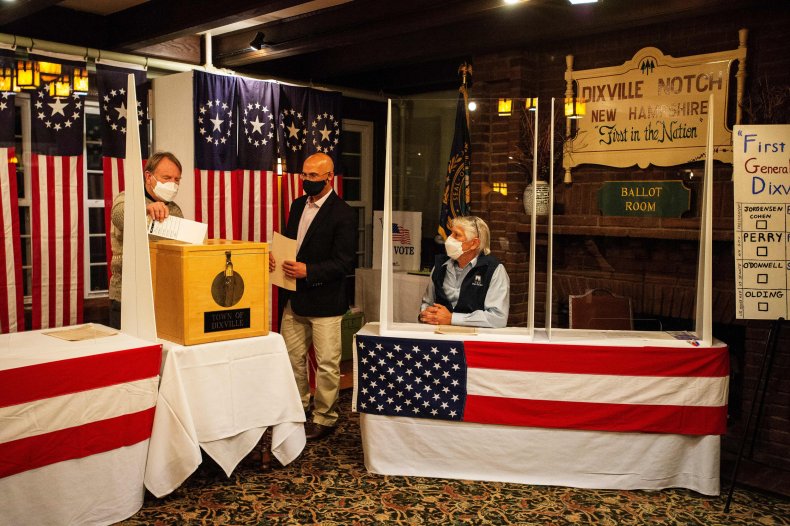 Trump has raised concerns among Democrats that he might claim victory prematurely if early results showed him ahead, even if all the votes had not been counted.
In Scranton, Pennsylvania, Biden referred to this, saying: "We're the first person I'm told to win [Dixville Notch, NH] unanimously, all five votes. So based on Trump's notion, I'm going to declare victory right now. You know what I mean? They voted so it's over," in comments reported by ABC News.
Les Otten, an owner and lead developer of The Balsams Resort said that his vote for Biden was the first time he had backed a Democrat for the White House. "I don't agree with him on a lot of issues, but I believe it's time to find what unites us as opposed to what divides us," he told WMUR.
Trump did have better news in nearby Millsfield which also opened its polls at midnight and saw the incumbent president prevail over the former Vice President Biden 16-5, CNN reported.
Some Democrats said that a move by Trump to declare early threatens to distort the results and take advantage of delays in the reporting of vote counts, due to more mail-in balloting caused by the coronavirus pandemic. Such a plan has been denied by the White House. More than 200 protests organized by a coalition of national pro-democracy organizations have been planned if such a move took place.
However, Trump appeared to dismiss this possibility when asked about it during an interview with Fox & Friends, telling the program that he would declare himself the winner "only when there's victory."
"I mean, you know, there's no reason to play games. And I think we'll have victory," he added.
This graphic below provided by Statista shows the concerns of the American electorate ahead of Tuesday's election.