DJ Accuses Sydney Sweeney of 'Racist' Behavior After MAGA Controversy
The criticism of Sydney Sweeney continues as a DJ has weighed in and accused her of past "racist" behavior.
Euphoria actress Sweeney caused a stir across social media when pictures she shared from her mom's 60th birthday party featured guests wearing "MAGA"-style hats and alleged "Blue Lives Matter" shirts.
She issued a statement asking her fans to "stop making assumptions" and making the "innocent celebration" political, but her fans didn't let up with the criticism.
While online users were divided by Sweeney's statement, DJ Bella Ferrada shared her own story which relating to Sweeney's past alleged behavior.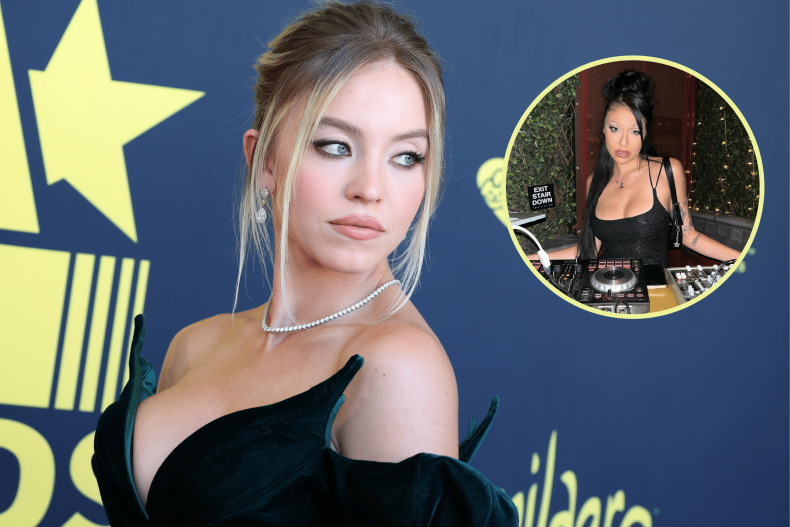 "All I see are red hats and red flags," Ferrada wrote in the comment section of Sweeney's Instagram post. "Girl bye, this explains why you got so scared when my Mexican boyfriend was trying to fix lighting by you at the HCA awards and you freaked out and had your bf come shooo him while he was just doing his job and has no idea who you even are... why were you so scared? It's giving Karennnn."
Newsweek has contacted Sweeney's representatives for comment on this story. Newsweek is also still trying to assess the veracity of the incident.
The LA-based DJ Ferrada wasn't done there.
She also addressed the topic on her Instagram stories, where she revealed that Sydney's brother Trent Sweeney had blocked Ferrada. Trent's unverified Instagram account also came under fire, but he clarified that the hats seen at the party said "Make Sixty Great Again."
Within the comment section of Sweeney's original post, some people jumped to her defense, including conservative political commentator Tomi Lahren, who told Sweeney to "never apologize to the mob!"
Screenshotting Lahren's comment, Ferrada wrote, "May I just say one more thing then I'm done with this subject[.] If [you] got Tomi Lahren's racist ass backing you that is a huge red flag and you should be very embarrassed."
"This 'Make 60 Great Again' party is reallll problematic," Ferrada had previously posted on her stories," Yuck this confirms my thoughts on [Sydney Sweeney] especially after she pulled some racist s*** on Lalo when he was working at an award show."
Newsweek has also reached out to Ferrada for further comment.
"Bella Ferrada coming for Sydney Sweeney?" iHeartRadio podcast creator Molly Lambert commented on Twitter, "Euphoria is gonna be an LA club kid blood bath."
Ferrada's comments and posts were shared by other social media users across Twitter and Reddit.
People continued to discuss Sweeney online but after her Twitter statement, Sweeney has said nothing more on the topic publicly.
Instead she posted some career news on Monday as she announced she'd be working with producer Brad Fuller after Sony Pictures secured the rights to an adaptation of The Registration, via a Deadline article.