Maryland Fires DJ Durkin One Day After Reinstatement, Investigation into Player's Death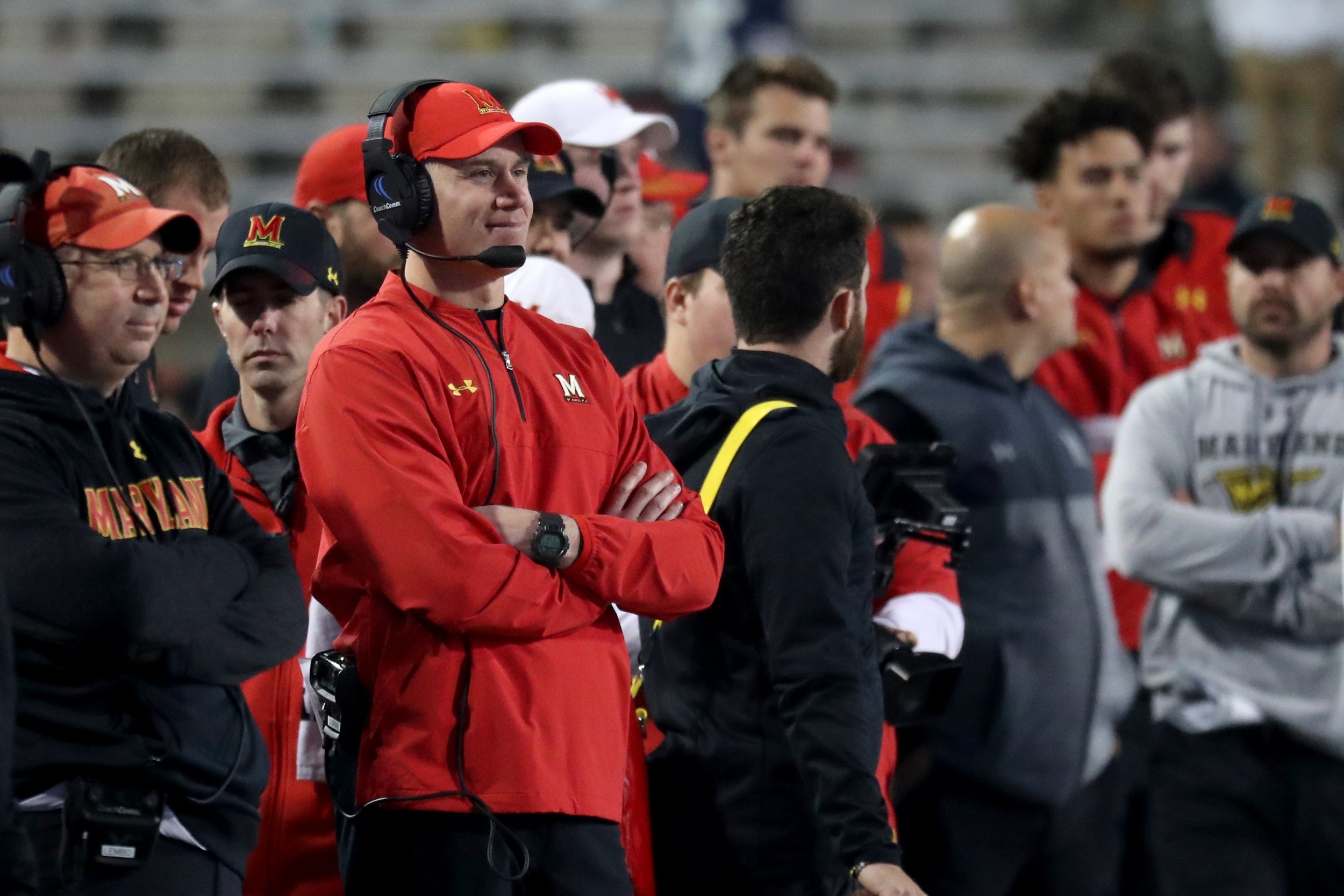 The University of Maryland fired head football coach DJ Durkin on Wednesday night, four months after the death of former offensive lineman Jordan McNair during training camp this past Summer.
Durkin was reinstated following an investigation into the Maryland football program that stemmed from McNair's death, which led to protests by several players, students at the university, fans and notable political figures.
Durkin was reportedly "not fired for cause" and will be paid the full buyout of his contract, according to Washington Post writer Rick Maese.
"Yesterday, the University System of Maryland Board of Regents announced numerous recommendations, including employment decisions about specific personnel on our campus," Maryland University president Wallace Loh said in a statement. "I accepted the Board's recommendations. At the same time, I announced my retirement as president in June 2019.
"Since returning to campus after yesterday's press conference, I have met with the leadership of the Student Government Association speaking on behalf of numerous student organizations; the Senate Executive Committee; Deans; department chairs; and campus leadership," The overwhelming majority of stakeholders expressed serious concerns about Coach DJ Durkin returning to the campus.
"The chair of the Board of Regents has publicly acknowledged that I had previously raised serious concerns about Coach Durkin's return. This is not at all a reflection of my opinion of Coach Durkin as a person. However, a departure is in the best interest of the University, and this afternoon Coach Durkin was informed that the University will part ways.
"This is a difficult decision, but it is the right one for our entire University. I will devote the remaining months of my presidency to advancing the needed reforms in our Athletic Department that prioritize the safety and well-being of our student-athletes."
Durkin informed his players that he had been fired on Wednesday night, ESPN college sports reporter Adam Rittenberg revealed during the evening edition of SportsCenter.
The Maryland board of regents chairman Jim Brady announced Durkin's reinstatement as the Terrapins' head coach on Tuesday after the board accepted an independent investigation's findings in McNair's death and the dysfunction of the school's athletic department.
The coach was placed on administrative leave in August following reports of the program's negative culture, which stemmed from the offensive lineman's death in June.
Durkin, Loh and athletic director Damon Evans all accepted shared responsibility for dysfunction among the athletic department, according to Brady, athough all three men kept their jobs prior to the coach's termination on Wednesday night.
Prominent student groups and members of the student government at the University of Maryland planned an on-campus protest on Thursday amid news of Durkin's reinstatement.
Several Maryland players reportedly walked out of a team meeting following the coach's return, although their identities haven't been confirmed. Offensive lineman Ellis McKennie is expected to be among the group after being the first player to share his displeasure about Durkin's reinstatement on social media Tuesday night.
According to CBS Sports, Durkin met with the players on Wednesday morning following the Board of Regents decision to allow his reinstatement.
"The first thing that Damon Evans did was to reach out and contact all of the players and talk to them and their coaches, first and foremost, said university president Wallace Loh on Wednesday. "So the primary concern was they are the students who are affected, and if we are true to our mission that it is the well-being and the welfare of students, they are the first to know."
McNair collapsed during a practice on May 29 and passed away on July 13. According to CBS Sports, members of the Maryalnd training staff failed to notice signs of a heatstroke prior to him collapsing at the practice and waited about an hour before placing a 911 call.