Who Is DJ Self? Nicki Minaj Blasts 'Bitter' Radio Host on Instagram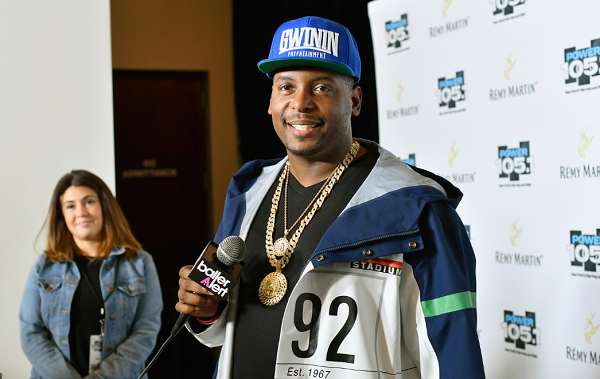 Yet another man has been added to Nicki Minaj's hit list. New York radio host and Love & Hip Hop New York alum DJ Self found himself on the Queen rapper's bad side following an interview with Minaj on Tuesday.
Minaj was in New York promoting her latest album when she appeared on DJ Clue and Self's Power 105.1 show. During the interview, Self made a few comments about Minaj having a better album than another female rapper. Minaj seemed to keep her composure but shortly after the segment, she posted a round of fiery tweets about Self after a fan asked on Twitter what she did to cause him to have so much animosity against her.
"He's mad cuz I refused to give him a drop or a hug. He was just up there dissin the btch [sic] thinking that would make me f*** wit him," Minaj wrote. "Jokes on you once again dummy. Passed up on ya meal [ticket] now u get crumbs from her table. Ur a reality tv hoe. Used to be a respected DJ."
Some fans believed Cardi B was the other female rapper Self and Minaj were referring to. Minaj and Cardi were rumored to be feuding following the rappers' collaboration on Migos' 2017 hit "Motorsport." Both women since claimed to have moved past their differences and were photographed together with designer Jeremy Scott at the 2018 Met Gala in May.
Minaj continued to blast Self and threaten to expose other negative remarks Self said about the other female rapper. "Should I tell the people what you told me about her????? You would want me to spread that rumor. You're bitter. And it shows," she wrote.
"Suck d**k & go get that crumby VH1 check. Tomorrow you can repeat that to some real ones. You n***az been real hype lately," she continued.
Minaj eventually deleted the comments but not before The Shade Room posted screenshots of the tweets on their Instagram page.
Self later commented on The Shade Room's post and said he never knew Minaj "had an issue" with him.
Self made his debut on VH1 reality show Love & Hip Hop New York during Season 6 along with Cardi. A major arch of their storyline was supposed to include Self helping Cardi expand her career as a rapper, however, Self passed on the opportunity and decided to work with fellow LHHNY cast member MariahLynn instead. Cardi continued her pursuits on her own and in 2017 she released Billboard chart-topper, "Bodak Yellow," making her the first female artist to land the No. 1 spot on the Hot 100 list since 1998. The song essentially skyrocketed Cardi to superstardom.