Who Is Dmitry Rogozin? Putin's War Strategist Ally Tipped for Top Role
Russian official Dmitry Rogozin was dismissed as head of the Russian space agency Roscosmos on Friday, prompting speculation about what will become of him.
Rogozin's dismissal was officially announced by the Kremlin that same day via a statement on its website—though rumors had swirled in the Russian press and on social media in the preceding days.
The Kremlin did not provide a reason for Rogozin's dismissal, stating only that he would be replaced as director general of Roscosmos by Yuri Borisov, former deputy prime minister.
Rogozin has been a highly controversial figure in recent months, making incendiary statements amid the ongoing war in Ukraine and even nuclear threats. Since the invasion of Ukraine began in February, Rogozin has overseen a space agency that has faced punitive sanctions and become increasingly isolated from the rest of the world as other countries and space agencies cut ties with Roscosmos—a major player in the International Space Station (ISS).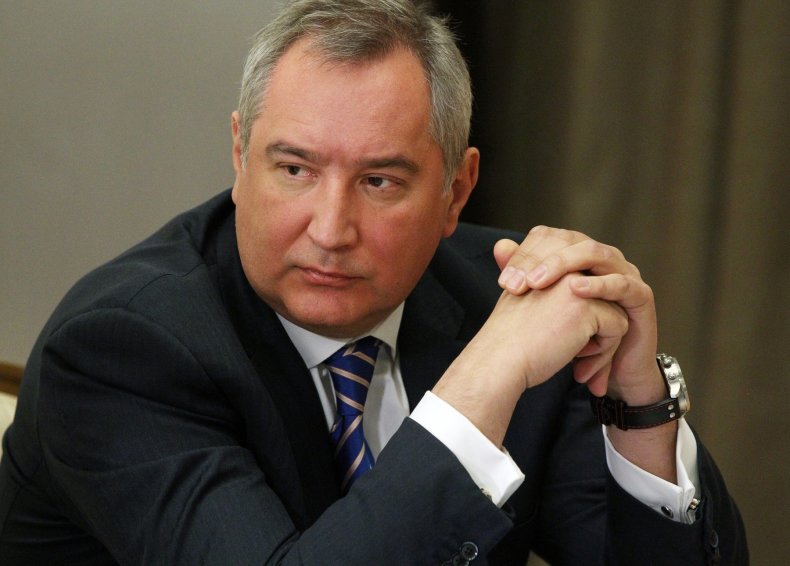 Only a couple of weeks ago, Rogozin and Roscosmos came under fire from NASA after three ISS cosmonauts were pictured holding up flags representing pro-Russian separatist regions in Ukraine. NASA accused Russia of "using the International Space Station for political purposes to support its war against Ukraine."
Rogozin also recently clashed with Alexei Kudrin, one of Putin's top finance officials who highlighted shortcomings in Roscosmos' operations.
Yet it's unclear if any of the above is the reason behind Rogozin's dismissal. On the contrary, there have been rumors that Rogozin, rather than being punished for his behavior, may go on to hold a position of even more power in Putin's inner political circle.
Independent Russian-language news outlet Meduza reported on July 13 that Rogozin could be headed to a position in the presidential administration, citing "three sources close to the Kremlin."
Potential roles for Rogozin include head of the presidential administration or perhaps an administrative position overseeing Russia's self-proclaimed Donetsk People's Republic and Luhansk People's Republic regions in Ukraine—the same regions the cosmonauts showed support for earlier in July—Meduza reported.
The news outlet's sources all added that Rogozin and Putin were close, with one reportedly stating: "The president loves him—and for a long time."
They said Putin liked Rogozin's provocative patriotic statements.
It's perhaps no surprise that Rogozin and Putin are close. Rogozin has held positions within the Russian government for decades, including three committee chairman roles between 1997 and 2007 according to Russia's Roscongress development institution.
Rogozin then went on to become Russia's NATO representative and, in 2011, became deputy prime minister in charge of the defense industry. In the following year he received several official appointments including heading the government's Military-Industrial Commission. Rogozin was appointed director-general of Roscosmos in 2018, a position he held until Friday.
Update 7/18/22 3.05 p.m. EDT: This article has been updated with a new video.