Is the DMV Open During the Coronavirus Pandemic? Colorado Reopens 10 Offices, Other States Could Soon Follow
Offices of Colorado's Department of Motor Vehicles (DMV), which have been closed during the coronavirus lockdown, began the second stage of their phased reopening on May 6. The states of California and Virginia also hope to begin resuming in-office DMV services soon.
Customers across all 10 reopened DMV locations in Colorado will be required to wear face masks, be screened for fevers and complete a COVID-19 questionnaire. Those who exhibit a fever or other virus symptoms will not be allowed into offices, the DMV of Colorado confirmed in a statement.
"Customers should not bring guests because guests will not be allowed into any driver license office while social distancing is being utilized. If a guest is essential, such as a caregiver or translator, customers must specify that a guest is needed when making an appointment," the DMV of Colorado notes.
Colorado's reopened DMV offices will only be serving customers who booked an appointment and will not be accommodating walk-in customers, "prioritizing appointments for services that can only be performed in-office," it notes. Those who should come to the office include:
Initial issuance of driver licenses, identification cards and instruction permits
Some driver license or identification card renewal customers who are ineligible to renew online
Instruction permit holders who need to take the written test (please note that the DMV will not be conducting drive tests at this time. Customers needing drive tests should reach out to a driving school for testing).
Instruction permit holders who are ready to upgrade to a driver license
Coloradans needing CO-RCSA services (please call 303-205-2335 for CO-RCSA services)
Coloradans seeking a state-issued driver license or ID card for the first time, including those transferring a credential from another state or country (first-time applicants are encouraged to start the process on myDMV.Colorado.gov to shorten the duration of the visit).
The 10 DMV offices in Colorado that have been reopened are:
Boulder - 2850 Iris Ave., Suite F
Canon City - 127 Justice Center Road, Suite K
Durango - 329-A S. Camino Del Rio
Fort Collins - 3030 S. College Ave., #100
Grand Junction - 222 S. 6th St., Suite 111
Greeley - 2320 Reservoir Road
Lakewood - 1881 Pierce St.
Lamar - 3505 Main St.
Littleton - 311 E. County Line Road
Salida - 448 E. 1st St
Phase one of the reopening of Colorado's DMV began on May 4 and saw services resume at nine offices serving commercial driver license (CDL) customers only. The offices reopened during Phase 1 will continue to only serve CDL customers until May 11.
Many DMV offices across the country have been closed following the outbreak.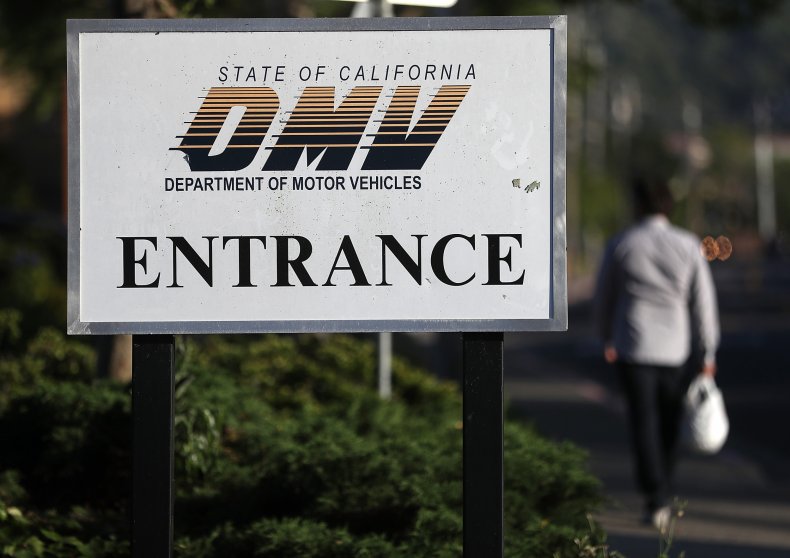 California is hoping for a phased reopening around 170 field offices for appointments. Around 25 are likely to open this month, while the rest would be opened the following month. Some functions, including road driving tests, will take longer to resume, the director of the California DMV, Steve Gordon, confirmed.
The reopening will be subject to approval from state health officials and customers will need to wear face masks and practice social distancing at all offices.
"We have to go through all of the learning that we are going to do of how to [operate] in a COVID-19 world," Gordon told reporters during a conference call.
"We want them [customers] to be protected. We want ourselves to be protected," he added.
In Virginia, all 75 DMV customer service centers and DMV weigh stations are closed until at least May 11.
But the DMV of Virginia revealed it is "preparing to reopen with a thoughtful, phased approach in order to accommodate social distancing and ensure the health and well-being of customers and employees," in a note on its website.
"In the continued interest of public health, DMV will make operational adjustments to balance social distancing guidelines with its mission to serve the needs of the public.
"To minimize customer volume at DMV offices, appointments will be required and will be available for specific services which necessitate a visit to DMV. (The ability to make appointments will be available soon.) If an alternate service method, such as online or by mail, is available, customers should use that method," the DMV of Virginia states.
Monday saw South Carolina's DMV (SCDMV) open all 66 of its branch offices, around 20 of which had been closed due to the pandemic. All offices are operating by appointment only.
"Customers must continue to adhere to social distancing measures, ensuring six feet of physical separation between themselves and others. The SCDMV will limit the number of customers inside a branch office, and agency personnel will continue to serve customers at every other counter in the office to ensure proper spacing," the department said in a statement.
The novel coronavirus, which was first detected in Wuhan, China, has infected over 3.6 million people across the globe, including more than 1.2 million in the U.S. Over 258,200 have died, while more than 1.2 million have recovered from infection, according to the latest figures from Johns Hopkins University.
The graphic below, provided by Statista, illustrates U.S. states with the most confirmed COVID-19 cases.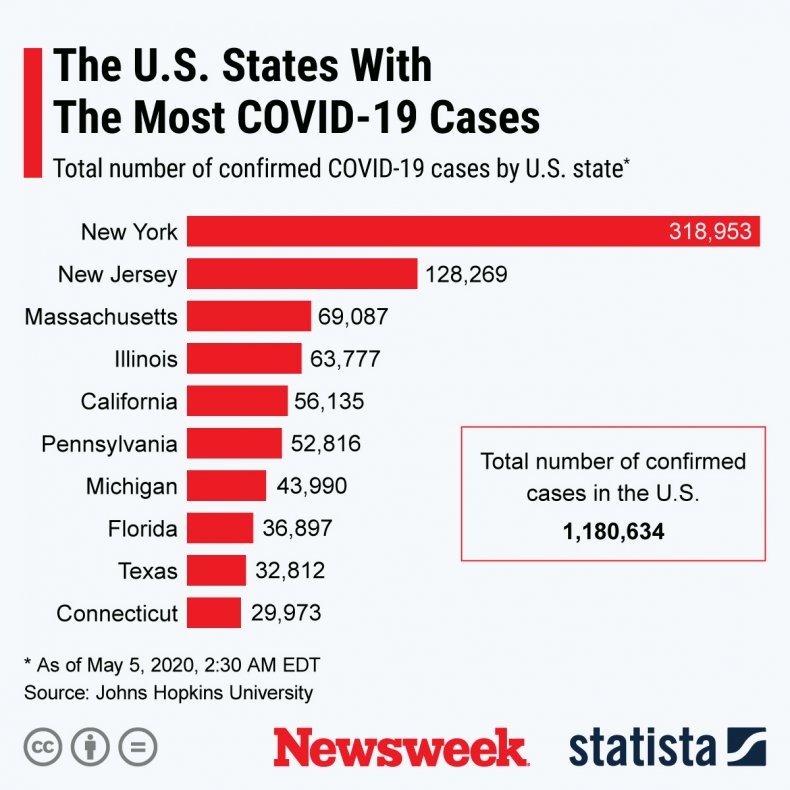 The graphic below, provided by Statista, illustrates the spread of the COVID-19 virus across the U.S.