Dominion, Pepco Power Outage Maps: Halloween Storm Leaves Over 18,000 People Across Virginia, DC and Maryland Without Electricity
Washington, D.C. Metropolitan Area residents faced a power outage last night due to severe weather. More than 18,000 residents in Washington, D.C., Maryland, and Virginia were left without power after a storm damaged power lines.
Severe Thunderstorm Warnings were issued as the DMV area faced its highest tornado threat of the year, as reported by WUSA9. Fallen trees damaged power lines, including a tree on Colorado Avenue Northwest that took down four power lines. This incident caused more than 500 Pepco cusotmers to lose power, as seen on a Pepco outage map. More than 700 customers in the District lost power.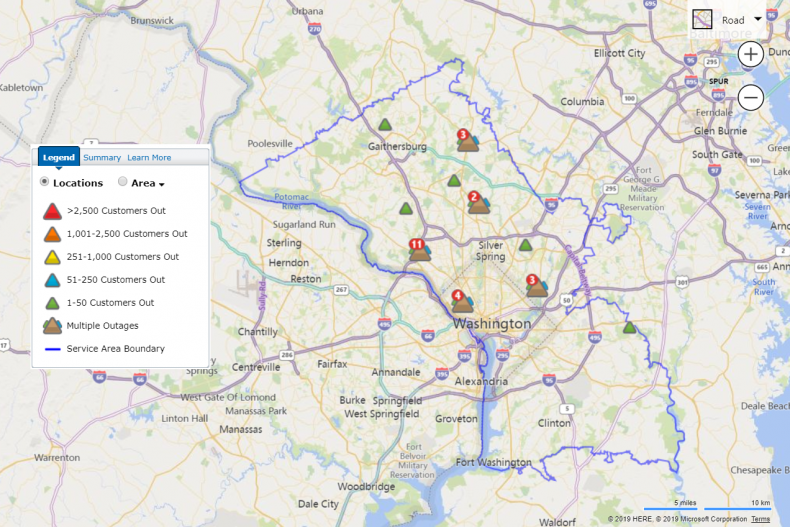 In Montgomery County, more than 3,000 people were without power and more than 300 in Prince George's County were without power.
Pepco customers can check the status of the power outage at their address. Pepco tweeted: "We're at the ready to restore service safely and as quickly as possible should tonight's forecasted severe weather cause damage to our area's energy grid. Please visit our storm prep page for tips on how you can prepare as well."
Dominion Energy customers in Virginia faced 14,000 power outages. More than 3,700 customers in Alexandria were affected. Additionally, Prince William County and Culpeper County were affected by fallen trees.
Dominion Energy customers should check the company's outage map for updates on when power will be restored. Dominion Energy tweeted: "Once weather conditions allow our crews will work 24/7 until everyone's power is back on."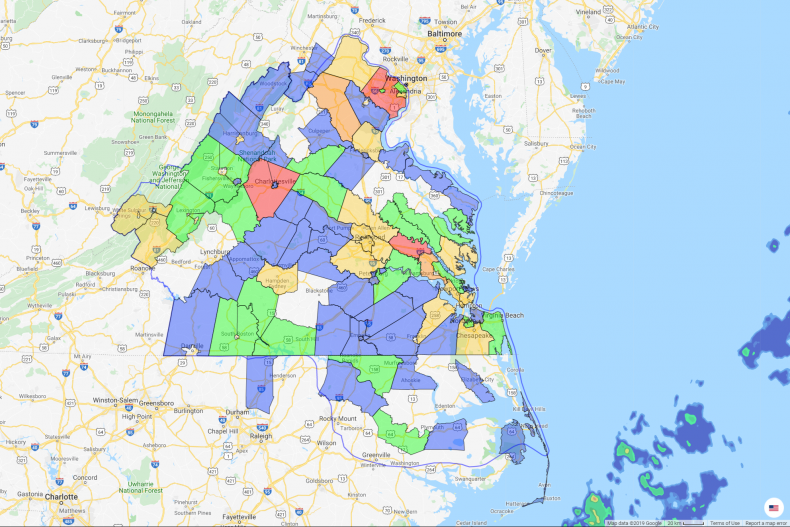 There was flooding in Montgomery County as Seneca Creek flooded over Hawkins Creamery Road between Johnson Farm Drive and Woodfield School road.
The outages in the DMV come amid mass power outages in California as electric companies shut off power to reduce the risk of wildfires. PG&E's Public Safety Power Shutoffs (PSPS) have seen thousands of customers left without power for days.
Severe weather also caused a power outage in El Paso, Texas, this week, as high winds blew debris onto power lines, leaving 5,000 residents without power.
During severe weather, it is important to be prepared for power outages. Read our guide on how to prepare for power outages and make sure you have an evacuation plan in place.
Have an emergency kit ready and include water, non-perishable food, batteries, torches, a first aid kit and other essential items. Prepar and emergency kit for your pets and consider children, elderly family members and family members with disabilities when preparing your evacuation plan.
According to government advice, some tips to follow during a power outage include keeping freezers and refrigerators closed, only using generators outdoors and away from windows, not using a gas stove to heat your home, disconnecting appliances and electronics to avoid damage from electrical surges, having alternate plans for refrigerating medicines or using power-dependent medical devices, going to an alternate location for heat or cooling and checking on neighbors.