DMZ is the latest limited series coming to HBO Max in 2022. With a plethora of talent behind the new show inspired by the DC comic of the same name, the series is already slated to be a hit for the streaming service.
Ava DuVernay, who has worked on projects such as Selma and Naomi, and Roberto Patino join forces with Array Filmworks and Warner Bros. Television to bring the series to the small screen.
Set to debut in March 2022, HBO Max released the official trailer for the upcoming series on Monday, March 7, 2022, displaying a war-torn Manhattan and a mother on a quest to find her son.
The teaser clip has already created a buzz on social media, with fans eager to watch the show. Newsweek has all the details about DMZ, including the storyline, cast and when you'll be able to watch it.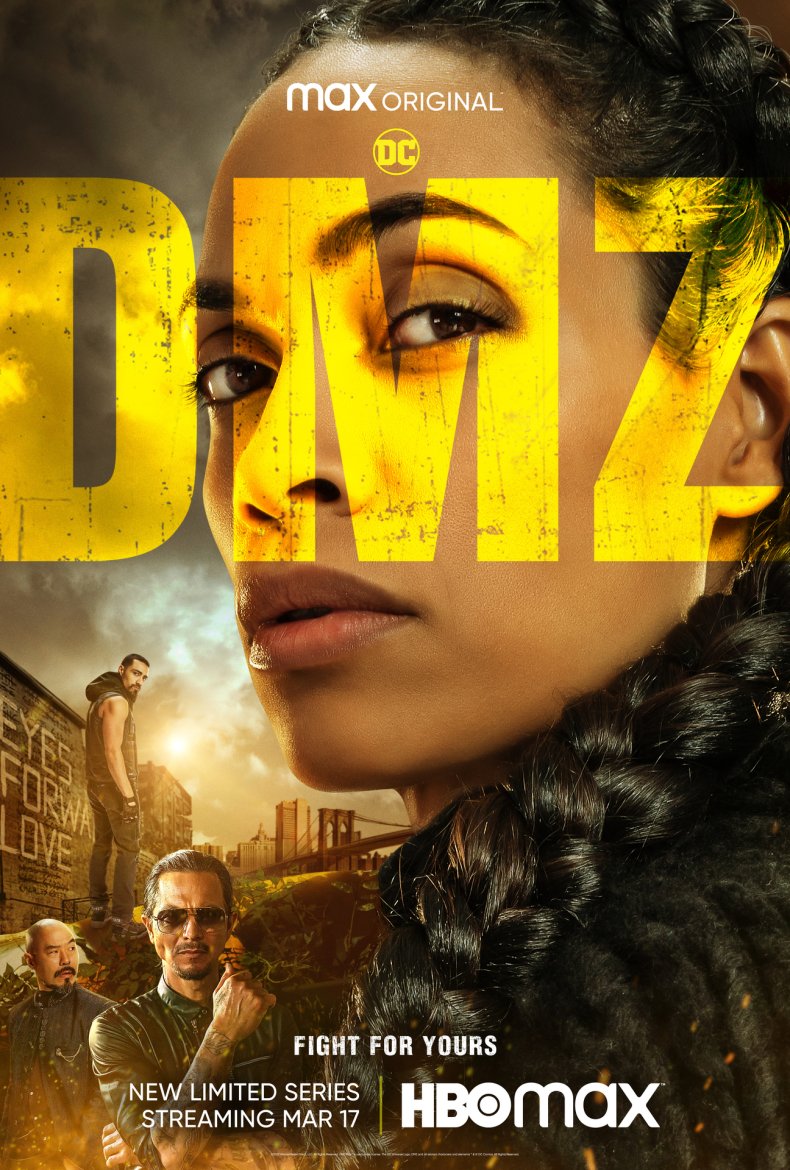 When is DMZ Released?
HBO Max announced DMZ would be available on the streaming platform from Thursday, March 17, 2022, with all four episodes of the limited series accessible from this date too.
Only HBO Max subscription holders can watch the series. Subscriptions start from $9.99 a month or $99.99 a year.
HBO Max has not yet disclosed what time the series will be available to stream. However it is expected to be midnight PT and 3 a.m. ET.
What is DMZ About and Is It Based On a DC Comic Book?
Yes, DMZ is based on the DC graphic novel of the same name written by Brian Wood, with Riccardo Burchielli as the comics illustrator.
Brian Wood has written books such as Moon Knight and Conan. But his book DMZ follows the story of a neglected Manhattan, one of many states forgotten by the U.S. government as it focuses on affairs overseas. All the while, the neglected but threatening anti-establishment militias are rising across America. As this unfolds Manhattan quickly becomes known to the world as DMZ.
HBO Max's series will follow the book's plot and has been described as the "visual landscape" of the comic. However, the focus is on a woman navigating a demilitarized zone in a harrowing quest to find her lost son.
The woman, played by Dopesick actress Rosario Dawson, must work her way around a dangerous and distorted Manhattan to locate her child but she comes across some hurdles in doing so.
Who is in The DMZ Cast?
HBO Max has gathered a stellar collection of actors and actresses for the limited series, DMZ. The cast includes:
Rosario Dawson
Benjamin Bratt
Hoon Lee
Freddy Miyares
Jordan Preston Carter
Venus Ariel
Is There a Trailer for HBO Max's DMZ?
Yes, the official trailer for DMZ is out now and available to watch. It shows leading lady Rosario frantically searching for her son in a dysfunctional Manhattan, now known to the world as DMZ.
Destruction is all around her and she must contend with the anti-establishment group, as it grows in power and numbers. The leaders have their sights set on taking complete control of the New York borough.
DMZ is available on HBO Max from Thursday, March 17, 2022.