DNC Chairman Says 'We're as Low-Tech as Humanly Possible' Amid Fears Iowa Chaos Could Repeat in Nevada
Democratic National Committee (DNC) Chairman Tom Perez sought to calm concerns that the upcoming Nevada caucuses could descend into a fiasco similar to the one witnessed in Iowa earlier this month, saying the state's Democratic Party was going "as low-tech as humanly possible."
Perez's comments came in an interview with CNN on Wednesday morning, following reports of volunteers complaining of problems with technology intended to make the vote counting easier. Campaigns have also said that the Democratic Party hasn't adequately explained how the caucusing process will work, and experts have pointed to potential problems, with a tool being put together at the last minute to help the process.
"We're as low-tech as humanly possible while still preserving efficiency," Perez insisted to CNN, attempting to assure voters that there would not be a repeat of Iowa. "I'm very confident that we will be able to carry out a successful caucus."
The DNC chair noted that Nevada will be the "most diverse" state to cast its support for Democratic candidates in the primary race thus far. "People take that responsibility seriously," Perez said. "We take our responsibility seriously," he added, going on to praise the Nevada State Democratic Party.
A Democratic presidential campaign aide told The Washington Post earlier this week that the state party is "making it up as they go along," referring to the caucusing process. "That's not how we need to be running an election."
Scrutiny of the Nevada caucuses, which are this Saturday and have already had early voting, has increased as a result of the many problems that arose in Iowa this month. The first-in-the-nation state failed to release timely results because of a coding error in an app developed to streamline the tabulation process. Final results have still not been announced, as numerous errors and mistakes were widely reported.
On Tuesday evening, the Iowa Democratic Party released the results after a recanvas of multiple precincts requested by the campaigns of former Indiana mayor Pete Buttigieg and Senator Bernie Sanders of Vermont, both of whom have claimed victory in the state. The recanvas showed Buttigieg ahead by just 0.004 percent in state delegate equivalents. But Sanders remained the clear front-runner in the popular vote.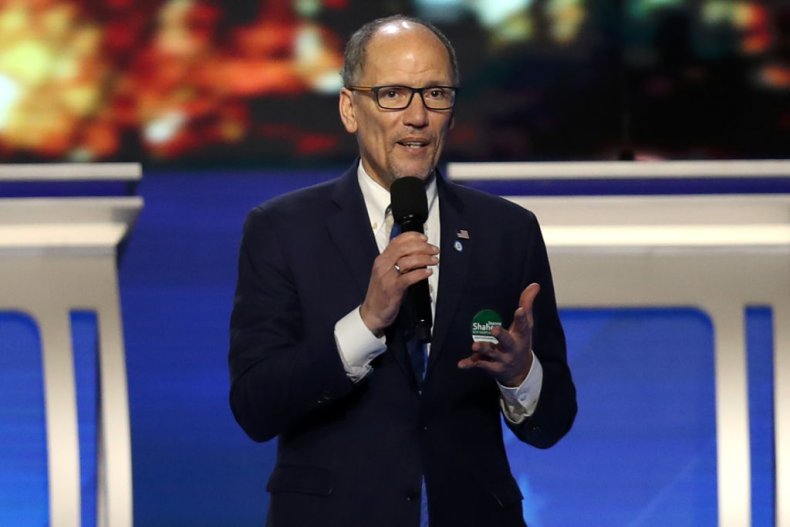 The Sanders campaign suggested after the new results were revealed that it would request a full recount. The campaign said it believed this would reveal that the senator was ahead of Buttigieg in state delegate equivalents, in addition to the popular vote.
"We now believe a recount will give Sen. Sanders enough State Delegate Equivalents to put him over the top by that metric as well. We want to thank the people of Iowa, our supporters, our volunteers and everyone who made this possible," senior Sanders campaign adviser Jeff Weaver said in a statement.
The latest polling in Nevada shows Sanders with a strong lead over the other Democratic contenders. An average of the most recent state level polls compiled by Real Clear Politics shows the senator leading by double digits. He is supported by about 30 percent of voters, while former Vice President Joe Biden comes in second with just 16 percent.