DNC Comms. Chief Slams Cory Booker's Bid to Bring Diversity to Debate Stage As 'Insulting'
The Democratic National Committee has rejected demands from the party's presidential candidates to change its debate requirements in order for Cory Booker and Julián Castro to be able to join the stage in January.
In September, the DNC raised its requirements in a bid to cut the crowded field of Democratic candidates down to the top contenders.
Now, however, all seven of the Democratic presidential candidates who have qualified for an upcoming debate on Thursday in Los Angeles have echoed concerns that the new standard will cut Booker and Castro out of future debates.
Former Vice President Joe Biden, Sens. Bernie Sanders, Elizabeth Warren and Amy Klobuchar, Mayor Pete Buttigieg, Andrew Yang and Tom Steyer have all signed a letter launched by Booker urging the DNC to reconsider its heightened thresholds in order to allow a more diverse field of candidates to participate in debates.
By refusing to include Booker and Castro, the letter states, according to The New York Times,the DNC risks "prematurely" cutting candidates out of the nominating contest "before many voters have even tuned in."
The graphic below, provided by Statista, illustrates who has qualified for the sixth DNC debate.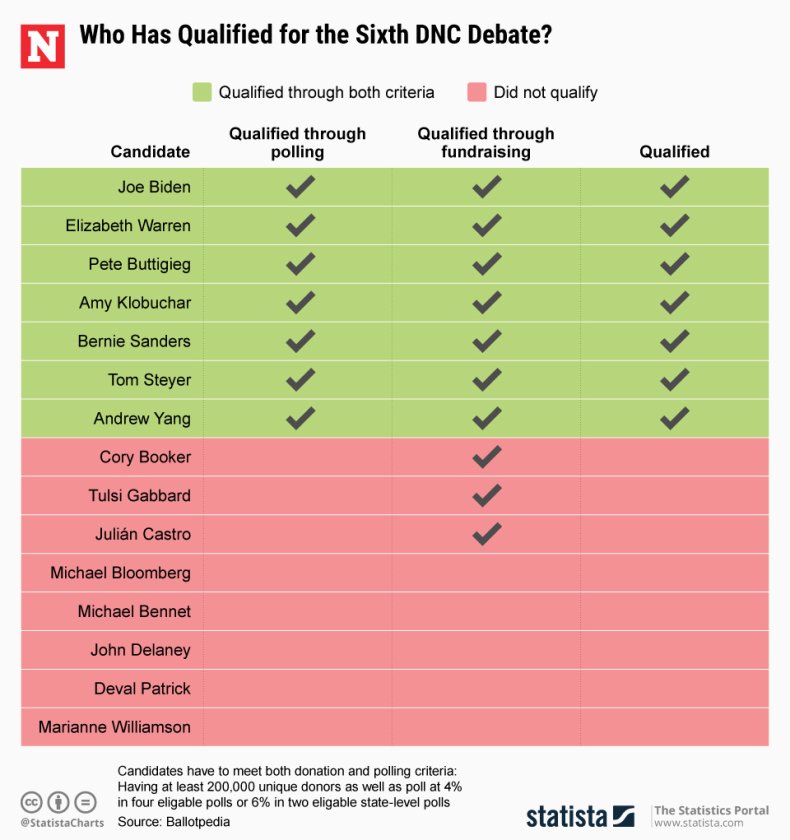 In a Sunday interview with MSNBC, DNC Xochitl Hinojosa hit back at the claims, however, calling it "insulting" that candidates would suggest that the committee is "somehow leaving people of color" out of debates.
"One thing is clear–I have worked for Tom Perez for 10 years and he takes a backseat to no one when it comes to diversity and inclusion," Hinojosa said, referring to the chair of the DNC. "He is someone throughout his entire career, understands the importance of diversity."
"One thing that's clear is that we've been fair about this process. And if you look back at history and you look at who was polling at 4 percent, you had people who were polling over 4 percent like Jesse Jackson and Al Sharpton and Barack Obama and Kamala Harris," she said.
While Hinojosa said both Perez and the DNC as a whole were sorry to see California Senator Kamala Harris drop out of the Democratic presidential race earlier this month, the DNC spokesperson said there was "no doubt that she's going to have a large role in our party and potentially, someday, she might run for president again and win."
"The reality is that she did make the debate stage and we do have Andrew Yang who made the debate stage as well," she said.
"So, our polling threshold and our thresholds for our debates, to say that they are somehow leaving people of color off this stage is not only wrong, but it's insulting," Hinojosa said.
"It's insulting as a woman of color and someone who is involved in the debate process," she added. "We want to make sure we are fair and inclusive, but at the same time, we're also looking at history and where we were at this point in the race in previous years."
Newsweek has contacted the DNC for comment for this article.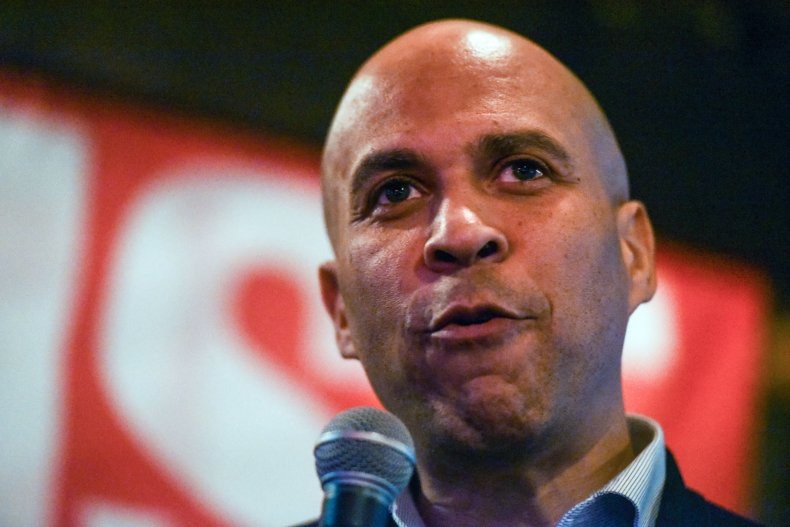 This article was updated to include an infographic.