DNC Night 4 Speeches and Highlights: Biden, Brayden Harrington and Atlanta Mayor Bottoms
The Democratic National Convention came to a close on Thursday night as former Vice President Joe Biden wrapped up the event's largely virtual celebrations with a speech accepting the party's 2020 presidential nomination.
On the fourth and final night of the DNC, Biden promised to be an "ally of the light" and castigated President Donald Trump's handling of the coronavirus pandemic, which has so far taken almost 175,000 American lives.
"If you entrust me with the presidency, I will draw on the best of us, not the worst," Biden said. "I'll be an ally of the light, not the darkness. It's time for us—for we, the people—to come together."
The Democratic nominee's crowning address was led by speeches from other major primary candidates all praising the would-be president, while the Veep star and DNC host Julia Louis-Dreyfus repeatedly mocked Trump and his campaign.
Here are some of the key highlights from the final day of the convention:
Joe Biden accepts Democratic nomination
Appearing in the final speaking slot of the 2020 DNC, Biden delivered a 24-minute speech stressing the importance of national unity, contrasting himself with Trump, and drawing the outline of his campaign platform.
"As president, I will make you a promise," Biden said. "I'll protect America from every attack, seen and unseen, always without exception. Every time."
After promising to tackle racial inequality and curb the COVID-19 pandemic, Biden closed his speech with a call for the nation to come together.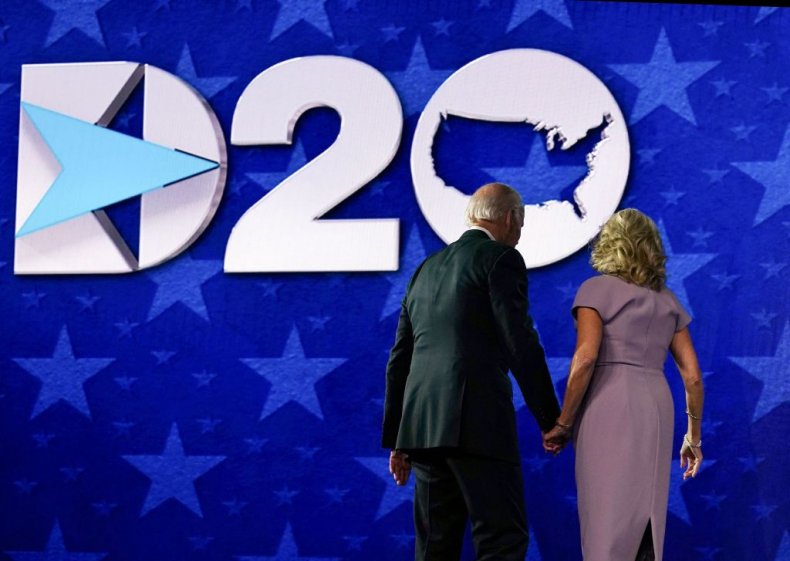 "May history be able to say that the end of this chapter of American darkness began here tonight," the Democratic nominee said. "As love and hope and light join in the battle for the soul of the nation."
At the time of writing, the vice president appears to have a strong chance of winning the Oval Office in November, with FiveThirtyEight's election forecast giving the Democrat a 72 percent chance of winning as of Friday morning.
Hunter Biden makes rare public appearance
The Democratic nominee's son Hunter Biden appeared alongside his sister Ashley Biden to sing their father's praises in a short pre-recorded speech split between them.
"He will be tough and honest, caring and principled," Biden's children said. "He'll listen. He'll be there when you need him."
Hunter later added that his father would make people's grandkids feel that "what they've got to say matters," and always get up after being knocked down.
The appearance of Biden's son may have been met with interest from the Trump campaign, which launched an attack ad aimed at Hunter on Wednesday. As of yesterday morning, the video had received roughly 1 million views on YouTube.
Defeated primary candidates gather
Leading candidates in the Democratic primary gathered in a conference call hosted by Senator Cory Booker (D-NJ) to share their most memorable Biden moments from Capitol Hill and the campaign trail.
"In Joe Biden, you have a human being who is empathetic, who is honest, who is decent," Senator Bernie Sanders said. "And at this particular moment in American history, my God, this is something that this country absolutely needs."
Recounting giving a late-night speech in an almost empty Senate chamber, Sen. Amy Klobuchar (D-MN) said she remembered wondering whether her mum had even been watching it on C-Span before her phone rang.
"I actually thought maybe my mum was watching it on C-Span. And you know who it was? It was Joe Biden," Klobuchar said. "And that kind of goes to not only his kindness for calling me and being a mentor, but it also goes to how much he cares about our government and what people are saying."
Atlanta mayor pays tribute to John Lewis
In the early hours of the evening, Atlanta Mayor Keisha Lance Bottoms appeared on the DNC live stream to offer a tribute to John Lewis, the late Democratic congressman and civil rights icon.
"We must pass on the gift John Lewis sacrificed to give us," the mayor said. "We must register, and we must vote."
Lance Bottoms went on to lash out at "misinformation" trying to deter people from voting in November's election, before again calling on viewers to register to vote ahead of the 2020 presidential race.
"We must be the heroes of our generation, because we too are America," she said. "Our votes can be our voice."
Brayden Harrington: Biden helped me with stutter
The 13-year-old Brayden Harrington said seeing Biden on the campaign trail had helped him feel more confident about his stutter. After an event in New Hampshire, the former vice president had invited Harrington backstage to discuss how he dealt with his own stutter.
"He showed me how he marks his addresses to make them easier to read out loud, so I did the same thing today," Harrington said. "And now I'm here talking to you today about the future, our future."
The teenager added that his stutter had bothered him his whole life, but that he had felt better about it after his brief meeting with Biden in February this year.
"Joe Biden cared. Imagine what he could do for all of us," he said. "Kids like me are counting on you to elect someone we can all look up to."
Veep star roasts Trump
The American actress Julia Louis-Dreyfus, who played fictional vice president Selina Meyer in the sitcom Veep, brought a bit of levity to the final night of the DNC, repeatedly mocking the president's record in office.
"Joe Biden goes to church so regularly that he doesn't even need tear gas and a bunch of federalized troops to help him get there," she joked.
Earlier this year, Trump ordered law enforcement to disperse protesters near the White House so he could pose with a copy of the Bible outside St. John's Church in Lafayette Square, Washington D.C.
Speaking about the president's 2017 inauguration speech, Louis-Dreyfus said: "When Trump spoke at his inauguration about American carnage, I assumed that was something he was against, not a campaign promise."