#DNCLeaks: Wasserman Schultz to Resign as Chair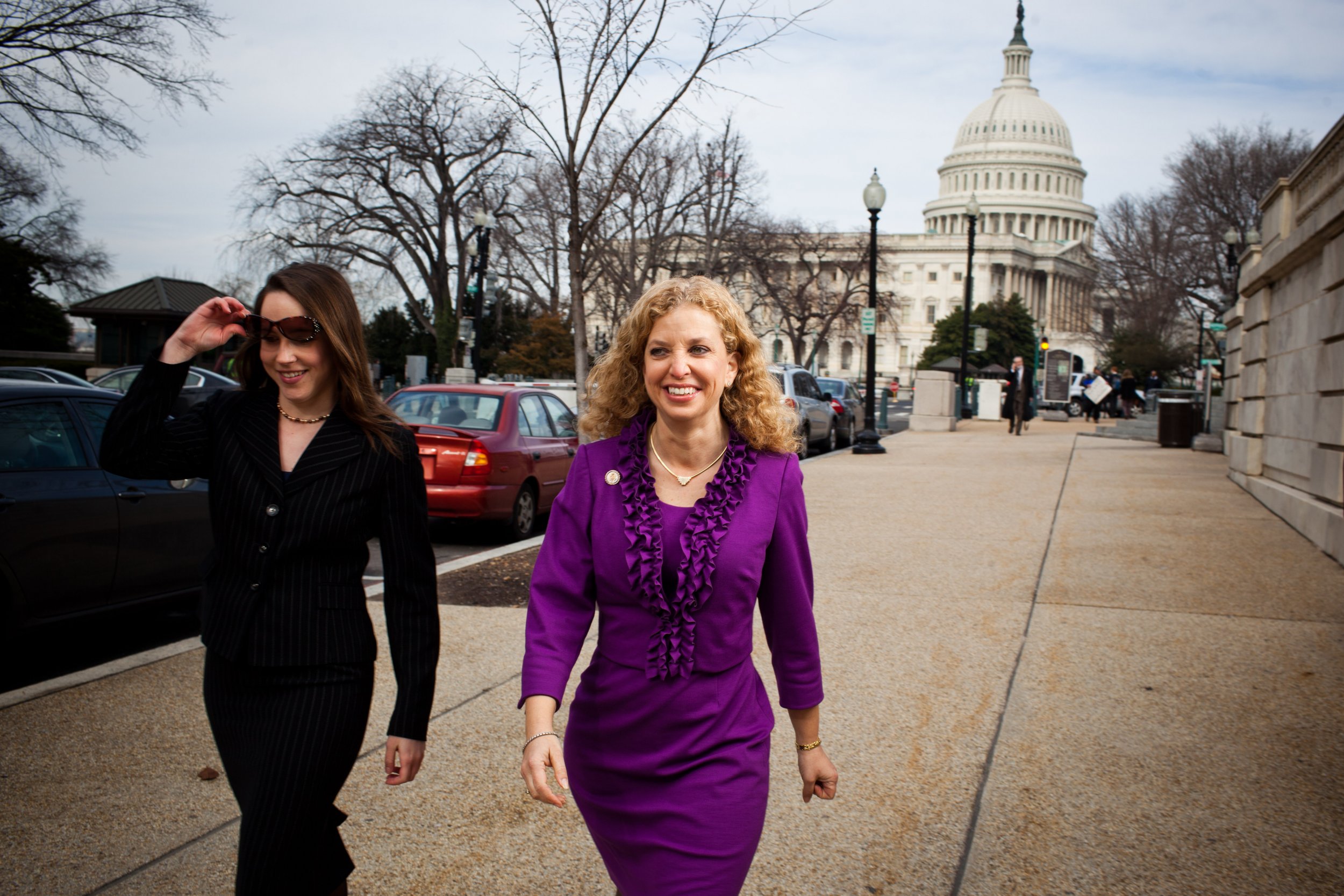 Debbie Wasserman Schultz will step down as chairperson of the Democratic National Committee at the conclusion of the Democratic National Convention after being subjected to renewed calls to step aside in the wake of the DNC email leaks.
The committee issued a statement Sunday afternoon in which Schultz said the best way to further the Democratic party's goal of electing Hillary Clinton as president would be to "step down as party chair at the end of this convention.
"As party chair, this week I will open and close the convention, and I will address our delegates about the stakes involved in this election not only for Democrats, but for all Americans. We have planned a great and unified convention this week, and I hope and expect that the DNC team that has worked so hard to get us to this point will have the strong support of all Democrats in making sure this is the best convention we have ever had. I've been proud to serve as the first woman nominated by a sitting president as chair of the Democratic National Committee, and I am confident that the strong team in place will lead our party effectively through this election to elect Hillary Clinton as our 45th president," Wasserman Schultz said.
Related: #DNCLeaks: Is It Shocking if the Party Preferred Hillary Clinton?
The congresswoman, who faces a primary challenge for her Florida House seat, has been under intense criticism since the Friday release by Wikileaks of 20,000 hacked DNC emails from January 2015 to May 25, 2016, that show messages sent and received by at least seven top DNC officials discussing Bernie Sanders' campaign and viability. The emails reveal irritation with Sanders' staff and the candidate himself, with one message suggesting the Vermont senator be questioned about his religious faith in an attempt to hurt him with Kentucky and West Virginia voters. "It might (make) no difference, but for KY and WVA can we get someone to ask his belief. Does he believe in a God. He had skated on saying he has a Jewish heritage. I think I read he is an atheist. This could make several points difference with my peeps. My Southern Baptist peeps would draw a big difference between a Jew and an atheist," the email reads.
An immediate consequence of the leak was Wasserman Schultz's weekend decision not to speak at the convention. Sanders, who has been a frequent critic of Wasserman Schultz's tenure as chair, issued a renewed call for her resignation earlier Sunday, saying he "asked and demanded Debbie Wasserman Schultz's resignation many, many months ago, and I state that again. I don't think she is qualified to be the chair of the DNC," Sanders told CNN. Social media channels also have been teeming with disgust toward the DNC and Wasserman Schultz specifically.
Wasserman Schultz's statement of resignation doesn't mention the DNC emails, which were provided to Wikileaks by a hacker. Instead, she reflects on her tenure as the first female DNC chair.
"I have been privileged to serve as the DNC Chair for five and a half years helping to re-elect President Obama and Vice President Biden, strengthening our state party partnership in all 50 states, leading a vigorous primary election this past year while preparing for the general election and representing millions of Democrats across the country. I couldn't be more excited that Democrats are nominating our first woman presidential candidate, Hillary Clinton, a friend I have always believed in and know will be a great president. We arrived here in Philadelphia with the most inclusive and progressive platform the party has ever proposed and a unified recommendation from the Rules Committee on our path forward as Democrats. I am proud of my role in leading these efforts."
Democrats will put forward a progressive platform that reflects the pressure Sanders' popularity placed on the party establishment as he declined to stop campaigning even after Clinton secured enough delegates to be nominated. Sanders' delegates helped to push the platform leftward in exchange for him to drop his presidential bid and embrace Clinton.
"My first priority has always been serving the people of the 23rd district of Florida, and I look forward to continuing to do that as their member of Congress for years to come. As the mother of my three amazing children and the Representative of Florida's 23rd congressional district, I know that electing Hillary Clinton as our next president is critical for America's future," Wasserman Schultz said.
In a statement, Clinton said she's "grateful to Debbie for getting the Democratic Party to this year's historic convention in Philadelphia, and I know that this week's events will be a success thanks to her hard work and leadership. "