Do Award Shows Matter? Emmys Ratings Have Seen a Steady Decrease Since 2013, Here's Why
As the 69th Emmy Awards Ceremony quickly approaches, the producers' main concern should involve ratings. Last year's Emmys received a historical, all-time low rating of 11.3 million viewers, a steep decline since the 2013 ceremony hosted by Neil Patrick Harris, which brought in 17.3 million viewers.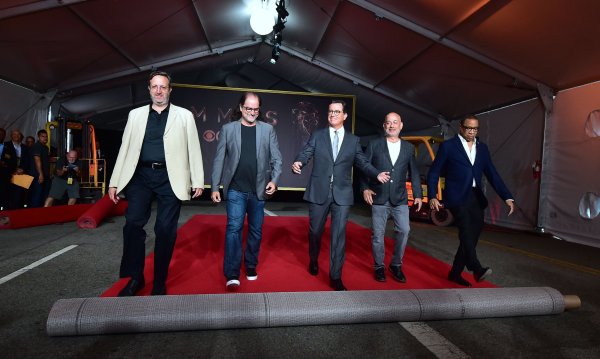 Newsweek examined the Emmys' efforts to revamp its nominee process in an article published on August 31, 2000, titled "Change is On the Air." Since the Emmys have received a steady loss of viewership over the years, Newsweek has resurfaced this article to question whether another revamp is needed to increase ratings for the 69th Emmys.
In years past, it's often felt like the elderly ruled the Emmys.
Unlike the Oscars, screener tapes have never been allowed. That's meant that any member of the American Academy of Television Arts and Sciences who hadn't been watching much TV had to attend group showings of programs that were nominated.
The folks who showed up for these marathon viewing sessions at hotels and theaters were largely those with lots of time on their hands. That is, older viewers. That's why perennial Emmy favorites such as John Lithgow and "Frasier" have taken home awards again and again.
But this season, the people behind the Emmy telecast--which last year suffered its lowest ratings since 1990--have done things a little differently.
The organization updated the rules to allow for at-home viewing. Screener tapes have been rushed all over Los Angeles, and the Academy believes the new policy will double the number of ballots. It will also likely change the sorts of shows that get the awards on September 10. "You may see programs win that traditionally have been seen as too avant-garde or too edgy for the academy," James B. Chabin, the academy's president, told the New York Times in July.
The most-nominated programs this year already indicate that there's been something of a shift. "The West Wing" and "The Sopranos," both of which are up for 18 awards--including Best Dramatic Series--are smart, acid-tinged programs. While "The Sopranos" was nominated for Best Dramatic Series in 1999, it hit its stride in its second year--and is likely to win. "The West Wing," though arguably the better show, isn't likely to win in its first nominated year.
"Will & Grace," a program about two gay men and their two female friends in its second season, was the most-nominated comedy. It's up for 11 awards; last year, it got only one nomination. Similarly, "Sex and the City"--the ribald HBO program about the dating adventures of four New York women--received nine nods this year as opposed to last year's two. If the latter wins the category, it might be directly related to the at-home viewers. A show this racy is best screened alone--or with a friend.
HBO did extremely well this year, in fact, trailing only NBC for the most nominations. NBC got 97 nods in total, followed by HBO with 86; ABC with 64; CBS with 41; and Fox with 26. PBS got 12; Showtime, 11; TNT, 10; UPN, 7 (all for "Star Trek: Voyager"). One surprise: the formerly hot, teen-heavy WB is only up for 5 awards.
And that wasn't the only shocker in a year of shifts. "Ally McBeal," which won for Best Comedic Series in 1999, didn't even get a nomination in that category this year. And after competing for the Best Dramatic Series award six years in a row, "NYPD Blue" failed to make the cut. And TV's biggest phenomenon from the 1999-2000 season, "Who Wants to be a Millionaire," is nowhere on the list. Strict guidelines placed it in competition in the Daytime Emmy's awards, with all the other game shows. Sorry, Reeg. Maybe next year.