Do COVID Tests Expire? Ron DeSantis Challenger Worried About Status of Florida Stockpile
Florida Commissioner of Agriculture and Consumer Services Nikki Fried raised concerns on Thursday about the status of her state's supply of coronavirus tests.
Fried, who earlier this year announced her intention to challenge Governor Ron DeSantis during the state's next gubernatorial election, said the Florida Department of Health has "a significant number" of tests that she said "are set to expire imminently." She noted that the tests' exact expiration dates were unknown, which she attributed to DeSantis' "lack of transparency throughout this pandemic."
Citing the recent rise in new virus infections in Florida because of the spread of the Omicron variant, Fried called upon DeSantis to release the stockpile of tests she said the health department has and distribute them to governments in the state's counties and cities. She also called for state-run testing sites to be set up.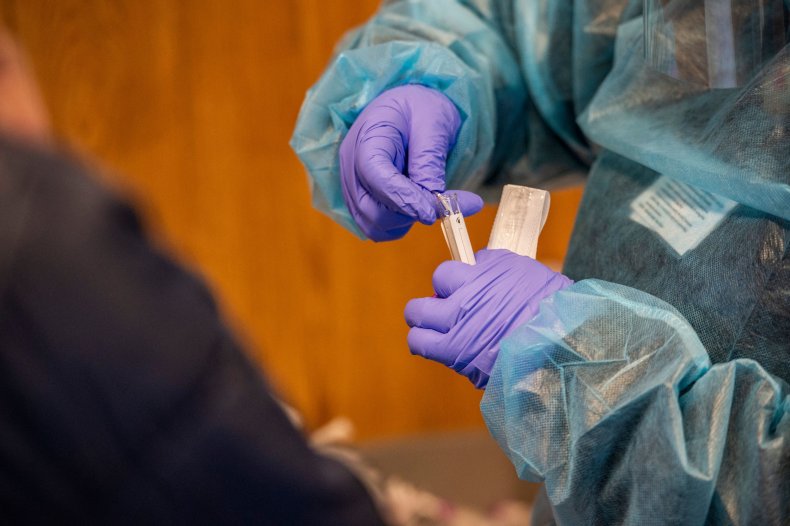 "To let these tests expire while Floridians anxiously wait for hours in testing lines is negligent at best, and heartless at worst," Fried said in a statement released Thursday morning.
Newsweek reached out to DeSantis' office and the Florida Department of Health for comment but did not hear back before publication.
This week, Florida set a new state record for coronavirus infections reported in a single day, 46,923 on Wednesday, and has reported more than 4 million cases since the start of the pandemic. The U.S. overall is struggling with rising case numbers that health officials widely attribute to the rapid spread of Omicron.
The variant, first detected in South Africa, was identified by the World Health Organization as a "variant of concern" late last month. California was the first state to report a case of the variant, on December 1, and it was detected in Florida the following week. It soon became the dominant variant in the U.S.
Shortages of coronavirus tests have been reported throughout the country during the holiday season as Americans sought to confirm whether they were infected before gathering with friends and family. Some stores and pharmacies have taken to taping signs on their doors warning customers they are out of rapid at-home tests, while many who traveled to local testing sites arrived to find snaking lines and long waiting periods.
Expiration dates are often printed on the side of the boxes in which at-home tests are packaged. In late 2020, the U.S. Centers for Disease Control and Prevention provided guidance from the Centers for Medicare and Medicaid Services that allowed laboratories and testing sites to "temporarily" use expired tests when necessary. But the CDC said "under no circumstances" should regular use of expired testing materials be allowed.
The CDC has since recommended that expired tests be thrown out. In guidance updated earlier this month, the CDC said individuals should "discard tests and test components that have exceeded the expiration date or show signs of damage or discoloration."
Newsweek reached out to the CDC for further comment but did not hear back before publication.