Do I Have to Wear a Mask if I'm Vaccinated Against COVID-19? CDC Updates Guidelines
Vaccinated people are getting some relief from mask wearing when they're in public, but new federal recommendations are for only when they're outside.
On Tuesday, the U.S. Centers for Disease Control and Prevention (CDC) issued updated guidelines for vaccinated individuals that allows them to take off their masks whenever they're out of doors. The CDC determined that the chances of a vaccinated person transmitting the coronavirus are very low. The agency's decision is a positive sign in the nation's progress toward normalcy after more than a year of enduring a pandemic.
The CDC decided it is safe for people who have been vaccinated to gather outside without a mask, "except in certain crowded settings and venues."
Dr. Anthony Fauci, director of the National Institute of Allergy and Infectious Diseases, teased the updated guidelines on Sunday. He told ABC's This Week that the risk vaccinated individuals pose outside is "minuscule" and that the data justifies advising vaccinated people they don't need to wear masks anymore when they go out of doors.
For some people, the CDC's updated guidelines won't be much of a change. Thirteen states have lifted mask orders, according to the AARP, and some governors are considering altering mandates to require masks only inside.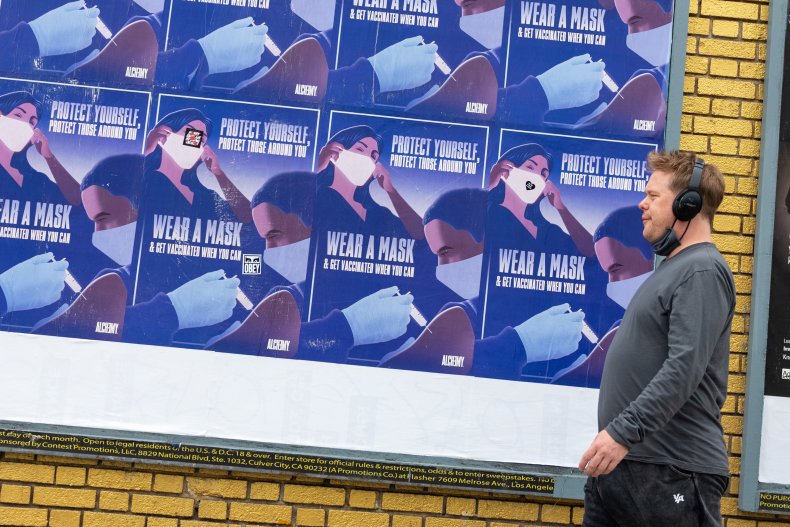 West Virginia Governor Jim Justice has used the state's mask mandate as a way to motivate people to get vaccinated. On Wednesday, he told West Virginians if 70 percent of the state was partially vaccinated he would lift the indoor mask requirement. As of Monday, about 40 percent of the state had received at least one dose.
As of Monday, about 42 percent of Americans have gotten at least one dose of a vaccine, giving them some protection, and about 29 percent were fully vaccinated. The CDC does not consider a person fully vaccinated until two weeks after getting the one-dose Johnson & Johnson vaccine or the second shot of the Pfizer or Moderna vaccine.
The vast majority of vaccinated individuals were over 65, which is a promising trend for COVID-19 hospitalizations and deaths, as that group is most at risk.
As vaccinations became more widespread in early April, the CDC issued updated guidelines for those who have been fully vaccinated. The initial update advised people it was safe to visit indoors with other vaccinated individuals without a mask and travel without quarantining or getting tested.
At the time, the agency still advised people to wear a mask in public, in part because it was learning how well COVID-19 vaccines kept people from spreading the disease.
While the country is headed toward normal in "some respects," Fauci told This Week, the "challenge" America is facing is the high number of daily coronavirus cases. In a little over a year, the U.S. has reported more than 31 million cases, and new cases remain above 50,000 on a daily basis.
"That's a precarious level, and we don't want that to go up," Fauci said.
Newsweek, in partnership with NewsGuard, is dedicated to providing accurate and verifiable vaccine and health information. With NewsGuard's HealthGuard browser extension, users can verify if a website is a trustworthy source of health information. Visit the Newsweek VaxFacts website to learn more and to download the HealthGuard browser extension.