Do Not Resuscitate: Unconscious Patient's Tattoo Causes Ethical Dilemma in Florida Hospital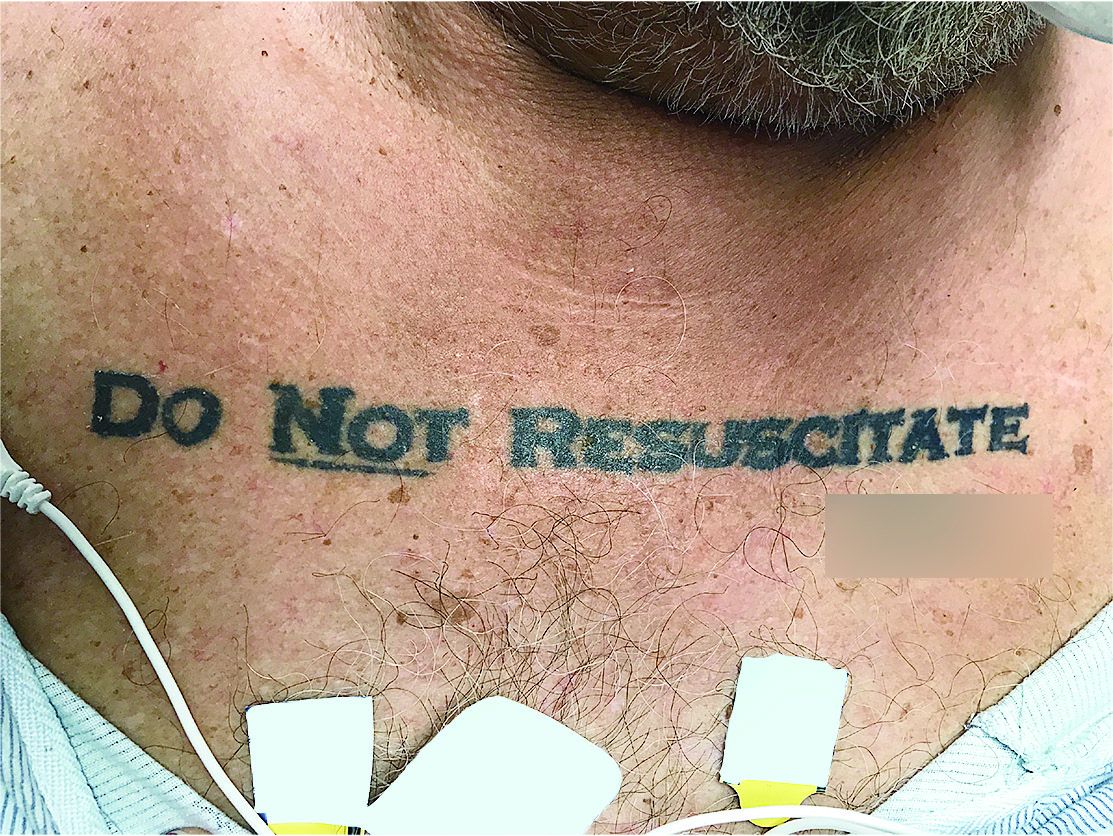 Ensuring that your last wishes are carried out after your death requires a certain amount of faith in your loved ones, especially if you don't have a will. But one man apparently went to great lengths to make sure there was no mystery about his wishes by tattooing "Do Not Resuscitate" on his chest.
Related: Armpit Lumps Filled with Tattoo Ink Blamed for Woman's 'Cancer'
Gizmodo unearthed this case study published in The New England Journal of Medicine. Doctors chronicled the story of an anonymous 70-year-old unconscious man in Florida whose medical history included diabetes, lung disease and an irregular heartbeat. In the emergency room, doctors learned that the patient also had a high blood-alcohol level and hypotension. Because the man had been admitted to the hospital without identification, doctors were unable to track down his family, and social workers were enlisted to find his next of kin.
His doctors explained that the tattoo caused an ethical debate over whether or not to honor the patient's end-of-life wishes. "We initially decided not to honor the tattoo, invoking the principle of not choosing an irreversible path when faced with uncertainty," the authors wrote. "This decision left us conflicted owing to the patient's extraordinary effort to make his presumed advance directive known; therefore, an ethics consultation was requested. He was placed on empirical antibiotics, received intravenous fluid resuscitation and vasopressors, and was treated with bilevel positive airway pressure."
After reviewing Florida laws, the ethics team advised the doctors to uphold the tattoo as the patient's final wishes.
"They suggested that it was most reasonable to infer that the tattoo expressed an authentic preference, that what might be seen as caution could also be seen as standing on ceremony, and that the law is sometimes not nimble enough to support patient-centered care and respect for patients' best interests," they wrote.
The social workers were later able to track down a copy of the patient's out-of-hospital DNR, which did in fact state the man did not want to be resuscitated. The man's health deteriorated, and he passed away without undergoing advanced care.
While it may seem clear that someone who would go as far as tattooing "Do Not Resuscitate" on his or her chest would be serious about their intentions, that isn't always the case. The doctors noted that a patient in 2002 had a DNR tattoo on his chest that didn't reflect his end-of-life wishes: The tattoo was the result of a lost bet during a drunken night out.
The case may seem bizarre, but it raised the question of how people could ensure that their last wishes were actually followed. Looking into your state's do-not-resuscitate order laws is a good first step, as each area has its own regulations, according to Stony Brook University Hospital.