Do Obama and Trump Talk? After Smooth Transition, Don't Expect Them to Become Friends, Former Aide Says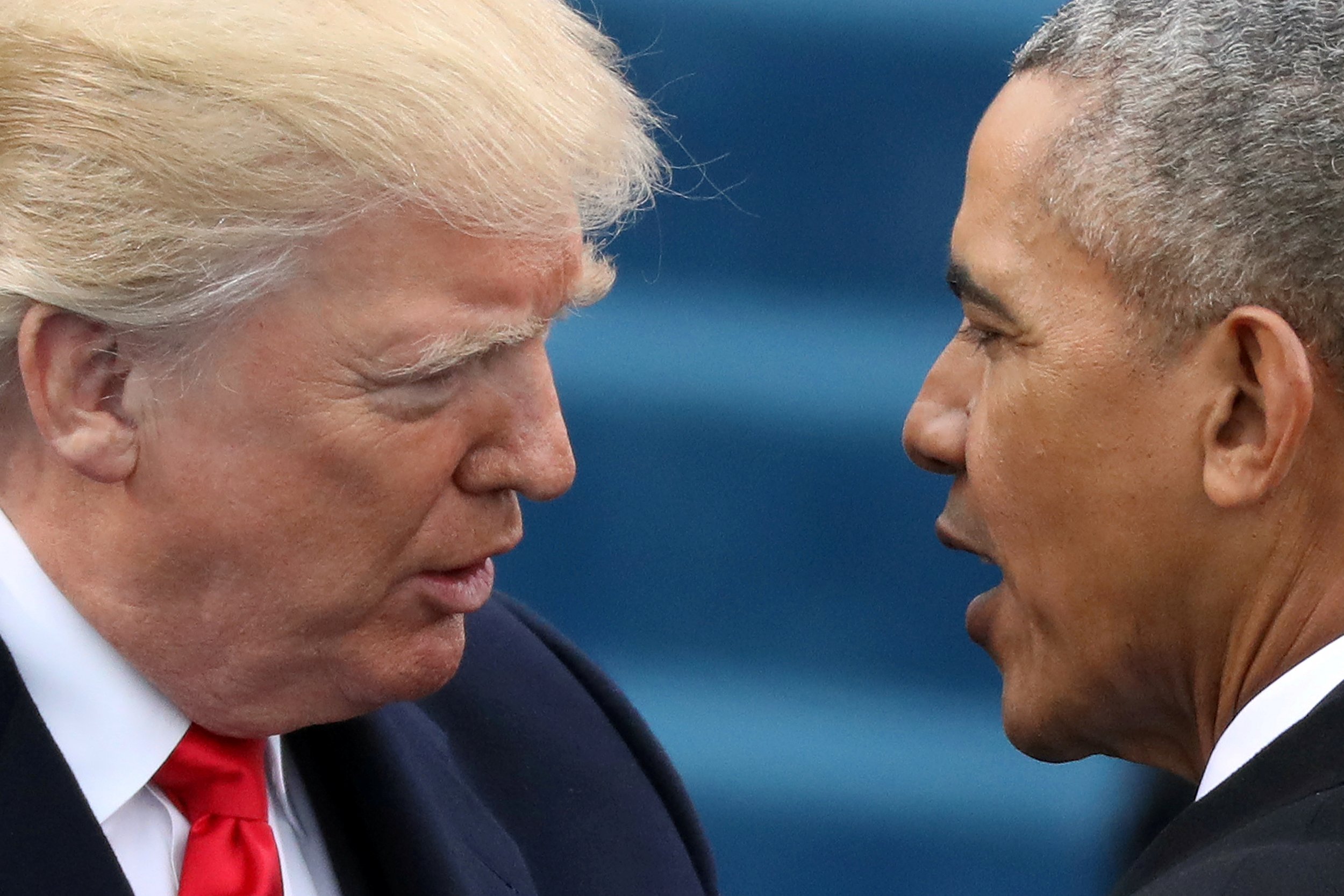 President Donald Trump and former President Barack Obama likely won't ever become buddies, swapping war stories about the Islamic State group or private jokes about Senate Majority Leader Mitch McConnell. At least that's the way a former White House official is putting it.
Although the two men were cordial to each other following Trump's victory in November, they currently don't talk and are unlikely to become friends, Jen Psaki, a longtime Obama aide who was his communications director in his final months in office, told the Hill this week.
Obama "conducted a smooth transition, and that's what his focus was on. But that doesn't mean they were going to become golf buddies," she said.
It's not exactly shocking that Obama isn't eager to jump on the "Make America Great Again" bandwagon. Trump, who repeatedly accused Obama of lying about being born in Hawaii and of creating ISIS during his White House administration, won office with the promise to dismantle his predecessor's health care legislation and other policies. More recently, he accused Obama of wiretapping his home at Trump Tower in New York City without citing any evidence to back up the claim.
Obama had expressed a desire to have a positive relationship with Trump after he left office. He vowed to have a graceful transition with Trump during his final weeks at the White House and attended Inauguration Day events with his wife, Michelle Obama. When Trump and Obama met in November two days after Election Day, Trump described it on Twitter as a "really good meeting," saying the two had "great chemistry."
But since then, the men haven't talked, the Hill reported. Trump did call Obama at one point in January to thank him for the transition process, but Obama was on a flight at the time and they were unable to connect after that, The Wall Street Journal reported.
Psaki said Obama, one of the most popular figures in the Democratic party, is moving on with his life. "It's time for new voices in the party," Psaki said.
Obama has communicated indirectly with Trump since leaving the White House. After Trump announced in January he would ban travelers from seven Muslim-majority nations from entering the U.S., Obama's spokesman released a statement decrying the policy. "The president fundamentally disagrees with the notion of discriminating against individuals because of their faith or religion," Obama's spokesman, Kevin Lewis, said at the time.
Obama also praised Americans who were holding protests and demonstrations against the Trump White House. "Citizens exercising their constitutional right to assemble, organize and have their voices heard by their elected officials is exactly what we expect to see when American values are at stake," Lewis said in the same statement.
More recently, after Trump accused Obama of wiretapping, Obama responded in another statement. "A cardinal rule of the Obama administration was that no White House official ever interfered with any independent investigation led by the Department of Justice," an Obama spokesman said earlier this month. "As part of that practice, neither President Obama nor any White House official ever ordered surveillance on any U.S. citizen."
Julian Zelizer, a professor of history and public affairs at Princeton University in New Jersey, told the Hill it's normal for presidents to disagree over policy, but he said of Trump and Obama: "This is clearly worse than what we usually see."