July 2 marked the 10-year anniversary of my first day in combat as a wide-eyed 22-year-old U.S. Marine infantryman, and at the beginning of this month, I duly sat down to try and write something profound about my time in Afghanistan.
But the overnight news out of the region prevented any paragraph headway. Gunfire and a car bomb launched by Taliban militants had killed at least 40 people in the Afghan capital of Kabul — and wounded dozens, including many women and schoolchildren.
The bombing had strained peace talks in Doha, Qatar to negotiate an end to the bloodshed, but six days later, American diplomats would laud the reconciliation process aimed at ending the long war.
The contrast between the stated developments in the Afghan peace efforts amid ongoing civilian deaths made me recall the laments of Ryan Crocker, the former U.S. Ambassador to Afghanistan, who compared the negotiations to the Paris peace talks to end the Vietnam War in an interview with Foreign Policy magazine.
"Whatever guarantees we think we've got, the outcome, I'm afraid, is going to be sadly different," said Crocker. "You will simply see the Taliban move in and retake the country."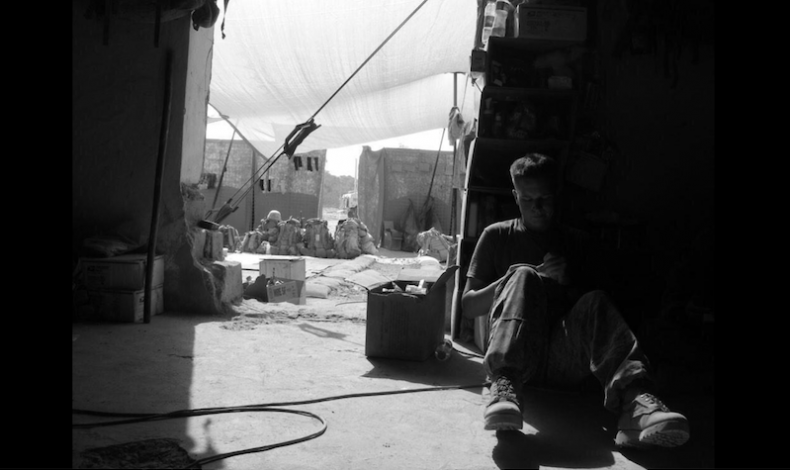 In trying to understand the present, I turned to the past. To a green, pocket-sized federal supply service notebook that I kept during my first deployment to Afghanistan. The spine barely binds the war-torn pages, some still stained with Afghan dirt. A passage from July 10, 2009 stands out.
It's 5:22 a.m. as I sit down exhausted in a World War II-style foxhole I dug with the small shovel the U.S. military issues to grunt Marines. I jot a quick journal entry, as Bob Dylan's words reverberate in my mind hours after turning off my iPod.
"How does it feel? To be without a home, with no direction home? Like a complete unknown? Like a rolling stone?" I sing underneath my breath as I contemplate the last 24 hours of dodging a savage fusillade of gunfire and rocket-propelled grenades.
Amid my poor penmanship and misspellings, I write down two brief sentences that are still true today: Afghan kids are "very cool" — and I feel like we're not accomplishing anything.
For years, this journal entry has summed up the larger Afghanistan war itself — a former grunt's simplified form of the failed military solutions from both American political ideologies.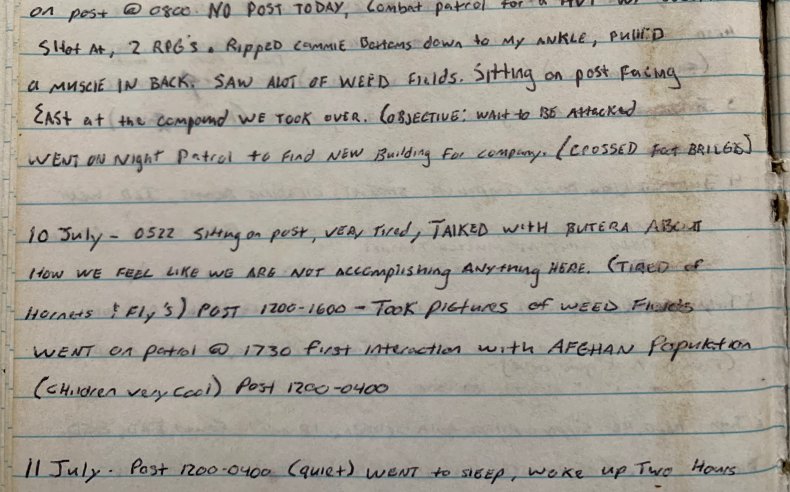 2009 was billed as the "summer of decision" for Afghanistan in a counterinsurgency strategy aimed at seizing control of the population from the Taliban. We were told the world would remember what we did in that season. In the end, only the families and friends of those lost did.
Last week marked ten-years since I first wrote those two passages in a foxhole in Mianposteh, a village on the outskirts of the Garmsir district in Helmand Province. The personal anniversary occurred on the same day the Pew Research Center released a new poll showing that a majority of military veterans and the civilian public feel the wars in both Iraq and Afghanistan were not worth fighting.
It is not hard to understand why both the American citizenry and current and former service members have become disenfranchised from any beneficial outcome of a nearly 18-year-long war that has cost billions of dollars and left tens of thousands of families permanently shattered.
In 2013, I returned to the region and watched a misguided foreign policy serve only to reinforce Afghanistan's long-standing epithet: the graveyard of empires and of ideas with permanent consequences.
One-by-one, I watched as American combat outposts turned over to the Afghan government collapsed under commonplace corruption and Taliban forces, some areas reverted back to conditions before U.S. intervention.
What was it all for? I wondered as I stood staring at a map of Helmand Province topography. The names of people I knew killed by gunfire or roadside bombs began to flip through my mind like a Rolodex of bad memories.
And now, in 2019, the Afghan war is barely talked about on 24-hour cable news shows or within presidential debates.
More poignantly still, in an hours-long hearing on Tuesday to consider Dr. Mark T. Esper to be President Donald Trump's next permanent defense secretary, no questions were asked from members of the Senate Armed Services Committee about Afghanistan or Iraq.
This stunning display of disinterest from the Senate came despite the fact that thousands of American troops are still deployed in both countries, and despite the fact that just three days prior, U.S. Army Sgt. Maj. James G. "Ryan" Sartor, 40, of Teague, Texas, was killed during combat operations in Afghanistan's Faryab Province. The highly ranked and decorated Green Beret left behind a wife and three children and was the 10th U.S. service member to die in action this year.
The contrast between another U.S. service member's death in Afghanistan and the silence within the halls of Congress and among the greater American public made me think about this passage, published in Newsweek on January 1, 1968.
"Yet no matter how they tried to put it out of mind, at least for the holiday season, the war last week imposed itself upon Americans in dinner table conversation, from the front pages of their newspapers and from the flickering television screen."
We can argue till kingdom come about similarities between America's wars, inquiring whether Afghanistan and Iraq mean we've forgotten the lessons of Vietnam, but one gaping difference stands out. American's don't even have to make a deliberate effort to put Afghanistan out of mind. Here is a war that's being forgotten even as it is being fought.
On Sunday in Liverpool, New York, balloons will be released to commemorate the memory of U.S. Marine Lance Cpl. Jeremy S. Lasher, who was one of the 14 Marines killed from Second Battalion, Eighth Marine Regiment ten-years ago during that "summer of decision."
As the news breaks on Thursday of a car bomb striking a police headquarters in Afghanistan's Kandahar district, I remember that Lance Cpl. Lasher's son, Caden, will be at the commemoration. He turns 12-years-old in November. I don't even know if the war will end by the time Caden is old enough to serve.
James LaPorta is a staff writer for Newsweek and a former Marine infantryman.
The views expressed in this article are the author's own.​​​​​