Do You Have to Quarantine After Flying to California?
With novel coronavirus cases spiking in parts of the country, some areas have issued quarantine mandates and travel advisories for those traveling from states reporting a recent surge in cases, such as California.
California saw several dramatic spikes in new infections throughout June and July, including this week on July 14, when the state reported around 12,900 new cases, the second-largest single-day rise since the outbreak began, according to data compiled by Johns Hopkins University.
Quarantines aim to help mitigate the risk of spreading infection by separating those who may have been exposed to the virus from others. Depending on the destination of your journey, those who fly from California may be required to self-quarantine upon arrival.
In some parts of the country, self-quarantines are mandatory for travelers coming from California, such as in Chicago, the most populous city in Illinois.
Earlier this month, Chicago's public health commissioner issued an order requiring people traveling from "states experiencing a surge in new COVID-19 cases" to self-quarantine for 14 days.
California joins a string of other states listed in the order, which is in effect until further notice. Violators of the quarantine mandate are subject to fines of $100 to $500 per day and up to $7,000 in total, the city government confirmed.
A self-quarantine could potentially be avoided in some states if you can show proof of a recent negative COVID-19 test result or, in some cases, be tested on arrival.
Those traveling to Alaska from California must arrive either with proof of a negative test, be tested upon arriving in Alaska and self-quarantine until the test result is received or self-quarantine for either the duration of their trip or 14 days (whichever is shorter), the state government website noted.
Those who develop symptoms during their trip must be tested a second time around seven to 14 days after arriving in Alaska, the state government advised.
An updated travel advisory was issued in Hawaii in June that offers out-of-state travelers, including those from California, a way to avoid a quarantine.
A statewide executive order issued by Hawaii Gov. David Ige said travelers must self-quarantine for 14 days if they arrived in Hawaii after March 26, 2020.
The Hawaii Tourism Authority confirmed that from August 1: "All travelers arriving in Hawaii from out-of-state will be required to get a valid COVID-19 test within 72 hours of their trip, and to show proof of a negative test result at the airport, to avoid the 14-day quarantine."
The test must be a PCR (polymerase chain reaction) test approved by the Food and Drug Administration (FDA). It must also be from a laboratory certified by Clinical Laboratory Improvement Amendments (CLIA).
The test will also need to be done before arrival, as there will be no testing provided at the airport, the authority noted.
Travelers from California arriving in the tri-state area of New York, New Jersey and Connecticut are also asked to self-quarantine for 14 days from the time of last contact within California and other applicable states.
The area issued a quarantine advisory for all inbound travelers coming from a state with an infection rate higher than 10 per 100,000 residents or reporting a positive test rate of 10 percent or higher based on a seven-day rolling average.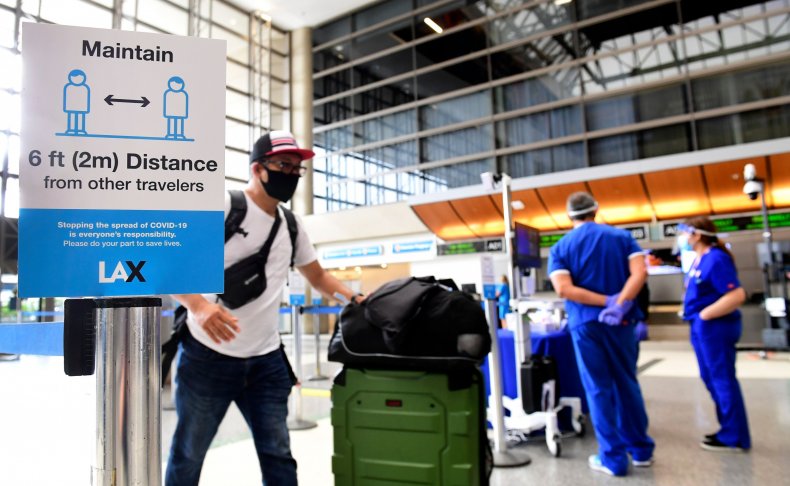 When flying from California to Maine, those who aren't residents of Maine or states exempted from quarantine in Maine will have to sign a Certificate of Compliance. The compliance form should confirm they have either received a negative COVID-19 test result, they will quarantine in Maine for 14 days or have already completed their quarantine in Maine.
Vermont and Rhode Island also require all travelers to self-quarantine for 14 days. The requirement in Rhode Island can be waived if travelers show proof of a negative test result with 72 hours of arrival, while those in Vermont can end their quarantine if they test negative while self-quarantining.
New Mexico has issued a mandatory self-quarantine for travelers entering the state. Face coverings are also required for everyone in New Mexico. Violators of the requirement may face a $100 fine, the state government warned.
Check the websites of the state government and health department before your travels to confirm the latest update on quarantines and other travel advisories for your destination.
The novel coronavirus, first reported in Wuhan, China, has spread to over 13.8 million people across the globe, including 3.5 million in the U.S. More than 7.7 million have reportedly recovered from infection, while over 590,700 have died as of Friday, according to the latest figures from Johns Hopkins University.
The graphics below, provided by Statista, illustrates the spread of COVID-19 cases in the U.S.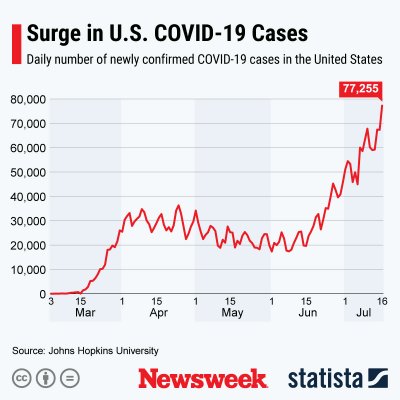 The graphic below, provided by Statista, illustrates U.S. states where reopenings have been stalled or reversed.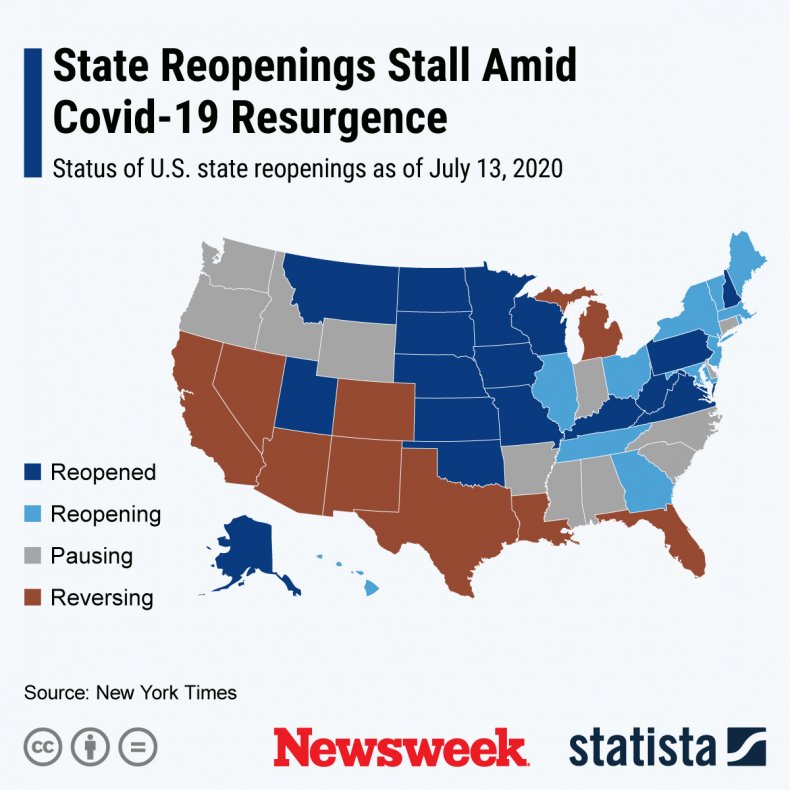 The graphic below, provided by Statista, illustrates the countries with the most COVID-19 cases.