Do You Have to Quarantine After Flying From New York?
As novel coronavirus cases in the U.S. continue to surge, surpassing four million, some parts of the country have introduced quarantine mandates to inbound travelers coming from a selection of states, including New York.
Quarantines aim to reduce the risk of spreading infection by separating those who might have been exposed to the virus from others.
Depending on your destination, those traveling from New York may be required to quarantine themselves and follow other protocols issued by local authorities.
Those heading from New York to Florida are directed to quarantine for 14 days from the time of entry or for the duration of their stay, whichever is shorter, under an executive order issued by Florida Gov. Ron DeSantis.
"All persons isolating or quarantining will be responsible for all costs associated with their isolation or quarantine. This includes transportation, lodging, food, medical care and any other expenses to sustain the individual during their period of isolation or quarantine," the Florida Department of Health stated.
Those entering Hawaii from New York must also self-quarantine for 14 days. From August 1, all out-of-state travelers will be required to "get a valid COVID-19 test within 72 hours of their trip, and to show proof of a negative test result at the airport, to avoid the 14-day quarantine," the Hawaii Tourism Authority noted in a statement.
The test, which must be an FDA (Food and Drug Administration)-approved PCR (polymerase chain reaction) test from a CLIA (Clinical Laboratory Improvement Amendments)-certified laboratory, will need to be done before arrival at the airport, the authority noted.
All travelers seeking to enter Alaska must complete a mandatory traveler declaration form. They must also arrive with proof of a qualifying negative COVID-19 test or be tested on arrival in the state and self-quarantine until their test result is received or self-quarantine for either the duration of their trip or for 14 days (whichever is shorter), the state government website noted.
All travelers must be tested and self-isolate if they develop any symptoms while they are traveling through Alaska. They must also be tested a second time seven to 14 days after arriving in Alaska.
From this month, New Mexico also introduced a quarantine mandate for all those seeking entry into the state, including from New York, by air or vehicle.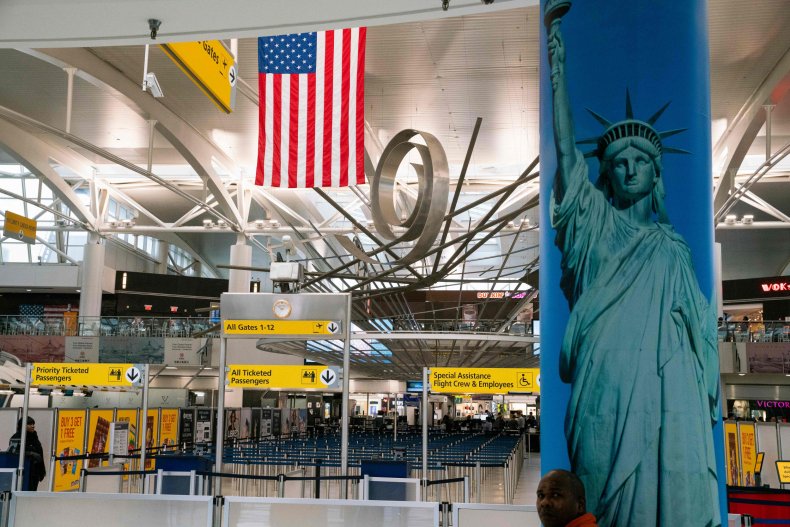 The quarantine period should be 14 days or the length of your stay in New Mexico, whichever is shorter.
Both visitors and residents in New Mexico are required to wear face coverings in public. Any violators of the mandate may face a $100 fine.
Exemptions to the face-covering requirement include when individuals are drinking, eating, exercising or under medical instruction. Other exemptions apply. See the New Mexico state government website for more information.
Over 15.5 million people across the globe have been infected since the virus was first reported in Wuhan, China, including over four million in the U.S. More than 8.8 million globally have reportedly recovered from infection, while over 633,600 have died, as of Friday, according to the latest figures from Johns Hopkins University.
The graphic below, provided by Statista, illustrates the portion of U.S. adults who claim to wear a mask in public.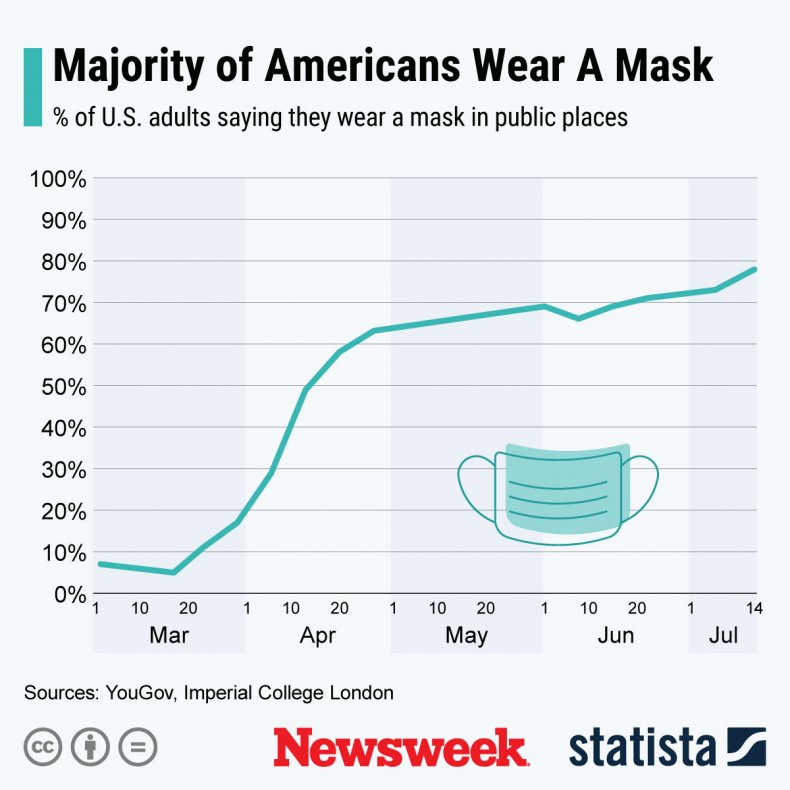 The graphic below, provided by Statista, illustrates the U.S. states with the most COVID-19 cases.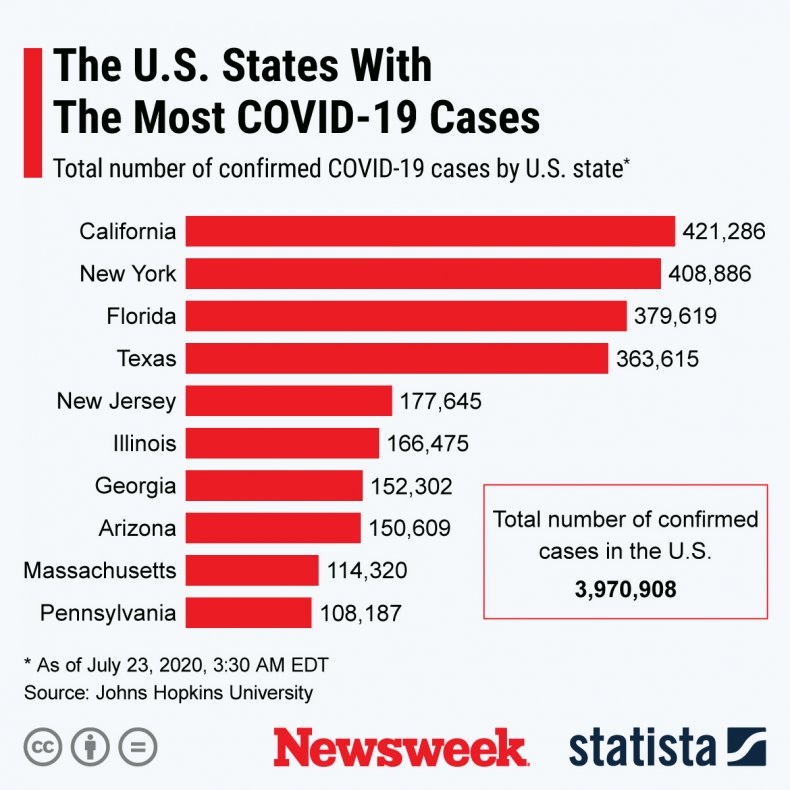 The graphics below, provided by Statista, illustrate the spread of COVID-19 cases in the U.S.