Do You Need Blood Pressure Treatment? Millions More Americans Will Now Need Drugs, According to New Guidelines
New guidelines for high blood pressure would significantly increase the number of people who are labeled as having high blood pressure, according to a study published in The BMJ.
The American College of Cardiology and the American Heart Association recently released guidelines that lowered the values used to define high blood pressure, or hypertension, and the threshold at which treatments would be recommended.
For the BMJ study, a team of researchers led by Harlan Krumholz from the Yale School of Medicine analyzed nationally representative data from individuals between the ages of 45 and 75 in the U.S. and China.
They found that if these guidelines were adopted in both countries, more than half the people in that age group would be labeled as having high blood pressure and, therefore, be recommended for treatment.
In the U.S., the new guidelines would classify 70 million people in this age group as hypertensive (63 percent of all those between 45 and 75), which is an increase of 27 percent from the previous guidelines. In China, 267 million people (representing 55 percent of the age group) would fall in the hypertensive category—an increase of 45 percent..
These figures mean that 7.5 million people in the U.S. and 55 million in China would be advised to start drug treatment. Moreover, of those already receiving antihypertensive medication, 14 million people in the U.S. and 30 million in China would be candidates for more intensified treatment.
The researchers highlight the fact that the study focused only on one specific age group, and that there are likely many more people who are hypertensive and require treatment under these revised guidelines.
The new guidelines have several significant implications for public health, according to the researchers, which include the psychological effect of being labeled with a disease, the potential harm of unnecessary treatments and the extra infrastructure and resources required to deal with an increase in hypertensive patients.
High blood pressure puts extra strain on the blood vessels, heart and other organs such as the brain, kidneys and eyes. If the problem persists, it can increase the risk of developing a number of serious and potentially life-threatening conditions, such as heart disease and stroke. It is hoped then, that the guidelines will save lives in the long-term.
Damage to blood vessels can begin soon after blood pressure becomes elevated, so early intervention and lifestyle changes can help to prevent problems or slow any damage that has already occurred.
Some of these lifestyle changes, which don't involve drug treatments, include losing weight, eating a healthy, balanced diet (rich in fruits, vegetables, whole grains, low-fat dairy products and foods high in potassium and low in saturated fat and salt), exercising more and limiting alcohol intake to one drink or fewer per day for women and two drinks or fewer per day for men.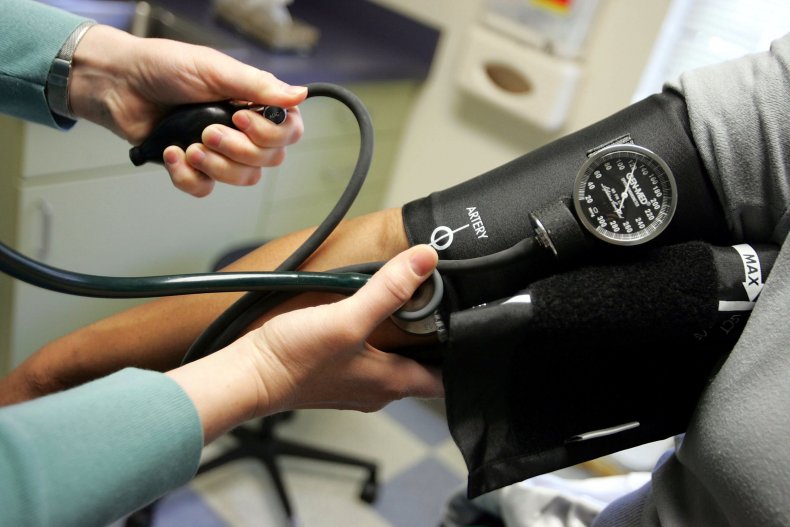 The new guidelines state that high blood pressure is now defined as 130/80 mm Hg or higher as opposed to 140/90 mm Hg or higher, reflecting the latest research, which found that health problems could occur at these lower levels.
Blood pressure in adults is now categorized as normal, elevated, stage 1 hypertension or stage 2 hypertension. The category "prehypertension" is no longer to be used, and people who have been diagnosed with hypertension should be categorized as either having elevated or stage 1 hypertension.
Finally, assessments of whether an individual is eligible for medication should no longer be based solely on blood pressure readings. Other factors, such as a patient's risk of heart disease or stroke should also be taken into account (although for people with blood pressure higher than 140/90 mm Hg, medication is recommended regardless of risk level).