Do You Say Happy Memorial Day? The Debate Over the Appropriate Sentiment
While human instinct may prompt a person to wish someone a happy Memorial Day, there's debate over whether that's an appropriate thing to say on the somber holiday.
Unlike Veterans Day which is intended to honor all those who served, Memorial Day is a time to honor those who gave their lives in service to their country. Intended to be a serious day of remembrance, some have criticized moving the holiday to the last Monday of May because the three day weekend has created a celebratory atmosphere marking the start of summer.
Since the word happy has joyous connotations, some people think it's inappropriate to wish someone a "Happy Memorial Day." For those who lost a loved one it can come off as indicative of the lost meaning of the holiday and Jennie Haskamp, a Marine Corps veteran, wrote in an op-ed for The Washington Post in 2015 that she was angry that Memorial Day has become focused on barbecues.
"I'm frustrated by people all over the country who view the day as anything but a day to remember our WAR DEAD. I hate hearing 'Happy Memorial Day,'" Haskamp wrote. "I want to see people besides the small percentage of us who are veterans, know veterans, love veterans or lost veterans, understand what the day is about. It's the one day on the American calendar meant to exemplify what it costs to be American and to be free."
More than a century after Memorial Day, then known as Decoration Day, began, the day has become known for gathering with friends and family and stores having sales. Some have advocated that Congress return Memorial Day to May 30, as it was originally commemorated, to center the focus on the day's original intention.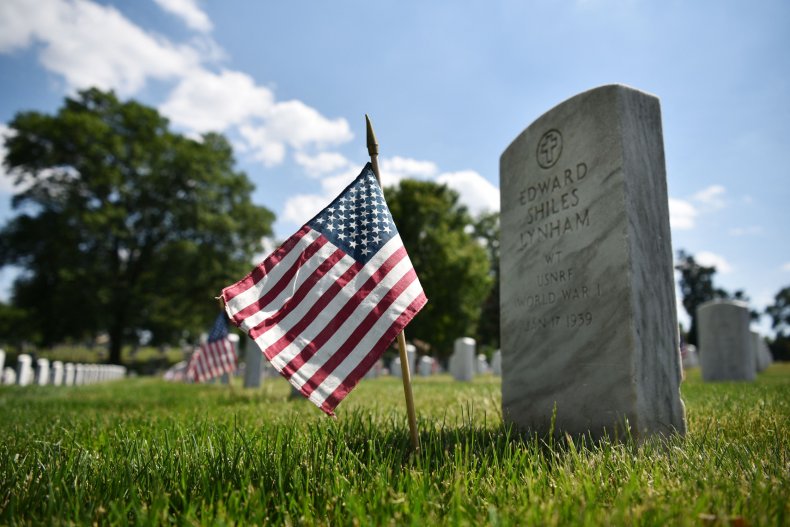 Instead of saying "Happy Memorial Day," some advocate for people to express hope that others are having a meaningful or thoughtful day. Some note that pausing to remember the sacrifices people have made for America's freedom is even better than a public acknowledgment.
While some consider pairing the word happy with Memorial Day to be inappropriate, others see it as a perfectly acceptable greeting.
Despite joy being at the root of the word happy, Thesaurus.com noted that using the word happy could also be a way for a person to express gratitude. That gratitude could be for the freedom that America enjoys and that people have been willing to sacrifice their own lives to preserve those freedoms, as some have argued.
Ken Harbaugh wrote in an op-ed for the Observer in 2015 that Memorial Day has "special significance" for him because he served as a Navy pilot and is the son, grandson and brother of combat veterans. He acknowledged that the day has lost its significance for many people and that it could use a "bit more reverence." However, he had no issue with the phrase "Happy Memorial Day," because he doesn't think the day should be about "unrelenting grief."
"When I think about those who have died serving in the military, I remember why they joined in the first place. They did it to defend a way of life, one that includes the pursuit of happiness as a founding ideal," Harbaugh wrote.
Harbaugh noted that he planned to use time in the morning to think about service members who never made it home. Then, he planned to invite friends over for a barbecue with his wife and kids because the only way he could potentially repay the gift of fallen service members' is to live a "life full of happiness as my fallen friends would have wanted."
One thing that is important to remember is that Memorial Day is different from Veterans Day. It's intended to remember those who gave their lives, not everyone who's served. So, while it's always good to thank people for serving in the military, it's unnecessary to do on Memorial Day and some think it's even inappropriate.