Donald Trump Says If Migrant Caravan Throws Stones, 'We Would Consider That a Firearm Because There's Not Much Difference'
President Donald Trump said Thursday that if any member of the migrant caravan making its way toward the United States border throws stones or rocks at U.S. military personnel they would "consider it a firearm" and license to use lethal force in response.
"I hope there won't be that, but I will tell you this—anybody throwing rocks...we will consider that a firearm, because there's not much difference when you get hit in the face with a rock," Trump said to reporters in the Oval Office in his latest speech about the caravan. Trump has increasingly stoked fears about what he called an "invasion" by the caravan, despite its numbers rapidly decreasing in recent days and no evidence of major gang or terrorist infiltrations.
Trump had referred to a violent clash between migrants and Mexican federal police at the Mexico-Guatemala border on Sunday.
"They're throwing rocks viciously and violently, we're not going to put up with that," Trump said. "They want to throw rocks at our military, our military fights back. I told them to consider it a rifle."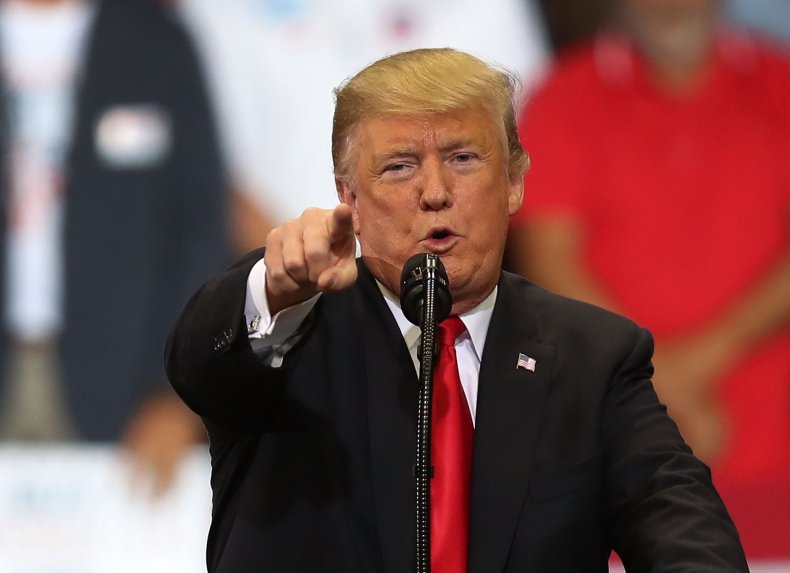 Trump tweeted about the same incident on Wednesday.
"The Caravans are made up of some very tough fighters and people," he wrote on the social media network. "Fought back hard and viciously against Mexico at Northern Border before breaking through. Mexican soldiers hurt, were unable, or unwilling to stop Caravan. Should stop them before they reach our Border, but won't!"
But Trump's claim that Mexican police and soldiers were "badly hurt" by the clashes appears to be false. A CNN reporter tweeted that following Trump's speech she spoke to Mexico's Secretariat of the Interior who said the injuries sustained were "not serious or life-threatening. One migrant was killed and dozens more were injured.
During his speech, Trump said that his administration would no longer adhere to the policy of "catch and release" when migrants and asylum seekers enter the country, they would just "catch." He said he would detain members of the caravan indefinitely in "massive tent cities."
"The endemic abuse of our asylum system makes a mockery of our immigration and displacing legitimate asylum seekers and there are legitimate asylum seekers," he said.
Trump added that he would sign an executive order next week limiting the way in which the U.S. accepts asylum seekers.
"My administration is finalizing a plan to end the rampant abuse of our asylum system," Trump said. "Under this plan the illegal aliens will no longer get a free pass into the country by lodging meritless claims in seeking asylum. Migrants seeking asylum will have to present themselves lawfully at a port of entry."