Doberman Noticeably Enjoying Bath Scrub by Dad Delights Viewers: 'So Fresh'
A hilarious video of a Doberman loving a bath has gone on viral on TikTok with over 2.2 million views.
In the video, posted by @mariell.doria, Mazikeen the Doberman Pinscher can be seen covered in suds and standing in the bath, while her owners sing to her and laugh, while Mazikeen looks genuinely relaxed.
The video is captioned, "So fresh so clean," and has received over 500,000 likes and more than 2,500 comments.
One user commented, "That is the calmest bath I've ever seen a Doberman receive," to which @mariell.doria replied, "She loves the water!!! And the extra back scratches she gets from the bath!"
Despite owners best efforts, dogs love to roll in gross things while on walks. Under these circumstances, you will probably want to give your dog a bath. Otherwise, experts tend to advise keeping the bathing to a minimum.
Hill's Pet Nutrition said: "A healthy dog with a short, smooth coat and no skin problems doesn't need to be bathed often. In most cases, dog baths are more for the benefit of their pet parents than for the dogs themselves. Even so, it's a good idea to bathe your pooch at least once every two to three months."
How often you need to wash your dog can come down to a few factors.
How Active Is You Dog?
If your dog spends a lot of time outside and has a penchant for a muddy puddle, then you may find you need to bathe them more often to avoid continually cleaning your house.
"Even if they're not prone to getting into messes, athletic dogs could need more frequent baths to control their odor," according to Hill's Pet.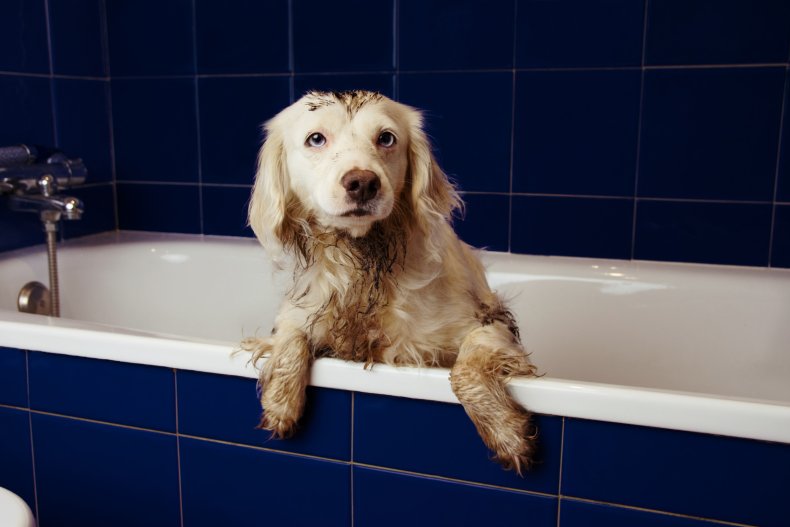 How Long Is Your Dog's Coat?
Dogs with longer or curly coats may need more regular bathing than short-haired dogs. The American Kennel Club recommends bathing these types of dogs at least once every four to six weeks, with regular brushing between baths to maintain the coat. Short-haired breeds such as Labrador retrievers can get away with infrequent bathing as long as they're healthy.
How Much Is Too Much?
Bathing your dog too often or with harsh products can actually harm your pet, say Hill's Pet.
"Bathing your dog too often can strip their natural oils, which they need for a healthy coat and skin. This could result in a dry, dull coat and itchy skin. If you must bathe your dog more frequently than once a month or so, be sure to use a moisturizing dog shampoo or follow up with a moisturizing dog conditioner that can help replenish your pet's natural moisture," according to Hill's Pet.
Newsweek has reached out to @mariell.doria for comment.
Do you have funny and adorable videos or pictures of your pet you want to share? We want to see the best ones! Send them in to life@newsweek.com and they could appear on our site.